Watch us play Costume Quest 2 as we chat with our awesome viewers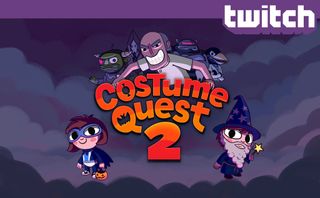 Every weekend, Windows Central streams an Xbox One game or two on Twitch for 1-2 hours and gives out free games to the cool people who join us during the stream. It's like a live podcast, only you also get to watch a game while chatting with our awesome readers and viewers!
Tonight at 8pm Central (9pm Eastern, 6pm Pacific, 1am GMT), we'll be playing Costume Quest 2 from DoubleFine and Midnight City. Costume Quest 2 is a lighthearted role-playing game that takes place during Halloween. We want you guys there, chatting along. So we're giving out Costume Quest 2 codes for Xbox One, Steam, and PlayStation 4!
Update: The stream has ended. Read on for the list of contest winners and the full replay in YouTube format!
Costume Quest 2 and replay video
Who says role-playing games need to be serious affairs? This game stars a group of kids who are tasked with saving Halloween. An evil dentist has set his sights on ridding the world of candy and Halloween forever. It's up to our heroes to stop him and save the sweet holiday once and for all!
Like a traditional role-playing game, our heroes must explore the world, searching for items and people to help. But unlike other games, these kids get their powers from Halloween costumes they find. Equip the right duds and your characters will turn into superheroes capable of throwing buses and beating down bad guys. The turn-based battles having a button-timing mechanic that keeps them exciting throughout.
Like all DoubleFine games, the writing in Costume Quest 2 is top-notch. Bring your senses of humor and adventure and you're in for a spooky good time!
Costume Quest 2 - Xbox One - 1.1 GB - $14.99 - Xbox.com Link

(opens in new tab)

Costume Quest 2 - Xbox 360 - 748 MB - $14.99 - Xbox.com Link

(opens in new tab)

Costume Quest 2 - Windows, Mac, and Linux - $14.99 - Steam Link
The Contest and How to watch Twitch livestreams
We'll be streaming Costume Quest 2 for 90-120 minutes tonight, starting at 8pm Central (9pm Eastern, 6pm Pacific, 1am GMT). During that time, we'll be giving out a total of 15 codes:
5 Costume Quest 2 for Xbox One
5 Costume Quest 2 for Steam
5 Costume Quest 2 for PlayStation 4
To enter, just follow both of our channels at Twitch.tv/WindowsCentral and Twitch.tv/Eastxtwitch (making sure to enable email notifications!) and tune in during the stream. You can watch the stream right here in this post, but you need to actually participate in the stream chat to have a chance at winning. We'll deliver codes to the winners via Twitch message (PM) during the stream. No code begging!
How to watch Twitch livestreams
What's the best way to experience Twitch? The Twitch website on your PC or Mac web browser. If you don't have or prefer not to use a computer, you can get the Xbox One, PlayStation 4, or Xbox 360 Twitch apps and watch from the comfort of your couch. Android and iOS both have official and unofficial Twitch apps to choose from as well.
On Windows Phone, you'll have to grab an unofficial app. There are several to choose from, each with different strengths and weaknesses. Only one app lets you search directly for our channel, though. If you use the others you'll have to find and follow us from a web browser first. Read the roundup to learn more!
Streaming schedule and Contest winners
Want to know what's next for Windows Central's Twitch programming? Here's this week's schedule. The stream always starts at the same time: 8pm Central (9pm Eastern, 6pm Pacific, 2am GMT).
Sunday, March 22: Slender: the Arrival for Xbox One from Blue Isle Studios. See it before it comes out on Xbox One and PlayStation 4 on March 24!
Monday, March 23: Grim Fandango for Windows and PlayStation 4 and Vita from DoubleFine. The classic game from the makers of Costume Quest 2 remastered!
Tuesday, March 24: The Witcher 2 for Xbox 360. Catch up on The Witcher saga before The Witcher 3 launches in May!
Wednesday, March 25: Borderlands: The Handsome Collection for Xbox One and PlayStation 4 from Gearbox and 2K, which comes out on Tuesday! *Subject to delivery of review copy.
Thursday, March 26: Dragon Age: Inquisition for Xbox One and 360, PlayStation 3 and 4, and Windows. Chosen by our loyal viewers!
Saturday, March 28: A surprise game and contest. Keep your eyes on this page later in the week for the announcement.
We hope you'll tune in as often as you can! Set a recurring alarm on your phone so you'll always know when it's time for the stream to start.
Winners
These dudes and/or dudettes walked away with the prize!
Xbox One
Nahnotnathan
Nullvectorq
Thewrider
007zbr
Qwe123878
Steam
Electric_jack
Brownmeister2
Twofron
Fatalitycag
Cecilkilmer
PlayStation 4
Bria5544
Alexkywalker
Wrencrest
Richrubis
Afalcon90
Thanks to Midnight City for providing tonight's prizes. Thanks also to our Twitch stream moderators for keeping the peace and giving away the prizes!
Windows Central Newsletter
Get the best of Windows Central in in your inbox, every day!
Paul Acevedo is the Games Editor at Windows Central. A lifelong gamer, he has written about videogames for over 15 years and reviewed over 350 games for our site. Follow him on Twitter @PaulRAcevedo. Don't hate. Appreciate!
Don't leave useless comments please. Thanks. :)

Paul remember daylight savings, GMT will be 1am :) not missing this time

Hope I can rearrange schedule so I can make it tonight. Looks like a fun game!

I'll see you there guys, @SamiHanna You would be surprised, theres a great crowd of people that frequent the streams, IccyAsd, Kyralea, Swizzlers, Tyler_H, Adam (Xero), Mongbox, RoyalBob5 and perhaps Jeffy to name a few regulars, theres always a good conversation and you get to check out a new game with the chance to win prizes. whats not to love?

Not watching because my brother in law is coming over lol

I'll try to stop by. I haven't played this game. Thanks for remembering my name.

Sorry, my fat fingers hit 'report' instead on '+1' please disregard

I'm usually busy Saturdays but I drop in every once in a while just to say hi.

Always good to have you when you can make it! :)

I will try to be there as well. Not sure when I will be able to get off work today. But I am going to try even if it is for just part of the stream.

Will definitely try and make it tonight. Its such a great game and so much fun. I usually spend time with my oldest son playing "Halloween Quest" as he calls it.

I'll probably be there to night, no foreseen distractions. I'm really intrigued by the next week as well. I've got no idea what the big deal about this Slender Man guy is, so I'll check out that stream. I've heard people excited about Grim Fandango, which I've never played (didn't have a PS1). I'm still debating The Handsome collection because it doesn't include the first game, but I definitely want to see it either way. The surprise next Saturday better be cool, hyping up something weak is lame.

Totes magoats fun times. Have CQ1 on PC, but haven't played it yet. Looking forward to watching some CQ2

A surprise game next Saturday? Why are you doing this to meeeeee??? Could it be... Pillars of Eternity? That's just my guess, and I'm excited for it, because it's one of the things I helped Kickstart. I'll probably start playing that one as soon as it drops.

Our Saturday streams are always games that have been out for a while so we can give out copies of those games. We stream newer games during the week or on Sundays.

Have a good one guys. I've managed to check out a couple of replays. Great to put voices to names. Incidentally, I always thought Paul's name was pronounced veedo.

It's a Mexican name, so it uses the Spanish "e" sound. ;)

Nice one... Just glad I know the right way! The closest I get to Spanish is "aprieta esas nalgas" (please excuse the spelling!).

Peachy001, you have a command of the Spanish language. :-) Posted via the Windows Central App for Android

Hardly! I hope it is not an offensive phrase.

"Squeeze those buttocks"? not offensive at all, just funny and a little bit awkward (depends entirely on the context).

No way! That roughly corresponds to the definition. I was told by a Venezuelan that they used the term to say "something's coming, and you should be ready for it". I have it on my Xbox bio.

Yes, in Venezuela is a popular phrase, but not all spanish speakers would interpret it that way (again, depends entirely on the context and even the region). ;]

I love this game. Too bad Double Fine doesn't like Xbox much. Anyway, bought it and 1K'ed it.

The problem is Sony has been giving them a lot of incentives to support PlayStation first. Hopefully Microsoft wins them back eventually.

This game looks like fun! I'll be there.

Looks like a fun game! These streams always give me an idea of which games to add to my wish list! And the chat... Alway interesting!

Tonight should be fun. Looking forward to the stream.

See you wonderful people soon! Posted via the Windows Central App for Android

Great stream! Glad I was able to make it on time. Thanks for the code as well! Looking forward to playing this game.

Fun time hanging out with everyone tonight!

Ya you were not in wc.. I saw you over on the other side :P

Yeah. I had both streams up for a while, but only chatted on Paul's stream. They should have them both consolidated soon, though.

Nice stream but on xboxone twitch app you only see the video on WC. When you go to eastx its only a wallpaper. Which chat should we join. The wc one to see the video or the bussy one with no video?. can you look into a way that there is only one chat a place to be to watch? Or fix eastx so the video works on it and wc on the xboxone twitch app??. Looked like a fun game. Never been a fan of the turn based attack games.

looks kinda fun, but no way am i going to support double fine just so tim can blow all the money on anything but game development.

That'scold! They've made tons of fine games, including this and others. CQ2 had nothing to do with Kickstarter (and Broken Age is awesome).

I just beat this two months ago I also have the first one I pretty much love everything about it the story line for this one is probably more interesting this time around I ended up missing a few quest so i was thinking about going back and replaying it soon... Too bad i missed you guys playing it I hope you guys had fun collecting all that candy and trading cards

Paul, i'm waiting for asphalt 8, again..

Would be neat if we could stream that again - it wouldn't be on a Saturday though. We've never gone back to the same game twice on our Saturday streams. Variety!

Good stream, as always. Grats to the winners, and hopefully back for another weird game tonight.

Great stream can't wait for tonight's. Wasn't interested in cq2 but after watching your stream of it I might have to get it seemed like a good game. I know last night you said you don't have to play the first one to enjoy the second but does this one continue the story from the first? Either way keep up the good work Paul.
Windows Central Newsletter
Thank you for signing up to Windows Central. You will receive a verification email shortly.
There was a problem. Please refresh the page and try again.