These are the best unofficial Twitch apps for Windows Phone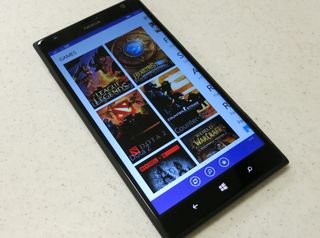 Twitch is a popular website that allows players to livestream games from their computers and Xbox One or Playstation 4 consoles. Watching someone play a game on Twitch lets you see a lot more of a game than you could from a trailer or video review. Every Twitch channel offers a live chat room, making the act of watching a stream a social experience. The host (the person playing) can even speak to viewers. It's like a live interactive podcast centered around videogames!
As regular Windows Central readers know, we do plenty of Twitch streaming ourselves through my channel Twitch.tv/Eastxtwitch – four or five nights per week, in fact! It's important to us that you be able to view and enjoy our streams. Unfortunately, Twitch does not offer an official Windows Phone app and our phones can't natively play Twitch streams. Thus we must look to unofficial Twitch apps for our phones of choice.
Not all of the unofficial Twitch apps for Windows Phone are created equal. I've put the five current best apps through their paces: 8Stream, Infinite Game Stream, LiveGaming, "Twitch TV," and Unstream. Read on to learn how they compare and which app is the best in its class.
No perfect app yet
The ideal mobile Twitch app would offer as much of the full Twitch website's functionality as possible. Users shouldn't have to leave the app and visit the site itself to perform important functions like following a channel or watching past broadcasts.
Surprisingly, only one app in our roundup supports the ability to search for specific channels and follow them whether or not they are online. According to one developer we questioned, the Twitch API's support for following offline channels is not immediately obvious due to ambiguous wording in the documentation. Thankfully Unstream does support the feature – hopefully others follow suit soon as well.
The big feature that none of these apps supports is watching past broadcasts. We really want Windows Phone users to be able to view our streams after they have ended, but at present you can only do so from a PC web browser or apps for other platforms. Twitch stores past broadcasts in an entirely different format (.flv) than live broadcasts, which creates a number of technical challenges. It might be several months before an unofficial Windows Phone app can play them, if ever.
Still, most of these apps are great for viewing live broadcasts. Tuning in during a live stream and chatting along with your fellow viewers is half the fun of Twitch streams. Thus the question becomes which apps offer the best browsing, viewing, and chatting experiences?
8Stream from Infinite Loop CH
At present, 8Stream is the only Twitch app on Windows Phone that also offers a Windows 8 and RT version. The app itself is free and supported by ads. A $1.99 in-app purchase disables ads, presumably across both platforms.
This one offers a good, clean interface. Actual stream browsing is fairly limited. You can scroll through a list of featured games, and select one to view a list of active streams for that game. If looking through a random-ish list of games doesn't strike your fancy, you'll have to search for specific games or streams.
8Stream features a fair amount of settings with which users can customize their experience, most notably the choice of two visual themes. A minor gripe, but all of those settings could easily fit on the same page instead of being spread across three pages.
While 8Stream supports both portrait and landscape orientations, the presentation of each varies in quality. Portrait looks quite good, with the video at top and chat automatically displayed below it. The chat doesn't support username colors or emoticons (standard Twitch features), but I like the font.
Switching to landscape, you won't see chat by default. Tapping the screen brings up chat, which overlays the video on a semi-transparent background. Not a terrible solution, but it could look a lot better. Either the transparency is too bright or too dull – probably the former. 8Stream knows its portrait mode is better, so users can set portrait to default but not landscape.
One nuisance about chat: upon joining a stream, the game displays the message:
"Information: Connexion to the chat…"
That's bad English, and it detracts from an otherwise professional presentation.
Infinite Game Stream from Infinite Square
Things start rough for Infinite Game Stream (IGS) with an utterly non-descriptive and poorly-written Store page.
The actual app interface looks distinctive, at least, but not in a good way. Rather than a typical plain light or dark background, this one has a blurry gray image that doesn't wrap-around properly when you swipe between the "Menu" and "Recently Viewed" pages. The main issue is the app's choice of fonts, which don't look professional at all. They also get pretty tiny in places, even on my Lumia 1520.
From a stream browsing standpoint, IGS has the same basic browsing functionality of 8Stream. It also goes a little farther, offering both featured "Streams" and "Recently Viewed" pages.
The search function, sadly, simply does not work. All of my searches for popular games returned zero results. IGS has not been updated since October. Maybe Twitch changed how their searches work between then and now. In any case, the broken search means the app can only be used to watch streams you discover through browsing or are already following.
Streams can only be viewed in landscape mode. By default, the video appears on the left and the chat on the right side of the screen. An ad (that can't be disabled) appears over the chat window, whereas it would fit much better on the left side above the video.
If split-screen doesn't do it for you, you can toggle between two full-screen modes: with or without chat. If you enable chat in full-screen, the text overlays the video with no transparency effects. I actually think this looks better than 8Stream's partial transparency.
The app's ugly font fares worst in chat, though. Usernames appear in blue, making them particularly hard to read. At least chat has an emoticon menu, although sometimes the actual icons failed to load until I relaunched the app.
Following channels is harder than it should be. You can't follow from within a stream, only outside from the browsing interface. Finally, the Settings menu offers a scant three options, one of which adds a page of recent Twitch-related tweets to the main menu.
Infinite Square badly needs to update IGS and get the Search function working. After that, they should focus on making it less likely to induce eye pain. For now, IGS is easily the worst app in our roundup.
LiveGaming from Charl A Cilliers
Probably the best known Twitch app for Windows Phone, Livegaming boasts a highly professional appearance in both menus and chat. You get a single classy visual theme for free, with three extra themes unlockable by in-app purchase.
Browsing is nearly on par with Infinite Game Stream. Users can look through "Featured Channels" and "Top Games" as well as viewing any followed streams that are currently live.
Searching for games or stream names brings up a single list of search results, unlike most other apps that separate by game and stream title. That can prove restrictive should you search for a series or character rather than a specific game name. Instead of a list of games with Mario and choosing from there, you just get a big list of streams for all Mario games, sorted by number of viewers.
LiveGaming only supports landscape mode, but it does so quite well. By default, you get full-screen video with a tiny chat icon in the lower-right corner of the screen. Tapping anywhere other than the icon displays the host name, channel title, and current number of viewers. If you don't like the chat icon, you can set it to auto-hide and it won't appear until you tap the screen.
Hitting the chat icon brings up chat, of course. The chat appears over the video with a mild layer of transparency; the effect works better than 8Stream's. Usernames mostly appear in red, although some show up in different colors. Not sure what the rhyme or reason is there, as they don't seem to match the actual Twitch site colors. At any rate, the fonts and colors look significantly better than any other app in our roundup.
If you only want to watch streams in landscape mode, LiveGaming is a fairly strong app. But with no support for switching Twitch profiles or finding and following offline channels, LiveGaming lacks some important features that would allow it to stay at the head of the pack.
"TwitchTV" from Creato
This app is currently called TwitchTV on the Windows Phone Store. I say currently because I know for certain that Twitch doesn't like unofficial apps to use the Twitch name.
Even though the store description has the word "Unofficial" up front, the name, icon, and visual design of "TwitchTV" all mimic the official Twitch design too closely for comfort. Don't be surprised if "TwitchTV" gets delisted and returns with another title.
Ignoring the deceptive official Twitch logo at the top of the app's menus, the actual browsing experience beats LiveGaming's. Users can browse three different pages: Featured Streams, Top Games, and Top Steams.
You can search for either games or streams. Oddly, both searches are separate from one another. It would make more sense to let us input a single search and then swipe between the two results pages like 8Stream does.
"TwitchTV" often fails to load video streams, even though they are live. These problems happen when I visit streams I follow and streams I find through search results; featured streams work fine. Thus you can't watch a lot of streams through this app, which clearly isn't working as intended.
Portrait mode looks decently sharp. Chat actually shows different username colors correctly, unlike the other apps we tested. However, a large black bar divides the video and the chat, wasting a significant amount of screen real estate that should be going to chat. The chat doesn't support emoticons at all, annoyingly. On the plus side, the text input box at the bottom of the screen is transparent, which looks kind of cool.
Although "TwitchTV" supports landscape mode, it does not offer chat in that orientation. Not good. Also bad, the Follow button (actually #Follow for some reason) appears as transparent text overlaying the video in both portrait and landscape modes. Positioning it over the video as plain text is unintuitive and difficult to see.
Finally, "TwitchTV" only offers a scant three settings to change, one of which enables a Live tile.
This app is the newest one in our roundup, so some rough edges are to be expected. Hopefully Creato changes the name and visuals to better reflect the app's unofficial status, fixes the issue with non-featured streams not working, eliminates the black bars during portrait mode, and continues to refine the app.
Unstream from Travis Liew
At last we come to the most fully-featured Twitch app in our roundup. Unstream offers two themes: black and custom. Custom uses images from games as background art on the main menu and gray backgrounds in the sub-menus. Me, I'd put images in the sub-menus for consistency and make gray backgrounds a third option.
Unstream's main menu only displays Featured Channels, but users can also select "Watch Live" to enter a sub-menu with three pages: Top Games, Top Channels, and Top Groups. I believe a "Recently Viewed" option will be added in the future.
Search is where Unstream most distinguishes itself from other apps. Not only can users search for games and streams, we can also search for channels! No other app on Windows Phone allows you to look for specific channels.
The channels don't have to be online, either. You can search for channels like WindowsCentral and Eastxtwitch, select the desired channel from the search results, and choose to follow it from the pop-up menu at the bottom of the screen. This is basic functionality you'd get from the Twitch website, but only Unstream has bothered to incorporate it.
Although Unstream supports portrait and landscape modes, portrait mode is not much of a looker. By default, the video appears in the center of the screen with huge black expanses above and below it. To bring up the user interface, you have to directly tap the video – not the black area.
The UI displays the host and channel names and number of viewers at the top. At the bottom, you can adjust the stream volume independently from your device's volume, which none of the other apps allows. An ellipsis button jumps to the app's Settings menu, and the chat button opens chat.
The actual chat mimics the look and layout of Windows Phone's built-in instant messaging. Some comments are right-justified for some reason. Usernames don't use colors or bold text. The actual text is smaller than normal, which allows for more of it to show up on-screen. But you could also squeeze more text in by putting usernames and their chat messages on the same line instead of separate lines.
Chat doesn't look right in landscape mode either, but the implementation shows potential. Unstream overlays the text on the right side of the screen with a dark transparency layer behind it. So you get the video in its full size, with the right half partially obscured and the left half unobscured.
That actually works better than any of the other apps that support landscape mode chat. But the goofy right-justification of some chat messages results in usernames and portions of those messages getting cut off. And like portrait, the actual chat text is tiny and not pretty. If Unstream could keep the text on the right side of the screen like now but match the appearance of LiveGaming's chat (plus properly support username colors and emoticons), its chat would be perfect.
One great thing about Unstream's chat in either orientation: the user list! This app alone lets you view a list of people watching the stream. In landscape the list will appear over the left side of the video. In portrait, it shows up over the chat itself. You can swipe to scroll up and down the list. Being able to see exactly who is in the chat room is incredibly handy.
Unstream offers an extensive list of options and features that we'll discuss in a future review. The last features I'll mention here are the ability to watch your own channel (when it's live) and view the profiles of yourself and others. None of the other apps allow those things.
Although the chat won't win any beauty contests, Unstream wins this roundup thanks to its many exclusive features. No other unofficial Twitch app for Windows Phone comes as close to offering full Twitch functionality as Travis Liew's app. He still has more features planned, so the competition really needs to step up their game.
Grab the trial or full version of Unstream and be sure to follow our channels Eastxtwitch and WindowsCentral from within the app. We'll look forward to seeing you when we stream!
Get the Windows Central Newsletter
All the latest news, reviews, and guides for Windows and Xbox diehards.
Paul Acevedo is the Games Editor at Windows Central. A lifelong gamer, he has written about videogames for over 15 years and reviewed over 350 games for our site. Follow him on Twitter @PaulRAcevedo. Don't hate. Appreciate!