Watch Twitch on your phone or tablet with 8Stream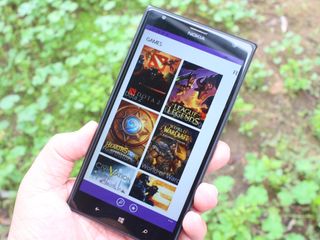 Heard of 8Stream? It's an excellent third-party Twitch app for Windows and Windows Phone that is too good not to highlight. We don't have any word on official Twitch apps coming out for Windows, so we're left trying out different third-party apps. 8Stream for Windows Phone and Windows 8.1 is an excellent app for Twitch fans wanting to watch live video game sessions on their phone or tablet.
We've been using 8Stream the past few weeks. It's a great app that does everything you'd want from an official app. Here's the full list of features available to those using 8Stream:
Watch Stream in any qualities (if available)
All games
Featured streams
Followed streams
Login to twitch.tv
Chat support
Search games, channels, and streams
Follow and unfollow channels
The Windows 8.1 8Stream app has the above features, but adds the following:
Stream audio only
Background stream audio
Snapview for the player
Twitch is the standard online platform for watching live video game streams. The Xbox One is able to natively stream to Twitch from the console itself, but some users use extra hardware called capture cards to stream content. Why would you want to watch someone play video games? I thought it was bizarre until I tried it a few years ago. It's not as alien as you might think, in fact I'd argue it's no different than watching professional sports teams play on television.
I've been loving the app on Windows 8.1. In fact it's my preferred way to watch Twitch on any PC. You can snap the app, hide the chat box and just enjoy some gameplay while you're doing your regular work. Another neat feature is the ability to only listen to the audio of a stream. I haven't found myself using that too much. But I see its utility for the Twitch streamers that do their streams as more of a podcast where the dialog is what you're tuning in for.
The Windows Phone version of the app is killer too. You can watch a stream and chat in portrait mode or rotate your phone to landscape to get a full-screen view of the stream.
In both versions of the app you can select and toggle stream quality, follow and unfollow channels, browse for games and more.
Anyone wanting to watch Twitch on their phone or tablet needs to try out 8Stream. The app is free and ad-supported, but an in-app purchase of $1.99 removes those ads. Let us know what you think of 8Stream!
if the name would've been 6Stream I would've known who wrote the app...

I prefer GAMESTREAMS on Windows 8

Using LiveGaming and works fine. Will try this one.

I like LiveGaming too, but this one is nice and does have a Windows 8.1 app to go with it :)

LiveGaming sucks, stream keeps on breaking every 5-10 mins.. Will try this

Same. But I'll give this a shot because I've noticed the streams being super delayed behind the chat feed on LG

Initial impressions.. Great, I streamed 15-20 mins game without any hiccups

Hey this twitch app sucks...dont use it. Instead use Livegaming app for streams.

I like 8Stream on the Windows Phone, but I like Gamestreams App better for the computer version because Gamestreams App has a better Chat on the PC version

+1 for GameStreams. Best app for watching Twitch. I believe better than all apps, even the official ones on other platforms.

Told you this was a great app Sam!

Actually I told him that when I was watching him play on the eastxtwitch halo stream.

Developer on twitter said, the app would be updated for WP8.1 native soon. Currently, it's WP8 app

Thank you Sam for the tip :)

Thanks for the tip, been hoping a Twitch app would come out but this does the job.

There is also livestream and gamestream

Downloading now. Over had trouble following and finding my friends stands on live gaming hopefully this is better

Had to pay LiveStream dev twice to get the app unlocked, then swapped my phones and it was locked again, never went back. Will try this and see if it's full featured without multiple 99cent charges to use all features.

I've used gamestream and livestream and both have their advantages. I like how 8stream can play the stream in portrait but the layout of the menus isn't as good as livestream and gamestream. Live stream looks prettier then gamestream but I like how gamestream can put the chat next to the stream.

For WP, this is the best app as of now.. Might not be feature rich, but at least gets a constant stream

How do you search streams with this app I'm trying to find the PlayStation experience but when I put PlayStation in the search the Sony channel never comes up
Windows Central Newsletter
Get the best of Windows Central in in your inbox, every day!
Thank you for signing up to Windows Central. You will receive a verification email shortly.
There was a problem. Please refresh the page and try again.