Could Microsoft's involvement in TikTok help Xbox? 🤔
With Microsoft most likely taking a massive slice of TikTok's western operations, how could the social network help Xbox?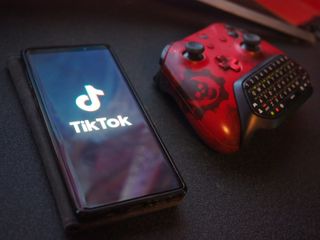 (Image credit: Windows Central)
Microsoft recently revealed that it is in talks to purchase a huge portion of TikTok's western operations, notably TikTok U.S., Canada, Australia, and New Zealand. TikTok's Chinese owner ByteDance recently fell afoul of the Trump administration as part of on-going trade conflicts between the two superpowers. Concerns over how TikTok's user data could be accessed by the Chinese dictatorial regime spearheaded the spat, which has effectively led to Microsoft's involvement, a trusted tech vendor of the U.S. military and government.
Microsoft stated on its official blog that TikTok would continue to operate in a largely autonomous way, but Microsoft would come in to handle the data in accordance with U.S. regulations and enhance TikTok's privacy provisions.
Related: Why Microsoft should buy Tiktok
My initial reaction to the purchase (which is likely to run in the tens of billions) was bemusement. Microsoft has an uncanny ability to run "fun" social platforms into the ground, with a headstart with Skype utterly squandered. At the same time, Discord came in and obliterated the platform, and of course, Mixer, which failed to keep pace with its rivals.
While the glacial pace of Skype's development and features is undoubtedly a worthy example of how Microsoft can fail to understand consumers, the fact ByteDance would largely continue to handle TikTok's development gives the network a fighting chance of surviving Microsoft's dusty corporatism.
With that in mind, could Microsoft use TikTok to leapfrog Amazon with Twitch and Google with YouTube and Stadia as a vehicle for Xbox's social potential? Let's explore a bit.
Twitch is tiny compared to TikTok
It's not viable to compare Mixer, Twitch, and video game streaming to TikTok. As the frontrunner in video game streaming, Twitch is still just a tiny fraction of TikTok's daily active users, which stand at roughly 5 million daily active users vs. 50 million globally. TikTok is a genuinely gargantuan platform, vastly outstripping many of its contemporaries in the space with rapid-cut content and high-volume video ads that make ByteDance (and soon, Microsoft) a ton of cash.
If (most likely when) Microsoft closes the deal with ByteDance, Microsoft will become a social media powerhouse overnight, with LinkedIn on the productivity side and TikTok on the "fun" side, targeting younger audiences and general consumers. You know, like gaming does.
That said, TikTok is primarily a platform where people share real-life videos. There isn't a ton of gaming content on there. Microsoft doesn't even have many official accounts on there (yet), with domain squatters taking their popular handles. TikTok doesn't have a live streaming component either. Both of these aspects are possible areas of unexplored potential, particularly when you consider how TikTok could help Xbox as a brand.
Microsoft's lack of social platform could hurt Xbox
Microsoft is on a mission to reach two billion gamers the world over and hopes to use improved access as the vehicle upon which to achieve that. Project xCloud and Xbox Game Pass will bring Microsoft's portfolio to tens of millions of Android devices in September, although whether or not the broader consumer market has an appetite for this remains wholly to be seen.
Whether game streaming takes off or not isn't the point here. Even on the off chance that it does, Microsoft needs to position itself to win this market segment ahead of some of its big tech company rivals, notably Amazon with Twitch, Google with YouTube, and Tencent with WeChat, QZone, and QQ. The exception in this list of companies with game streaming aspirations is Microsoft, which doesn't have a compatible social graph to tie Project xCloud into. LinkedIn is very work-oriented, Skype as a platform has slid into obscurity, and we all know what happened to Mixer.
TikTok could repair Microsoft's social blindspot here, giving it a vast userbase upon which it can push game streaming. Google has already advertised how it plans to let users enter a game directly from YouTube videos via Google Stadia. There's no reason to think Microsoft couldn't do the same with Halo Infinite and TikTok, promoting the game with ads on the service, while giving users the option to instantly jump into a free trial of Xbox Game Pass Ultimate cloud streaming on the very device they were using to browse cat memes. There's no reason Microsoft couldn't also leverage the technology it retained from its Mixer acquisition to bring live streaming to TikTok as well, a feature conspicuously absent from the platform.
Intriguing potential
While I initially thought Microsoft's purchase of TikTok was an odd move, if they left ByteDance alone to handle the development and curation of the platform at large, there's no reason to think they could screw up TikTok in the same way they screwed up Skype. A lighter touch when it comes to integrated Microsoft's other platforms could help elevate Xbox without impeding TikTok, which is an exciting prospect.
What do you think about Microsoft picking up TikTok? Let us know in the comments.
Main
Windows Central Newsletter
Get the best of Windows Central in your inbox, every day!
Jez Corden a Managing Editor at Windows Central, focusing primarily on all things Xbox and gaming. Jez is known for breaking exclusive news and analysis as relates to the Microsoft ecosystem while being powered by caffeine. Follow on Twitter @JezCorden and listen to his Xbox Two podcast, all about, you guessed it, Xbox!
Please no. I don't want to get rid of my Xbox, I really enjoy it, or should I say Xbox's because I own five of them. Between this and Facebook gaming threatening to infiltrate my Xbox, I might just have to. If any of that spreads to my Windows 10 computer as well then I will just have to ditch everything Microsoft. I really really don't want to have to switch to Linux for my personal computer and PlayStation for gaming, but I will if Tik Tock and Facebook are forced into my systems. I want nothing to do with either one of those evil spying corporations and now Microsoft is going to be involved with both of them at the same time, what the hell is going on?

You know this stuff would be optional right?

It will also help Windows 10X if they develop an app as well.

I don't think it's fair to bring up Skype. That wasn't these guys. That's like bringing up a sport team from ten years ago, same name on front. Different organization. Beam was DOA, gotta buy a market leader, not competitor. And people should relax, nobody is forcing them to use FB or Tik Tok. (Google & Amazon are no better). It could also use teams tech to give TT a chat platform. This is a no brainer, don't forget Microsoft mixed reality and AI ambitions in all this...

Maybe ideal for sharing short clips of gaming.

I'm pretty sure the Skype team was left independent, like a lot of their other high profile acquisitions have been, until well after they started to lose their market position. Keeping the product relatively independent isn't a guarantee of anything.