3 reasons why it makes sense for Microsoft to take over TikTok in the U.S.
Microsoft, possibly taking over the popular social network TikTok in the U.S., seems weird until you look more closely.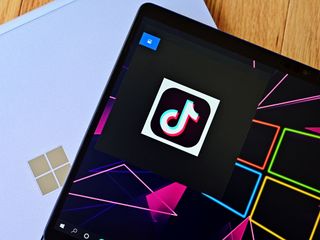 (Image credit: Daniel Rubino / Windows Central)
Update #4: 8/3/2020: President Trump said on Monday "he does not mind if Microsoft Corp buys the Chinese-owned short-video app TikTok," so long as the deal is done by September 15th. This remark clears the path for the purchase to go through without controversy.
Update #3 8/2/2020: Microsoft has now officially confirmed (opens in new tab) it is exploring the purchase of Tiktok, and talks have now resumed following discussions with the Trump administration.
2020 has been a bizarre year, which is only augmented by yesterday's late-breaking news that Microsoft was in talks to acquire the popular video social network TikTok.
A lot has happened since that news dropped, including threats of an outright ban of the app in the U.S. However, recent developments suggest Microsoft is still the leading contender to take over U.S. operations should TikTok parent company ByteDance divest.
While Microsoft seems a peculiar choice for a hip Vine-esque service, here is why it makes sense.
TikTok and the U.S.: How we got here
TikTok rose to prominence in 2019, a year in which the company brought in a staggering $20 billion in ad revenue, an increase of 180 percent year-over-year. That's all from a huge 40 million daily-active-users (DAU) count, which is massive for any social network.
ByteDance owns TikTok (known as Douyin in China) but is only one of many apps the company makes. Despite concerns that ByteDance has connections to the Chinese government (Chinese Communist Party, or CCP), the company is a private technology firm, with a reported 70 percent of its investors coming from the U.S.. The company is valued at roughly $50 billion as of July 29, 2020.
Concerns over security and TikTok have been reported in the press for months. However, to date, there has not been any definitive analysis demonstrating security violations of the Google Play or Apple App Store policies.
In January, the U.S. military effectively banned the app on government-issued devices. One very detailed analysis of TikTok by Derek Banks, a security analyst and penetration tester for Black Hills Information Security, concludes:
Whether TikTok is siphoning private data or is just a silly Vine-clone that those under 30 enjoy is hard to say. The Trump administration was famously "trolled" by TikTok users recently where those involved over-ordered tickets to President Trump's Tulsa rally. The result was an embarrassing under-attendance of supporters. Unfortunately, it is hard to separate personal politics from State concerns these days.
On Friday, July 31, President Trump stated to the press pool on Air Force One that he plans to flat-out ban TikTok in the U.S.. This statement came hours after Microsoft was reportedly in talks to take over U.S. operations. On August 1, Reuters said that the owners of TikTok are prepared to divest U.S. operations ceding control to a U.S. company, namely Microsoft:
Microsoft did not respond to a request for comment from Reuters.
Interestingly, Microsoft's "in" with TikTok may come from Erich Andersen, TikTok's global general counsel. Andersen was with Microsoft for nearly 20 years (opens in new tab), recently serving as Corporate Vice President and Chief IP Counsel to the Redmond giant.
As to why Microsoft makes sense to take over operations, there are a few ...
1. Microsoft brings security, trust, no antitrust baggage
This week, numerous companies, including Apple, Google, Amazon, and Facebook, were on Capitol Hill defending their use of technology, market dominance, and fairness in competition.
Notably absent from the hearings? Microsoft.
Facebook is salivating to buy TikTok going so far as to create a "clone" of the app called Reels. It's a familiar position for Facebook, who has been accused multiple times of trying to buy a company while also threatening to copy its tech and destroy them (see Instagram).
But Facebook is facing a lot of regulatory and political scrutiny. It already owns social giants Instagram and WhatsApp. Adding TikTok to that mix would create a massive and politically unpopular social media juggernaut.
The same can be said about Google and Amazon, though to a lesser degree. Apple seems the most pristine from this controversy, save for its questionable App Store policies. Still, the company doesn't seem to have the internal structure to take over a massive social network suddenly. There's also the question if Apple would treat the TikTok Android app as fairly as the one for iOS.
Microsoft, on the other hand, actually rates highly with consumers on privacy, with Microsoft "soaring" by one independent measure. The same cannot be said about Google, Facebook, or Amazon. Image matters.
The U.S. government also trusts Microsoft. You don't need to look any further than JEDI (Joint Enterprise Defense Infrastructure) and DEOS (Defense Enterprise Office Solutions), both massive contracts the let the U.S. defense machine run on Redmond's software.
Were TikTok to divest U.S. operations to Microsoft, there would be no regulatory hiccups, clamor, or protests. Such a smooth sailing acquisition makes investors and governments happy. Indeed, this reputation seems to be a driving factor as Reuters even reported "Microsoft… will be in charge of protecting all of TikTok's U.S. user data."
2. Boon for Microsoft ad revenue
Google is the king of ads on the web. It is also the target of a new antitrust investigation by 50 U.S. attorneys general announced late in 2019. Giving it more slice of the ad pie is probably not a popular idea right now.
Microsoft also has an ad business (tied to search), but it has been flat for the last few years, as Bing slowly chugs along with single-digit increases year to year.
TikTok pulled in $20 billion in 2019 from ad revenue. ByteDance projected $1 billion in ad revenue from India this year, where the app was just banned, most of it from TikTok.
Even if Microsoft is only running U.S. operations for TikTok, the windfall for ad revenue, reach, and data would be massive.
3. Microsoft Azure cloud and skills
Next to Google and Amazon, Microsoft is one of the most prominent cloud players with its rocketing Azure business.
Microsoft has the infrastructure to run TikTok's data securely and efficiently. The company already runs LinkedIn (who's revenue grew 10 percent last quarter), GitHub, and Minecraft with colossal success.
Microsoft is well-positioned to take the reigns of running TikTok both from a technical and capital perspective.
Takeaway: Of course, this is Microsoft …
To say Microsoft has a mixed history of successfully running new acquisitions is an understatement. It was only in July the company shutdown its Mixer game streaming service, a business that seemed ripe for growth and expansion when Microsoft acquired Beem just four years ago.
Other failed acquisitions include Nokia, most famously. One could argue Skype has been meandering for years, not to mention failures like Danger, Tellme Networks, aQuantive, Navision, and others like GroupMe, Hotmail, PlaceWare, etc.
But Microsoft also had massive success with LinkedIn, Minecraft, and GitHub, aka all post-Ballmer decisions under the reign of current Microsoft CEO Satya Nadella. Minecraft, which was questioned initially, now has 200 million-unit sales and 126 million monthly active users.
Should Microsoft acquire U.S. operations of TikTok, it should do what it does best: handle the backend and logistical work, while letting ex-Disney executive (and now TikTok CEO) Kevin Maye run things. Microsoft seems only to flub acquisitions when it tries to swallow and integrate the company, not when it lets them operate as a standalone like GitHub, Mojang (Minecraft), and to a lesser extent, LinkedIn.
But the case for Microsoft running TikTok is clear. The company has the best reputation, is trusted for security; it has in the infrastructure, and doesn't attract controversy. How this all plays out in the coming days will be a fascinating chapter to this wild year.
Daniel Rubino is the Executive Editor of Windows Central, head reviewer, podcast co-host, and analyst. He has been covering Microsoft here since 2007, back when this site was called WMExperts (and later Windows Phone Central). His interests include Windows, Microsoft Surface, laptops, next-gen computing, and arguing with people on the internet.
Microsoft and TikTok would be a great fit and it would keep the monopolists (Google, FB) from dominating.

Excellent and enlightening article

As much as I love MSFT products and have supported them through the years, this is a bad idea. When Gates ran MSFT it was a consumer and corporate juggernaut. Since his retirement no one at the company can do both and it shows. Retail failures follow one after another and this will kill TicTok. Now since it is a total waste of time and energy maybe the world will be better off. Certainly killing it off will help raise the IQ of a lot of kids, but there are other ways to accomplish that. I sit patiently awaiting the Duo and will enjoy using it, but I have doubts that it will last. The anti-trust suit killed the killer instinct in MSFT and it has never come back. Now that dominance is in Apple, Google, Amazon, and other top dogs that kick MSFT around like school yard bullies. MSFT needs a CEO will a killer instinct to take consumer electronics back. Otherwise it will soon be relegated to the role of cloud provider and windows as a service.

"Since his retirement no one at the company can do both and it shows. "

Minecraft and Xbox speak against that.

" Retail failures follow one after another and this will kill TicTok. "

TikTok is an ad business first, not retail, nor "consumer." It's a

service

, something Microsoft has a lot of experience and success at.

"Now since it is a total waste of time and energy maybe the world will be better off."

Literally all avideo games, movies, Instagram, all social networks, apps on smartphones, etc. I mean, really. You're against distraction and entertainment? Bold move.

"Certainly killing it off will help raise the IQ of a lot of kids,"

OK, this is boomer-level critique now. It's a fun video app. Don't over think it. If you think kids are dumb, blame the parents, not an app.

"MSFT needs a CEO will a killer instinct to take consumer electronics back. "

Does it? The company's stock is a 5 year high, trust in the company is at an all-time high, they consistently beat quarterly expectations, Surface sales are steady/growing, Xbox and gaming is doing very well (especially on the Game Pass rev side). Microsoft is a software and services company. That's its roots. It's about making money for the investors. Whether people here in comments are happy with that is irrelevant. They're not here to be the company you want them to be, they're here to succeed at what they do. They're doing that.

Well I guess the truth and facts hurt. Over the past five years would you rather hold MSFT or Google, Apple, Amazon, etc. stock? MSFT makes lots of money for its shareholders, but that isn't the sole yardstick. The issue is not what it has done but what it could have done compared to peers. I was there in the creative days of the 90's and early 00's and MSFT is not the same company. The Feds took all the steam out of the company and it shows. But this is a pattern often repeated in US industry where the leader and innovator opens the door for others, and then cannot compete in the new environment. Often it is the Feds that kill the innovation, and we know this pattern well. Our industrial landscape is littered with companies who were "rock solid." Sears, Macys, Westinghouse, AT&T, Enron, US Steel, Woolworth, Sony, Sharper Image, Polaroid, Kodak, Bethlehem Steel, Ford, GM, Commodore, DeLorean, WaMu, and Pan Am to name a few. And best of all, let's don't forget that the anti-trust problems at MSFT led them to save Apple for Jobs. Otherwise Apple would be one more on the list replaced by the natural obeisance cycle that usually occurs with the retirement of a corporate inventor. Apple deserves a lot of credit for its ability to maintain its leadership without Jobs. It is a cycle and unfortunately without Gates MSFT is a rudderless ship. In the 90's when Gates spoke the entire world listened because he was the voice of technology. Unfortunately today when the top brass at MSFT speak it hardly makes a ripple. I would bet that 9 of 10 consumers cannot tell you who the CEO of MSFT is, and that tells you all you need to know about their market relevance. An unfortunate pattern also comes from consumers and employees. When employees no longer use your products at home the cost of training skyrockets. That is what killed off the IBM dominance with PCs in the workplace. OS/2 was a superior platform for stability, but no one used it outside of the corporate world and software development ceased. Does this remind anyone of the App issue for MSFT and the weakness of the MSFT Store? MSFT has enough money and talent to fill the store up with more Apps than can be counted, but they have abandoned the App platform and now have to partner with Alphabet to gain relevance in the consumer space. In our world it is brutal for companies that cannot innovate. Killing off Cortona for consumers will kill it off everywhere. Killing off Zune and Win Mobile are just small examples of how the company cannot compete in the consumer space. Surface is a success, but they decided to throw some weight behind the product line. I hope it spills over into the next line.

Over the past five years would you rather hold MSFT or Google, Apple, Amazon, etc. stock? MSFT makes lots of money for its shareholders, but that isn't the sole yardstick.

Trick question. They all have done very well. Any investor would be happy to have placed a lot of money on all those tech companies. It's not a "rather" situation. Also, yes, ROI is the sole yardstick when investing. It's about making money. That's how it all works.

"The issue is not what it has done but what it could have done compared to peers."

No, it's not. That' s in your head. But if you want to focus on

regret

, then keep reading. Gates and Ballmer have some thoughts.

"It is a cycle and unfortunately without Gates MSFT is a rudderless ship. "

No evidence to suggest this is true. Under Nadella, Microsoft has acquired Minecraft, LinkedIn, and GitHub, all of which are doing very well. The company has a clear vision, and it is winning them contracts and selling software. Your hero Gates famously screwed up mobile, making it his biggest regret in running Microsoft:

"So the greatest mistake ever is whatever mismanagement I engaged in that caused Microsoft not to be what Android is. That is, Android is the standard non-Apple phone platform. That was a natural thing for Microsoft to win. "

Ballmer too:

"I regret that there was a period in the early 2000s when we were so focused on what we had to do around Windows that we weren't able to redeploy talent to the new device form factor called the phone"

When Nadella took over Windows Mobile (phone) it was already a decade+ product run under two CEOs. He let the team continue and they gave us Windows 10 Mobile. It failed to change anything. Under Ballmer, the Xbox One/Kinect tanked Microsoft gaming market share - they overshot. The next 7 years was about fixing that mistake. Microsoft doesn't need to succeed at everything. Google has infamously killed: Hangouts, Focals by North, Glass, Daydream, YouTube Messages, Google Trips, Google+, Allo, Chromecast Audio, Project Tango, Spaces, Nexus, Songza, Picass, Okrut, Talk, and about 185 other products. They've barely dented the PC space and are now flubbing Pixel. Stadia is not looking too hot either. Same goes for Apple and home speakers, or gaming, or anything to do with schools and business. You want Microsoft to be Apple. They're not. It's time to get over it.

Don't want MSFT to be Apple, or Google, or Amazon, I want MSFT to be MSFT and act like the technology leader it was and can be again. Technology is often a competition for the minds and wallets of consumers and this seems to be a lower priority for MSFT. Their growth in cloud computing is admirable, but gaming is a fickle business where you are only as good as your last one and they have a short shelf life. In reality MSFT is riding the wave of Windows and Office, both of which are mature products. In the technology world mature, very stable, products can become irrelevant because they are almost out of sight and mind. The are also the greatest foundation to leverage innovation from, and they are being squandered. Gates and Balmer may have missed with mobile, but Gates would not have continued to miss nor take a back seat to others. Balmer was a great tactician and number two, but not a visionary and could never capture the attention of consumers nor the investment community. Balmer is a brilliant guy, but he isn't Gates or Jobs. Gates, like Jobs, is a rare person who has the ability to innovate, manage, and relate to people at all levels. Enjoyed the discussion and let's both hope MSFT gets it right with mobile this time. Have a good weekend.

Cheers, appreciate the discussion!

"Technology is often a competition for the minds and wallets of consumers " Just as often, it is not. Microsoft is now - and will continue to be - just fine without having any consumer products.

You say you love MSFT, which I'm not contesting whether you do or don't, however you seem to be very "Gates" centric and provide nothing to talk about MSFT's ascension in certain areas while making sure you highlight their short comings. So I wonder how much about the endeavors of MSFT over the past 10 years are you familiar with? You inquired about stocks. Well as someone who started to invest into MSFT around 2013, I'm very satisfied with my choice of investment. MSFT's and Apples' dividend growth percentage over the past five years is very similar. MSFT at 10% and Apple at 10.70%. You're also talking about the zygote stage of the internet and cyber universe so making comparisons then and now isn't really productive. The 2-in-1 form factor that combines the experience of a tablet and laptop didn't exist when Gates was at the head of MSFT. The technology just didn't exist. It's mainstream now though. How do you think that happened? I'd say the "Surface" brand had something to do with that. Cloud computing has become the new network infrastructure from a productivity and expansion standpoint. AWS is the leader, but Azure is a close second. Cloud computing didn't exist when Gates was the head. Bill Gates put MSFT on the map but do say that nothing positive and innovative have been accomplished since then is to show a bias that indicates to me you either don't know or don't care about what has happened in the past five years, which is a shame because for someone who claims to love MSFT you've missed out on a lot.

Xbox is hanging by a thread, that's not a solid example. Hardly innovative but for the moment neither is the competition.

I agree with that. Don't know if it's my age or not but I feel this gen has been poor for gaming from all 3 personally the Wiiu was my favourite console of this gen as it offered something new and some great ips. This needs to change for the Xbox SX ps5 and next Nintendo console. I've ended up to moving to pc this gen as offers me more of that I want.

"Xbox is hanging by a thread,"

I'm convinced many of you do not live in reality, or even follow the numbers. If I could expel all the salty ex-WP fans here, I'd do it in a snap. To the record: Microsoft has reported gaming revenue up by 64 percent year-over-year ($1.3 billion) last quarter. Xbox hardware revenue grew by 49 percent, with Xbox One consoles frequently sold out across the nation. Xbox content and services grew 65 percent year-over-year ($1.2 billion), inclusive of games sales and subscriptions. That's the reality. Xbox and Game Pass are bringing in a large amount of recurring revenue.

I completely agree with you, and that's not even looking into Project X cloud, which is in my opinion the future of where gaming is going.

If MS provides better security than Google and Facebook, then where's Apple? Is Apple offers more security than MS?

I talk about Apple in the article.

Sir, in today's world, nothing is secured. Our data has been shared everywhere. Even Windows and MacOS took our money to secured our data (but they're actually checking our systems).

You haven't actually refuted anything I have stated here. Saying "nothing is secure" is vacuous and it does not advance the conversation, nor present an alternative argument to the TikTok predicament at hand. If you have a specific point and argument to make, make it. Stating platitudes in comments and patting yourself on the back is intellectual laziness. The main arguments against Apple are: They don't have their own cloud service to power it, nor secure the data They have never played fair with Android making the future of the TikTok Andorid app questionable (see DarkSky).

It is more complicated than that. There are a few things to keep in mind:
-> who is collecting the data / how is it used? Facebook/Chinese: sell it and for advertisement, amazon: probably sell it, google: use for advertising/profiling, ms/apple: diagnostic mostly (possibly using it for advertisement depending on the source).
-> where is the data stored / how is the data protected? Eg facebook: sometimes not secured so 3rd parties (like cambridge analytica at the time) can likely get hold of it, Google/MS/apple: secured, Chinese apps: the chinese government gets full access to it (not kidding here) and likely the data will be not be encrypted (well) anyway.

Amazing how things have come full circle. Microsoft is now the 'good' guy. I remember when this was an unthinkable statement in the late 90's. On the other hand, Google were the 'good' guys then. Now the tables have fully turned. It's really fascinating!

I think once Microsoft stopped declaring war on everyone and, instead, started cooperating and partnering, everything got a bit better, both for consumers and the company. They make great software and services regardless of the platform (iOS, Android, Windows, Linux), which makes them hard to dislike.

Yes, and it turns out that supporting other platforms (though maybe initially forced to after their own mobile efforts were discontinued) actually ends up growing Microsoft's own reach. What's more is that it further entrenches them as the de-facto standard, regardless of platform. It's remarkable how much success Office has had on mac and iOS for example.
I think the lesson is to focus of delivering excellent services to your customers wherever they may be, rather than wasting energy and resources trying to force or 'trap' them within your ecosystem. It ends up paying big dividends down the line.

I truly hope Microsoft buys TikTok. Fingers crossed

Great way to kill it off. Let Microsoft buy them.

It is a win win whatever the outcome ^.^

Yup. It'd be a blessing in disguise for the World.

If they handled it that way, then it probably would be a smart acquisition. Let's face it, though. That's NOT their USUAL practice and, more often than not, acquisitions get absorbed, wither and die. Of course, I'm convinced TikTok will last about as long as Vine did. It's really not all that different.

"That's NOT their USUAL practice, more often than not, acquisitions get absorbed, wither and die. "

I completely disagree. From today's New York Times:

"And TikTok may also view Microsoft as a safe landing spot. Mr. Nadella has allowed Minecraft, LinkedIn and GitHub to keep operating largely independently. Microsoft, analysts said, has taken a patient stance with all three, adding resources to each and seeing how they develop rather than applying management controls from headquarters to seek higher profits quickly."

All the major acquisitions under Nadella have been more hands-off than the Ballmer-era ones. The exception being Mixer, but hard to pinpoint exactly what went wrong there. My feeling is MS management did get its hands in there a bit too much.

I still think it's a bad idea though. Those are some decent Pros, but I feel like it will be a waste of money if they can't keep the 'TikTok' brand. Microsoft would also have to really push a 'privacy' message to ensure the general public knows that it doesn't have the same privacy issues the current app has. TikTok has also had some negative perceptions on how it's affecting the younger generations (and even adults who try to join in), and hwo they're doing things for clout. Will this put a damper on the MS brand? Maybe, maybe not. Should be interesting to see how this plays out. But even if it does pan through, I have a feeling it won't last long.

" if they can't keep the 'TikTok' brand. "

Pretty sure they keep the TikTok brand, it just operates separately from the China business. But sure, if they have to change the name/brand that'd be problematic.

"Microsoft would also have to really push a 'privacy' message to ensure the general public knows that it doesn't have the same privacy issues the current app has."

There's no evidence to suggest people care. TikiTok usage hasn't declined at all in 2020, it has only gone up. The only "convincing" needed is for the Trump admin, not the users.

"TikTok has also had some negative perceptions on how it's affecting the younger generations "

I'm getting the distinct feeling you're never seen many TikToks. They're 15-sec videos that are often very funny and creative. It's just Vine 2.0. I get how every new tech/app is a threat to the youth (/s), but really, there's no there there.

Looking forward to it being put into Teams.

lol same, or god forbid, Skype

IMO that's the kind of aquisitions MS has never been good at. The one MS (and everyone) should focus on is ARM.
The biggest chip manufacturers have a tendency to be anti competitive, one of them buying ARM could be dramatic.
MS on the other hand has proven in the past years that it can run successfully its own hardware line while still providing fair support for its competitors.

I would not appreciate it if they bought them. Ads on the web are a shady business and are the root of many privacy issues that we have. Don't take the dirty money.

This is not about privacy issues, this is about getting back at Tik Tok over the Tulsa rally.

Reason no. 2 negates reason no. 1.

The rumors that Microsoft is in talks to acquire TikTok's US operations left me scratching my head as to why this made any sense. Still, given Mr. Nadella's proven record as CEO and his profound understanding of technology and how it will shape the future caused me to observe, If that dog is sniffing around that tree maybe there is something my old nose is missing. The key takeaway of Mr. Rubino's article, and the one I initially overlooked, is the reminder that social media applications are far less about the social aspects and all about monetization of the user base through ad sales. In a sense this observation is similar to noting that McDonalds is more about maximizing the value of its real estate and oh, by the way they happen to sell French fries. Following this premise as a starting point suddenly this acquisition starts to make a lot of sense as it gets Microsoft into the digital ad business at scale immediately, both in terms of the ad revenue and active users that Bing is not delivering. At this point in time there is nothing available that I am aware of that matches the scale and growth rate that TikTok brings to the table. That Facebook rolled out Reels is an overt acknowledgement that TikTok out flanked Facebook. From my reading, the 2020 total advertising spending across all media is about $650 billion with the digital part worldwide valued at $336 billion with the US digital market valued at about $135 billion. Further, online video and social media will account for about 37% of all digital advertising spending in 2020 with around 50% of the advertisers planning to increase their digital ad spending. That is not nothing, in fact it is kind of a big deal in my world. The subsidiary points Mr. Rubino makes, that Microsoft has no antitrust baggage, has excellent security and trust, and has a stellar cloud infrastructure and technical talent, round out the case that this move is anything but a head scratcher. I have thought about these exact points for quite a while now and they match up with my reading and thinking. Microsoft has formidable weapons at its disposal. I watched the House antitrust hearing with great care. That Microsoft was not there spoke volumes about the current landscape. Facebook, Google, and Amazon deserve every bit of government scrutiny they are now getting. The key point is this deal is doable from