Covy Land, a fast paced platformer game for Windows Phone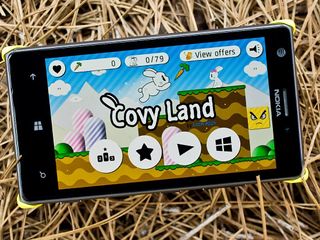 Some time ago, we ran across a decent endless runner styled Windows Phone game from Loon Apps, Covy Rush, where you guide a rabbit through an obstacle course full of dangers. Covy Land is the follow-up to Covy Rush that has similar dangers but is presented as more of a platform styled game.
Covy Land has you guiding the rabbit, Covy, across thirty levels of play and help Covy find all her children. You will have traps and blocks to avoid along with secret passages to discover.
Available for 512MB devices, Covy Land does have a certain amount of appeal. Graphic are nicely drawn-up, game play is challenging with a fast pace but the game does have a Kid's Corner feel about it, which may not be attractive to everyone.
Main Menu
No surprises with Covy Land's main menu. You have options to view the online leaderboard (and set your player name), rate the game in the Windows Phone Store, play the game and view other games from Loon Apps.
Across the top of the main menu is a heart button to like the game's Facebook page, you carrot count, how many family members you have rescued, an Ad-Deals network link and a mute button.
The story behind the game has Covy's family being scared off by a mysterious monster. Once the dust settles, Covy must set out to find all her children (79 of them). After viewing the storyboards that illustrate the fate of Covy's children, the game will walk you through a tutorial on game play. Once you finish viewing the tutorial you are ready to tackle the gaming levels and find the 79 bunnies.
Game Play
The goal of each level is simple. Safely avoid all the dangers, collect all your bunnies and make it to the finish line. The mechanics of Covy Land are simple. Covy starts running across the screen and it's your job to have her jump at the right instance to avoid various dangers. Jump controls consist of an on-screen control that sits in the lower left corner of the screen.
Tap and hold the jump button and a green trajectory arrow will appear. You can then drag your finger around to line up Covy's jump just right where she can avoid all the pitfalls each level offers.
Sounds fairly easy, right? Just remember that while you're lining up all the jumps, Covy is still running across the screen. Without the ability to slow or stop Covy from running, the game pace can have a little zip to it. Covy can run into walls and stop but without any momentum, your ability to jump may be restricted a bit.
Carrots are lying around that, when collected, gives Covy a boost of speed. Then there's the missing bunnies that you'll run across that need to be collected. If you miss one of the bunnies, fear not, you can always replay levels.
Overall Impression
Just as we saw with Covy Rush, Covy Land is a nice Windows Phone game that does grow on you. Graphics are nice and game play has a fast pace with plenty of challenges. The developer has added a lot to the game to add a little beef to things with leaderboards, levels of play and the secret passages.
While an enjoyable game, it still lacks that addictive quality that keeps pulling you in. Covy Land is a fun game to have installed on your Windows Phone to help you pass the time every now and then but I just don't see it as a 'go to' game.
Based on the game's appearance, I can see it being an appealing children's game but the controls need to be simplified. Maybe tap the screen to jump, double tap to jump higher? This could be an option in the game's settings to give the game a little versatility.
Nonetheless, the game is a decent Windows Phone title that delivers the endless runner play of Covy Rush to the mult-level play of Covy Land. I think the game is worth a try and it may surprise a few.
Covy Land is available for low-memory devices.
Windows Central Newsletter
Get the best of Windows Central in your inbox, every day!
George is the Reviews Editor at Windows Central, concentrating on Windows 10 PC and Mobile apps. He's been a supporter of the platform since the days of Windows CE and uses his current Windows 10 Mobile phone daily to keep up with life and enjoy a game during down time.
XBOX......PLZZZZ...OR NOOOOO

Subway surfer now available for 512 Mb ram devices...

Yo ! subway surfer 512 support is out !

Uh, they already wrote an article about that.

This one http://www.wpcentral.com/subway-surfers-512mb-ram-support-coming-paris-u... ?
it says is coming, but it's out now :)

Am I the only one who thinks about Super Mario Bros when seeing the screenshots?

There is a game called adventure of Ted that is obviously a Mario rip off

Simple and addictive game

This game is really interesting...but it is not easy to play :D I mean to get the high score :D

Shit games for 512mb ram... Damn

Covy Land works on Nokia 520.