Cricket fans, rejoice World Cricket Championship 2 is here!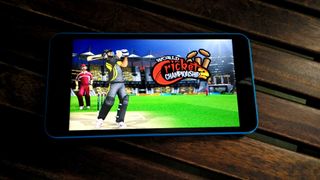 When it comes to video games, cricket has had a patchy showing. Unlike football, the game is popular in limited countries and major centers amongst these countries are outside the U.S. There have been Brian Lara Cricket and EA Sports Cricket in the past, but none too consistent through the years.
That continues, and cricket fans still don't have a licensed, nicely packaged cricket simulation. World Cricket Championship 2 aims to fill the void, and the series has garnered quite a following with pretty good Windows 10 and Windows Phone Store ratings. The players' names and identities are purposefully misspelled to circumvent licensing, but the game offers a great amount of control over batting and bowling with realistic physics applied to the gameplay.
There are over 45 different batting shots, stunning diving catches and quick throws, and realistic ball physics which responds to the pitch conditions. Of course, there's also an autoplay mode for bowling and batting. You can configure your player for special skills, and improve them accordingly.
The game supports 18 different international teams and 10 domestic teams and you can participate in tournaments like World T20 Cup, Blitz Tournament, and ODI Series. There's also the Gangs of Cricket mode where the user can form gangs and compete in challenges, also enabling the user to challenge other gamers.
There are several, casual cricket games on all platforms, but WCC2 offers great visual appeal with cinematic cameras and real time-lighting. There's also a professional audio commentary with dynamic ground ambient sounds making it a pretty good package.
If only the publisher could manage the tricky multi-national licensing of cricket boards, teams, and individual players, World Cricket Championship 2 would be an ace sports simulation game. Nevertheless, it still is the most dynamic and versatile mobile cricket game. World Cricket Championship 2 is a free game available from the Windows Phone and Windows 10 Stores. While a free gaming title, there are in-app purchase opportunities.
No 512 MB ram support. Hope they bring that in a future update.

As we move forward in time, its not just a case of oh fix in future update. As game physics, graphics, artificial intelligence improve you need more ram. For games to always support 512 mb ram it requires rewriting the code and making the physics, graphics and Ai stuck in the past. Otherwise what is the point of xbox one and ps4 over 360 and ps3? 360 and ps3 are 512mb ram. Ps4 and xbox one is 8gb ram. So are we supposed to expect gaming to stay where it is and make games ceap do 360 owners can still play a game? Same on phone. Sorry buy new hardware to play modern games. Don't hold gaming back with old hardware.

Thanks for that boring lecture. But no thanks. I am well aware of that. There were many games that were initially launched for 1gb ram phones that later were updated to support 512mb ram phones. I just wrote I hope it happens . Jeez. You write one comment and the world explodes, thinking you're holding back gaming altogether .

512mb Ram device now outdated

Don't say that, I'm still in L520

I participated in two Insider Programs 8.1 and 10 to make windows better, Now I became useless for MS as New people with 1Gb ram have came in lieu of us. Sometimes latter also they became useless. This is rule of nature.

Too bad.
You bought a 512 MB RAM phone between 2011 and 2013. Since then, two years have passed. That's more than enough time to upgrade.

Not sure what any of that has to do with this particular developer

But why they released Lumia 630 with 512 mb Ram in 2014 . I had upgraded to 630 last year.

Ohhh!!! Again not supported for 512MB ram devices!!

What is that Google Play logo doing there in one of those screenshots ???

Yeah , good find... I actually observed it when you said . We need Windowsphone store logo

Game runs smooth... Graphics renders perfectly just hoe my Lumia 1320 should perform... One problem I find this first release of the game is "You can't easily fix the ball pitching point , while bowling . That should be fixed " remaining things is Players names need to be corrected with correct spellings.... I cant handle someone misspelling Ab De Villiers , Virat Kohli & Chris Gayle names

It is done on purpose to avoid licensing suits against the developer... It is on all games even the EA ones

It is not a spelling mistake, that is done deliberately to avoid paying these players for their licensing rights.

Always felt envious when my brother used to play this game in his Android!

It works great in my Lumia640XL :D

I just love cricket and will play this game

Hah; I've never heard in-app purchases being called "opportunities", like I should be excited or thankful for micropayments in a game. :)

There is Pro Cricket 2015 which is the official Game of ICC Cricket but sadly it isn't available on Windows Phone but is available on PC, iOS and Android :(

ICC not developing apps and games for windowsphone

Crap. I thought this was all about Cricket Wireless. Perhaps some new promotion. I forgot about the <cough> "sport". My condolenses to all 9 users of this app. Carry on.

Best ever Cricket Game on any mobile phone, even much much better then Android version, I have played on my Android & Windows mobile & found Windows version is so beautiful with great graphics, without legs!!
Windows Central Newsletter
Thank you for signing up to Windows Central. You will receive a verification email shortly.
There was a problem. Please refresh the page and try again.