Cricket Wireless launches the Lumia 1320 exclusively in the US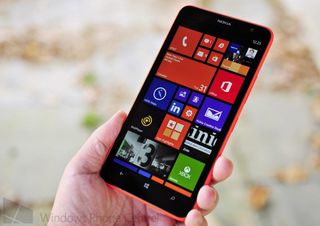 After leaks from earlier this month revealed that the Lumia 1320 was set to make its way to Cricket Wireless, the carrier has officially launched the device in the US. The 6-inch phablet is exclusive to Carrier Wireless, and will be available from retail stores and online starting June 13 for $229 (after a $50 mail-in-rebate).
The Nokia Lumia 1320 features a 6-inch 720p display with a Corning Gorilla Glass 3 coating and Nokia's ClearBlack technology for better readability in bright conditions in addition to a 1.7 GHz dual-core Snapdragon S4 CPU, Adreno 305 GPU, 1 GB RAM, 8 GB internal memory (microSD up to 64 GB), 5 MP camera, 0.3MP VGA front camera, LTE Category 3 (100 Mbps downstream), HSDPA (42.2 Mbps downstream), Wi-Fi 802.11 b/g/n, Bluetooth 4.0, microUSB 2.0 connectivity and a 3,400 mAh battery.
Cricket Wireless states that the device will be able to make the switch to Windows Phone 8.1 in the coming months, which will include Microsoft's intelligent personal assistant, Cortana.
Would you be interested in picking up the Lumia 1320? What are your thoughts on using Windows Phone on a phablet with a screen size of 6 inches? Let us know in the comments below.
Get the Windows Central Newsletter
All the latest news, reviews, and guides for Windows and Xbox diehards.
Harish Jonnalagadda is a Senior Editor overseeing Asia for Android Central, Windows Central's sister site. When not reviewing phones, he's testing PC hardware, including video cards, motherboards, gaming accessories, and keyboards.
How soon will it be on Verizon

Keep in mind, everyone on carrier exclusivity, that these phones were made before Microsoft bought Nokia. This means that legal departments from both carriers AND Nokia had to negotiate deals to bring carrier exclusivities well before the phone was even available for sale. My guess is, if Microsoft is smart on this one, that carrier exclusivity will end at some point. :)

My guess is not anytime soon, as a CDMA-variant has to be made to allow for voice calling and SMS creation.

Cricket is GSM now they are no longer CDMA since the aio merger

Good they have really big issues in the US putting phone in the market, dont they

Lol it's already here in Holland for every carrier.

Because you live in EUROPE.

I know. i live in Europe too :)

how much is just the phone without a deal?

In Sweden it's about $370 or so. Really cheap for what you get.

An exclusive for every dang blasted Windows Phone from Nokia....

I have been using it since last five and half months..its awesome..but now I want something bigger and better Camera and memory wise..

You mean that you want a 1520?

Nope , something new ..6.25inch display.. New proseccor 3 GB RAM, 41 MP Camera... Posted via Windows Phone Central App

Would you need that much? Posted via Windows Phone Central App

Why how my gb is on that and megapixels is that camera

1320 has 1 GB RAM and thats good enough..I want more RAM for that 41 MP Camera on my dream phone...1320 got 5 MP basic camera..

8GB on board and a slot for SD up to 64GB and possibly 128GB. :)

Glad I switched :) love the service and plan I have just wish the speed was uncapped but oh well will definitely be getting this to upgrade my 820

Does it have tmobile LTE on board?

It should once you get it unlocked, but the RM-995 on Newegg would work better on T mobile and you wouldn't have to wait on ATT for updates. IIRC it will set you back about $300.

Rumia 1320 with intensive usage easily lasts up 4-6 days. If you play games expect a whole 2 days with ease.

My battery doesn't last more than 17-18 hours..out of which my screen remains on for about 8-9 hours..

4-6 days, impossible. 1.5 maybe. For gaming, it can last just a few hours, maybe less than 6. I've been using it since day one launch in asia. Btw, wp 8.1 worsen the phone battery by 20-30%

No carrier exclusives please. Put it on every pre-paid carriers and PAYG plans. And subsidize for $199. Lumia 520 - $60, Lumia 630/635 - $99 and Lumia 1320 for $199. That will set the tone for Windows Phone in United States for Blu and Yezz to follow suit.

Carrier exclusive is killing Windows phone, but Microsoft will continue to spend billions marketing products that the majority of people cannot buy, and they target people that will never buy a Windows phone.

It isn't subsidized. This carrier does not offer contracts. Their rate plans are quite cheap.

It's 8GB of memory.
That amount of GB for this size for phone is too little.

Then put in a microSD to get more. They have limited the storage to keep the price down.

I really wish that this had a better camera. If it did I'd probably be getting this. Overall though, I wish there was an affordable PureView phone available in the US. I don't really care about phablet sized screens...

92x line is affordable, not phablet sized, and contains a pure view camera...

Nope. I am planning on switching to Cricket, but not going to use this phone. WAY to big.

It's crazy Microsoft is still playing the carrier exclusive game when it's a proven failure, but then again it's thinking like that that have them at the back of the pack playing catch up. Almost everyday I signup clients to use the iPhone because the carrier with the best deal didn't have a Windows Phone until a month ago and that is the non premium 620. And you know once someone gets sucked into the IOS or Android eco, they ain't going to #switch.

Since Cricket isn't a plan based service (last I knew anyway) I would just pick one up to play around on. It would go great with my Icon.

I original had an 822 but my parents change our wireless plan and I upgraded early to the Icon and love it

I'll probably pick one up to use as a media player if the price is right

All is perfect but if this phone had Carl ziss optical lense, would have sure bought that, and for that my 720 is comparatively killer among the 920, 1320 and iPhone 5s. Over all, its not bad though..
I am waiting for 1520's price drop. Will gonna buy the lifetime asset phone! Lol

Currently using a Lumia 520 as a dedicated carputer...this will be great upgrade. Love jumping in my car and having Waze running already. :)

I hate Nokia exclusives in the US

That 1320 is gorgeous but I'm already in love with my 1520.3. May be I can get this for my daughter.

So $270 with $50 mail in rebate? Posted via Windows Phone Central App

Does anyone know of I can add e..g. international calling and roaming to the Cricket plans?

Can this be used with an AT&T based Straigh Talk sim. Really tired of my 920 that I have to reset several times daily.

Why need to reset? Have you upgraded to 8.1 ?

It is even worse on 8.1. I have had issues with this phone from day 1 - should have returned it when I could. Have sent it in to Nokia - as far as I can tell they did nothing to the phone. I have had other windows phones, what I particularly liked about them was the stability, can't say that about this 920. I have glance, double tap turned off, don't have a single app other than what comes with the phone, and still probably a minimum of three times a day the screen becomes non-responsive. If I have an urgent call coming in I will use a 520 that I also have because this 920 is so prone to not even letting me answer a call that I no longer trust it. A call will come in, but when I attempt to answer, the screen is non responsive on probably 20% of my incoming calls - I have to reset the phone and call back.

Think so - just talked to Nokia service again. Sending it back in to see what they can do with it.

Nice. I don't like Cricket Wireless but I'm glad they're doing this.

Well it's AT&T now should help the old cricket wireless out.

It has the same camera (5 megapixel) and internal storage (8 GB) as the Lumia 521. Seems weak for an otherwise mid-range device. At least it has 1 GB RAM. I'm hoping a high-end 6+ inch WP comes to Verizon soon.

For $230 after rebate, contract-free, you're not going to get the same hardware as in the $500 contract-free device.

You have to wait for mclaren in october.

Last time I looked Carphone Warehouse had it free on £18 a month, not sure how much date that gives you. I pay £29 and get 5gigs from ee

I'm pretty sure this is just the RM-995 that I've been using for months on AT&T and T-Mobile with no issues. I bought it because it was the variant that worked on all AT&T and T-Mobile bands. I doubt its even locked when sold by Cricket. Pretty savvy of them to call this an "exclusive".

That's something I'd really like to hear about once these start getting in people's hands. If it's the same model, it'd still be nice to save fifty bucks and get a stateside warranty (even though I have enough phones and tablets as it is...).

yea seems the camera blows the deal.. Should be at least 8 not 5 .. That would make it more desirable

How do we get windows 8.1 in Lumia 1320, plz help me out..

Download preview for developers app. Then sign up for a free developer account. You don't have to actually be a developer. Or you can wait for your carrier to release the update.