Cricket Wireless prices the Lumia 640 at $129, available starting May 15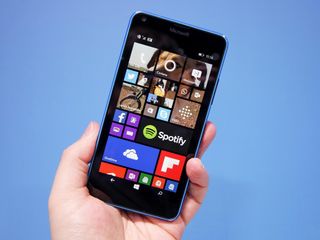 Cricket Wireless announced today that it will price the Lumia 640 at $129.99 when it goes on sale this Friday, May 15. While we first caught wind that the device was coming to the carrier yesterday, this is the first official mention of how much the device will set prospective buyers back.
To run down the spec list again, for the $129.99 price tag, users will nab a 5-inch 720p device with a1.2GHz quad-core Snapdragon 400 processor, 1GB of RAM, 8GB of expandable storage, an 8MP rear camera, and a 1MP front-facing shooter. Additionally, Cricket notes that the device will also come with one free year of Skype calling and Office 365 Personal, and up to 30GB of OneDrive storage for those who purchase the device between May 15 and June 30.
Though we've seen mentions of a T-Mobile variant on the Microsoft store, Cricket Wireless' Lumia 640 marks the first official rollout of the device on a U.S. carrier.
Press Release:
Cricket Wireless Is First to Deliver Microsoft Lumia 640 LTE to U.S. Market
WHO: Cricket Wireless and Microsoft make balancing your work life and personal life a whole lot easier with the Lumia 640, featuring 4G LTE technology. Cricket will be the first carrier in the U.S. to offer consumers the powerful smartphone with free services like Office 365 Personal and Skype calling, provided by Microsoft – available to consumers who purchase from Cricket between May 15 and June 30.
WHAT: The Lumia 640 provides value at an affordable price – making it a great gift idea for Dads, Grads or small business entrepreneurs. This fully-loaded smartphone is designed with features that help you: Stay connected: Free year of Skype calling with 60 minutes per month, and up to 30GB of OneDrive storage – giving you instant access to your photos, music and files, wherever you are – available to consumers who purchase from Cricket between April 15 and June 30. Get entertained: 8 MP rear camera with flash and advanced features for pictures and HD video recording, wide-angle front camera for video chat and selfies. Be productive: Free year of Office 365 Personal subscription including the latest full desktop version of Microsoft Office so you can access and edit files from wherever you are.
WHERE & WHEN: The Lumia 640 is available Friday, May 15 at participating Cricket Wireless stores and online for $129.99.
WHY: With Cricket's built-in international calling features, generous high-speed data access allotments, and affordable service plans with Auto Pay credit, the Lumia 640 is a great idea or business tool.
ADDITIONAL CONTEXT: "Savvy consumers want value, affordability and simplicity – in addition to all the bells and whistles – and that's what Cricket delivers," said Andy Smoak, head of devices for Cricket Wireless. "From day one, our mission has been to redefine what people expect from a no-contract carrier and we're delivering. We were first to offer unlimited U.S. long distance . . . first to give unlimited text and picture messaging . . . first to provide unlimited music . . . and now we're first to bring the Microsoft Lumia 640 to the U.S."
Dan Thorp-Lancaster is the former Editor-in-Chief of Windows Central. He began working with Windows Central, Android Central, and iMore as a news writer in 2014 and is obsessed with tech of all sorts. You can follow Dan on Twitter @DthorpL and Instagram @heyitsdtl.
That's ₹8315/- and Ms is selling it at ₹9999/- on offer only, after it , it ll be ₹11,999/-.
Sadd. So much of taxxxxx.
Fcuk

I don't know what currency that is but I assume it cost more than what cricket is selling at. Yours is probably the unlocked version while the yanks are stuck with Cricket.

Yes, ita Rupee (₹). (1$=₹63.97)
If go by dollar, it costs us $188/-
Which is $68/- more Than $129/-
Means on every phone ms+customs is charging $68/- more.
This is fcuk.

This is do to phone carriers not by Microsoft

Mine is unlocked. Every phone in my country is unlocked.
At least v r this much lucky.

Microsoft doesn't set the price of a carrier specific device.

Microsoft is located in the US and we are always getting the lumia updates and devices last....DARN MICROSOFT, I have been waiting for this phone for ages..

$129 in the US does at least confirm my suspicion that Expansys is out of their goddamn minds trying to sell this for $219.

You guys realize that Microsoft is HEAVILY subsidizing the price of these phones in the States? right? If you think the difference in pricing hurts when you're comparing from half a world away, take a look at the 635 in the US and Canada, it's three times the price in the Great White North. And don't get me wrong, I'm not knocking it, MS has gotta do what they gotta do in each individual market. That's just reality.

The expansys version is factory unlocked and has dual sim. This is locked to cricket and has a single sim. Unless you're planning on signing up with Cricket, guess what your options are?

Lumia 535 Single SIM Launch Price on Amazon: $140.99
... and the Lumia 535 Dual-SIM Launch Price? Also $140.99
Unlock Code: $4.99 - $9.99 I understand I gotta play by their rules either way... but the unlock code nor upgrade from SS to DS justifies such a crazy jump in price.

It's really not "locked" to Cricket, it's locked to the AT&T network. I could buy this phone and it would work just fine on GoPhone or Straight Talk, for example.

Phones sold by cricket will not work on ATT. This has been verified by various folks. But if you don't believe me, feel free to purchase one and let me know how it goes.

Att go phone 99.00 I hear

That would be awesome if ATT offered the 640 for $99.00!

I guess that would be possible. ATT Go Phone sells the Lumia 635 for $46, compared to Cricket's $99 price for the same.

That would be an Instant Buy even for Cricket customers.

Hear where? Hope that's true, they'll sell like the proverbial hotcakes.

Is it possible to use a Lumia 640 from Cricket on AT&T? Posted via the Windows Central App for Android

It depends if the Lumia 640 has GSM technology I it. If it does, then yes, you can use it on AT&T

Here is my experience: I got a Lumia 520 GoPhone on Amazon. I then started a second account/line with Aio/Cricket and got a Lumia 620. The 520, and the 920 I had worked great on Cricket, the 620 was locked to Crick. Someone mentioned in yesterdays Cricket 640 announcement post that if you power the phone up out of the box with the ATT SIM in it, it will work(or something like that). The bummer was that I kept the line for a few months, unlocked the 620, the next day the cellular data stopped functioning in the phone. WiFi only.

Do you need to specifiy the APN information for data?

No you can't. However, at&t phones work on cricket but not vice versa.

Only if unlocked, and to get it unlocked you have to be active cricket customer for at least 6 months before they will unlock it

With AIO it was 4 months, this may have changed.

Do you know if you have to have this particular phone for 6 months first, or is it just if you have been a customer of theirs for 6 months? I'd like to pick one of these up for Mom (still toting an iphone 3gs), but she is on AT&T.

I believe you just have to be a paying customer for 6 months, regardless of device...(i may be wrong so don't take my word... but I'm pretty sure that is how it goes)... They just want to retain the customers for at least 6 months is the thing.

No. You cannot . You can use att phone in cricket but cricket phone doesn't work with att. I tried with Lumia 635 from.cricket to use with att. But my att Lumia 1520 worked fine with cricket. Thanks

Not without unlocking it first.

So, now that the middle man is gone does anyone think that MS is going to have more effort towards working with the carriers on marketing new devices❓

So much for the 89.99 price.

The 520 was $99 it came out, IIRC. I know the 635 was, so, not bad paying 30 bucks more for a way better phone. I think anyway.

Well that was rumored for tmobile, still no word from them.

From the local T-Mobile sales associate; it was coming but no word yet has floated down to the retail store level!

Maybe they'll give out a visa gift card like they've doing with their previous windows phones to bring this down to $50 or so after 'rebate'.

What a great price. I hope this comes to Gophone very soon at this price or ima be tempted to migrate to Cricket.

Quite a bit more than I expected. At&t will prob be the same. W as gonna get this for dad as a fathers day but... Eh

AT&T usually prices their branded phones lower than Cricket branded phones. I don't know why, but it is what it is.

Yeah it's crazy being that they are Cricket, you'd think it wouldn't matter as much.

Because AT&T makes their money through their expensive plans

AT&T subsides the phones through inflated plan pricing. You end up paying way, way more in the long run.

If it's sold as a plan and not off contract through at&t, then it should be no more than $50 tbh

Right, but what's the plan cost? Unlimited talk and text with 2.5gb of 4g data runs $35 on cricket. How much on AT&T? With difference a month times 24 months?

Damn straight. I will never again buy a phone under a 2 year hostage plan.

Not if you don't use the phone on AT&T after you buy it.

Its for my dad, on at&t... So...

Yeah wait and see how much it is off contract.

AT&T sells the Lumia 635 via Go Phone for $46 off contract, for comparison.

Just look on their website its 49.99 for gophone same as cricket and the plan is still more expensive with less data.

Cricket is $49.99 with $20 activation. Go phone has no such stipulation. and you can use the Go Phone version on Cricket no problem, if you were so inclined.

I dont know how we got on gophone when your first comment was about ATT but anyways. Absolutely you can use it on cricket. For a $25 activation fee. So you can buy it at gophone and use their service for $10 more a month with 1.5gb less a month or you can buy it at cricket and make up the activation price difference in two months all with more data. Irregardless I'm through commenting on this the OP has the info he requested.

Or I can buy it at Go Phone via Amazon for $46, get a Cricket SIM for 99¢, and use it on Cricket saving money on the Phone, plan, and activation. And 'irregardless' isn't a word.

My question is, could I pull sim from Metro PCS and put it into this 640 and have it work? Not worried about LTE... Just need it to work.

Not without unlocking it beforehand.

$30 at Wal Mart if the packaging's been opened. :)

Alright AT&T I need this for my daughter, you can come on out with it now. :)

Don't think they will be carrying this. Only showing XL as "coming soon"..

Hopefully Cricket also gets the 640XL? Hopefully.

Well AT&T is getting it therefore Crocket can use it. You're all good

Has Cricket ever put out an update for any of their Windows Phones?? I don't think so. None for Denim and their 620 is still sitting on Amber. You would be better off getting an unbranded phone.

I was woindering the same since Microsoft said the first phone to get Windows 10 will be the 640... Will Cricket update ?

Cricket has updated the 1320. But you're right, updates are problematic on cricket branded hardware.

I was expecting 180$ for this phone, bare mininum 150$. This is an instant buy as far as I'm concerned.

Wow, did not expect it this cheap. Good indication for the XL.

Will there be an unlocked US version?

Microsoft usually does have unlocked At&T models but it not the Unlocked models one expects since the radios are restricted to AT&T only! It usually takes about a year or more for them to have it on the Microsoft Online Store and it usually double the price of the AT&T model!

What is the network frequency?

A Cricket reseller here in Tidewater VA sold me the 640 earlier today. They only recieved the blue color. Still charging the battery so no comments yet. However, be ready for a $25.00 activation or Upgrade charge on top of the $129.90.
Windows Central Newsletter
Thank you for signing up to Windows Central. You will receive a verification email shortly.
There was a problem. Please refresh the page and try again.