Cricket Wireless offers Lumia 630 for 'free' after discount and rebate starting Friday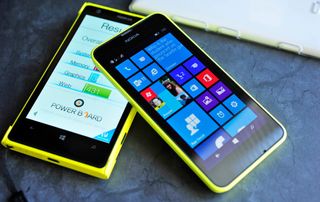 Cricket Wireless has announced it will begin selling the Lumia 630 on Friday, July 11, and the Windows Phone 8.1 device will be "free" after taking into account an activation fee discount combined with a mail in rebate.
Cricket says it will be the first US pre-paid wireless carrier to offer the Lumia 630 for sale. Normally the price of the phone would be $99.99 but the carrier has announced that it will wave its normal $50 new activation fee and will also offer customers a $50 mail in rebate in the form of a Cricket Visa Promotion Card. The discounts will be available both online and in Cricket's retail stores. The rebate offer ends September 11.
Just a reminder: The Lumia 630 comes in two versions, one with a single SIM card and the other with two SIM cards. Both versions only support 3G-based networks. Cricket Wireless claims the Lumia 630 supports "4G" but in fact it works on connections to its HSPA+ based network, while its sister device, the Lumia 635, supports 4G LTE networks.
In addition, Cricket Wireless is selling the Lumia 520 for $49.99 after a $30 new activation discount, and the Lumia 1320 for $179.99 after a $50 activation discount and a $50 mail in rebate.
What do you think of this offer and will it entice you to get the Lumia 630 from Cricket Wireless?
Source: Cricket Wireless
Windows Central Newsletter
Get the best of Windows Central in your inbox, every day!
WOW is right...I could never go back to 3g after having XLTE

I want a 1020 (2nd Generation) phone... Make it happen.

Sure will am working at Microsoft so I'll make it happen. PUN INTENDED

I don't think the 520 has LTE either does it? And it has should more than any other Windows Phone. These aren't aimed at ex Verizon customers.

It has "4G" whatever that means in the US. Probably the same as 3G everywhere else...

Xlte, as in everyone else's regular lte :P

I'd much rather have unlimited 3G than the limited LTE I have on Verizon... Much more useful.

I think you went to far with that one. LOL

Is there a way to get this without activating a new account?

There must be some fine print to get the rebate. Such as mandatory 3 months of service or something.

Yes, if I understand correctly it requires at least 2 monthly payments of qualified smartphone service plan.

MS is busy with there Lumia 630,635 and 930..thts why till now no cyan update ....

Wait 635 isn't dual SIM? I thought it was?

Are both sim card slots carrier locked? If so, it would seem to be a moot point in getting this phone. I have two lines and HSPA is fine for me but if the thing is locked....ho hmmm..

Activation fees are such BS. Whoever came up with that idea should be flogged.

Looking into Cricket's press release, it sounds like WPCentral misinterpreted the statement. It doesn't seem like they're waiving a $50 activation fee, they're giving a $50 discount for activating a new line.

Nice deal. I'm curious if you buy the AT&T locked Lumia 635 (when available), for those that want LTE support, if it will work on Cricket.

I don't exactly have the answer to that, but I'm currently running a Blackberry Q10 with LTE on Cricket, and AFAIK it's actually doing that. (I came on board Cricket after originally signing on to Aio, pre-merger). I pre-ordered the 635 via that odd brief sale directly from Microsoft so we'll see how that works out. If the 630 were LTE and not just 4G, I'd be snapping this up.

It should work. I use a att Lumia 1520 on cricket and I get LTE. But speeds are boo boo. Capped at 8mb down. I need more, but service is good

Do you actually get close to 8 in areas of good coverage? Why exactly do you need more? I mean I have T-mobile and anything I get over 10 just seems excessive at the moment when the most network intense thing I use is Netflix and that seems to run fine when I'm around 5-7.

Yup. I live in Atlanta and I get those speeds pretty much everywhere. Those speeds don't really effect the streaming all too much, but i notice a difference in how some of the apps work. The other problem I have been having with cricket besides the speeds, are dead spots in areas I had coverage before. I travel alot around the state and have been seeing loss of converge in areas it was working fine with at&t. Even inside my house it will toggle to no signal, back to LTE. This has never happened before when I was on postpaid at&t. I was in a Walmart tonight working and a customer had a lumia 520 on att, working fine on data and texting in the back of the store. My phone on cricket was bouncing in and out of service and could barely hold a call. Not the best example since it was inside a store, but I have noticed alot of differences between at&t and cricket. I'm going switch to at&t prepaid.

It sounds like you might have one of the older cricket CDMA phones that used sprints network.

No, I have a Lumia 1520 lol

It should work just fine. I've used AT&T locked phones just fine on Cricket. Remember, this is the same network that you'd be using with AT&T, just under a different brand.

LOL free phones & still no one wants to get them....at least thats what i got from the comments above

Not free. You got nothing.

Off subject, but Cortana is doing some huge graphics on her tile now.. Not sure when this was added...
L1520 att.. Dallas, TX..

What exactly? All I see sometimes are weather animations.. Clouds etc.

The way the Halo burst really large before showing information.

"Just a reminder: The Lumia 630 can use two SIM cards but is only a 3G phone" On Cricket's press release website it says the Lumia 630 is 4G "Nokia Lumia 630 4G smartphone with Windows Phone 8.1". Maybe not LTE but they are saying it is 4G.

Yeah but they might call it "4G" while everyone else calls it 3G...

Oh now I get it! It's that H+ is also 4G thing. At first I was getting confused why the phone is called 630 when it's the 635 that is supposed to be 4G/LTE.

I think most carriers are updating their 3g to be 4g. I know tmobile is also updating their 2g to 4g as well. so in this case 3g=4g.

Also that complete page never says that they are selling dual sim phone. 630 has single sim version out of US and think that is same Cricket is going to carry.

It is 4g HSPA. And on cricket HSPA is capped at 4mbps.

Sorry but I'm waiting on a great phone for T-Mobile that's not a budget phone and has a 6inc screen at least.

But cricket has better coverage.

Yeah you can always get a 1520 and use it on cricket. No unlocking necessary. Its what I'm doing and while some people say data speeds are capped, I'm getting fine service on mine and even the stunted "after you've reached your limit" data is still good enough for browsing and facebook. Crickets coverage is something to run home with too since its atts.

That's the 1525 that is rumored to be slated for T-Mobile.

Fine print.... Rebate not available in Connecticut, Rhode Island, or Miami-Dade county.... why is that? Posted via the WPC App for Android!

Must be local laws restricting rebates, like this gem I googled up for Connecticut: Connecticut has a Rebate Advertising law requiring retailers who advertise the net price of an item after deduction of a manufacturer's rebate to pay consumers the amount of that rebate when they buy the item. If the retailers don't wish to do this, they cannot advertise the after-rebate price as the final price to be paid by the consumer. Thus, there should be no confusion about the amount the customer must pay at the cash register. I never minded sending in rebates, since the condition was advertised and you never had to bite, but I gotta say the only economic sense rebates ever made to me was the theory that on some sales spreadsheet they calculated how many would never be submitted, boosting the margin.

In Miami. MetroPCS offers rebates on phones so legality is irrelevant here. My inference actually goes to MS including a stipulation to avoid offending BLU who is based in Miami and who just recently signed a large agreement with MS??

Isn't the BLU WP phone way better than the Lumia 630, at least on paper?

Dunno. I find it difficult to speculate on "better". What are the differences in specs? You could have 1 GB of DDR2 @ 800 mHz or 512 MB of DDR3 @ 1600 mHz. Which is better? What is the latency rating on the modules? Personally, I like BLU's design. The speaker grill upfront should be standard for all phones. Dunno where music is played on the 630? The chief editor of this blog just did an opinion piece on his Lumia 1520. He covers the screen on his 1520 vs the ICON. Two different technologies. He likes the 1520's Super LCD tech better. Better is always relative to opinion.

It's been four months but I've gotten to the bottom of the meaning behind the fine print. To clarify, Cricket rebates are valid everywhere in the US, BUT the way the phone is advertised as FREE isn't. In CT, RI, and Miami-Dade County, if a device costs $75 with a $75 rebate, it still has to be advertised as costing $75. So when Cricket advertises FREE PHONE on their website, techncically, that promotion isn't valid. The valid promotion is "$75 phone with $75 rebate", but who the fcuk wants to write that?

I have 4G and LTE wherever I go(Lumia 820 at&t) and I live in St.marys MD. Remember when I had a 3G only with my android...never....again.cricket and tmobile service=the worst

Cricket uses AT&T network now.

It's funny how the 620 that they had on clearance for $50 right before AT&T changed the name from Aio to Cricket is miles better than this phone. Let's see:
-No flash
-No proximity sensor
-No Glance screen
-No HAAC mics
-No camera button
-No front facing camera
-No compass
-No NFC
Sorry, but even for free I'm still sticking with my 620.

That 1320 is looking like a good deal.

Keep in mind, if you want updates, don't get it from Cricket. They abandoned the Lumia 620, which will rot away on Amber.

See T-Mobile Lumia 810.
It is unfortunate that this happens at all. Microsoft needs to get more control of the update process.

I work at cricket and the 520 we use for display has black on it out of the box. We never got the 620 though so maybe it was just eold. However all windows phones we have advertise as 8.1 ready so I'm sure well get the updates for em.

The 620 was sold by AIO, but AIO took over Cricket and used the Cricket name, so they're the same people in my mind. Luickly, the guys on xda were able to get me sorted and I loaded the Great Britton version of Black and then updated to 8.1. 8.1 with Amber used ~20%/hr of battery when idle. It's absolutely unacceptable to not release an update when the phone hardware is identical the world over and the software update is available. It was one thing back when each carrier had their own special phone and the mfr would have to write special software for that one phone. But now, other than incompetence or greed, there is no reason AIO/Cricket shouldn't update the 620.

But if Cricket uses the ATT network, shouldn't the update by tied to ATT and therefore updated? Am I missing something? Addtionally, I just wanted to clarify, can you take an ATT locked phone and use it on Cricket? Thanks

What ive noticed is that cricket devices update as soon as the update for the device is ready. It was like that before the att merge and ive noticed a couple devices we have up for display have gotten updates, usually minor. Att doesn't usually release minor updates cause they're a waste of update approval. Plus many of our cricket devices are actually unbranded save for the boot screen which means that while the boot screen has been tampered with, no bloatware apps are preinstalled afaik. That leads me to believe updates are not carrier restricted on OUR devices. Which means (onto your second question) while you can use ANY att phone without being unlocked on cricket, updates for those devices are still dependant on att.

The changes AIO/AT&T made to the default Lumia 620 ROM * Boot screen * 3G/H/H+ indicators all rolled into 4G indicator * Settings for Visual Voicemail (registry settings in WP8) * AIO ringtones and notification sounds. I was hoping the Black update was delayed because of the AT&T/AIO and Cricket merger, so the bootscreen ringtones would be updated. But AT&T decided to abandon the best WP on any of their MVNOs. Oh, if the bootscreen has been changed, then it does require a special carrier update and is 'carrier restricted'.

My AIO Lumia 620 was carrier locked to AIO/Cricket. AT&T nor other AT&T MVNO SIMs worked in my phone until I had it carrier unlocked. I've not tried the reverse to see if AT&T proper phones work with a Cricket SIM.

I am using an ATT locked Lumia 1020 on the new cricket without issue. I know others that are also using ATT locked phones on cricket. They all work fine.

Aio didn't take over cricket, we existed before and att purchased us. By name, aio is dead, att, to not disgruntle customers, merged aio customers into the new cricket, an easy feat since using the same mvno. But aio was nothing without att, cricket was a standing company. The Lumia 620 is not part of the new cricket catalog, the lack of update for it is most likely due to aios closing.

Thank you for the clarification, much appreciated sir

Right, AIO's parent company was AT&T, who bought Cricket. AT&T is now the parent company of Cricket. Ultimately, AT&T is/was responsible for updates the AIO Lumia 620. AT&T has a history of delaying updates as long as possible or not providing them at all. Because AT&T dropped the AIO name, doesn't mean they should stop support phones sold very recently under that name.

Man, I got all excited, and then read "3G"...