WPCentral Tutorial - Custom Ringtones with Mango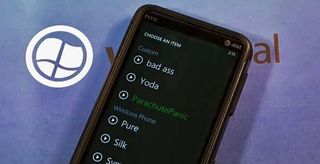 One of the many welcomed features of Windows Phone 7.5, more affectionately known as Mango, is the ability to use custom ringtones. But how do you get the ringtone to the phone?
First, there are few limitations. The ringtone file must be in MP3 or WMA format, less then 40 seconds in length, less than 1mb in size and not protected with digital rights management (DRM).
There are a few ringtone apps reaching the Marketplace and we'll cover a few of them in the coming days. Most appear to be collections of ringtones that you can save to your Windows Phone but they don't allow you to create ringtones. That you can do on your own and to find out how, hit the jump.
First you need to create the audio file. Just choose an MP3 editor of your choice (Audacity isn't a bad choice) and create the 40 second snippet from the song of your choice (as long as it's no protected). When saving the snippet, set the Genre to Ringtone and save it to your Music Library. Also remember the file can not be larger than 1mb and needs to be saved as a MP3 or WMA file.
Zune should pick up on the ringtone from your Music Library and from their, it's only a matter of clicking and dragging the file to your phone. I found it easiest to find the file by sorting the music by Genre and going to Ringtones.
Once synced with your Windows Phone, the homemade ringtone will appear in your Windows Phone settings under Ringtones and Sound as Custom Ringtones.
The process is rather easy with the biggest challenge being finding a simple and straight forward audio editor that will let you save the snippets in the correct format. Once that is done, everything else is downhill.
For those who have already dabbled in creating ringtones and have an audio editor to recommend, feel free to share in the comments. And for those who've already added homemade ringtones, any issues thus far?
Update: Reader Matt Van lets us know of a website that seems to make it all very simple too: https://ringtonemaker.com/
George is the Reviews Editor at Windows Central, concentrating on Windows 10 PC and Mobile apps. He's been a supporter of the platform since the days of Windows CE and uses his current Windows 10 Mobile phone daily to keep up with life and enjoy a game during down time.
One problem I have is not being able to set a custom tone for a text, email, or voice mail

I really hope they come out with a fix for that...I was slightly disappointed when I couldn't do a custom text tone :( but oh well! Mango still kicks **** !!

Audiciaty is so hard to use.

Its not too bad once you play around with it

@malteschulz from what i know its only the incoming call tone you can change, your still unable to alter any of the others.@Winterfang I've always found Audacity pretty easy to use, its something i used when creating ringtones to upload to zedge. Hardest part is just finding a part of a recording that actually does sound good as a ringtone.

well that sucks that you cant change the others

I used http://cutmp3.net/ to cut the MP3. All I did was upload and then the interface was pretty simple.

I don't get how this types of programs work. I end up cutting the wrong part :(

Just register with phonezoo.com you can upload your mp3s on their site and crop them how u want then save to your PC from there find it in Zune change the genre to ringtone then sync do device

This worked like a charm.. Actually got me going "Ringtone Crazy".. Thanks so much for the tip.. No i can truly enjoy more my phone...

If an appropriate file already exists online (size, format, length, etc...) you can use the app WebTones to add it directly from the interwebs onto your phone. No editing software, no Zune, easy peasy. :)

I've been doing this for years on other phones im also a music producer so cropping music files is nothing... I use a free software called NCH Wavepad like other music software theres a learning curve.. That's why these ringtone apps need to hurry up and hit market lol... The process right now is harder than it needs to be for the average person but hey,it works!! I already have 15 ringtones set to different people!!

I use: Microsoft Expression Encoder 4. I have the full version, (aquired from diffrent sources), and it's as easy as pie 2 use. I believe MS also offers a, "trial version", so go ahead and give it a shot, (If any help needed just let me know :o)

I use: Microsoft Expression Encoder 4. I have the full version, (aquired from diffrent sources ;o) and it's easy as pie 2 use. I believe MS also offers a, "trial version", so go ahead and give it a try, (if any help is needed just let me know :o)

I wish they'd remove the 40 sec limit.

I've used Adobe Audition to create all of my custom ringtones since I was using my HTC Wizard.Now I'm going to have to cut down all of the ringtones I made and used with the Chevron Ringtone Adder.

https://www.windowscentral.com/e?link=https2F%2Fclick.linksynergy.co... This is what I used.

Also, if a free web program is your cup of tea, then I would suggest: http://www.makeownringtone.com/. I have used the site many, many times, there's no registration needed, and the interface is dead simple, (just make sure 2 read the instructions).

just use windows movie maker, add in the song to the timeline, edit it to ur liking, then save as mp3. much simpler :)

Been using custom ringtones since betas, they still work in the final version. Have a bunch on my phone =)

See my thread on XDA with some premade ringtones, other's have shared theirs too. So, check all the pages till you find what you like.http://forum.xda-developers.com/showthread.php?t=1223376

Adobe Audition has a free trial for 30 days. I prefer that to Audacity but still it's a nice free option.

Hey guys & gals.I've whipped up a quick help guide for making ringtones in audacity. Its not the best, but should help if you have no idea what to do.http://www.topleya.co.uk/2011/09/how-to-create-windows-phone-mango-ringt...

Thank you, guys for the tip!It took me 25 minutes to set up a custom ringtone. The old Nokia compozer was faster. Really shameful, MS!

Not working for me. When I sync the phone with Zune the ring tones go into music but I can't see them from ring tones as custom. I have a Dell Venue Pro with the Mango OS.

You have to ensure that the genre of the song is RINGTONESSee my tutorial: http://www.topleya.co.uk/2011/09/how-to-create-windows-phone-mango-ringt...

Thanks Ringtones with no space did the trick!

Have already setup several ringtones. One in particular I have been using since WinMo 5 so its been with me awhile! As for the software, I have had Cool Edit Pro for a loooooooooooong time and use that quite happily (Cool Edit is now Adobe Audition).Overall I am.loving the Mango goodness on my HD7.Pity o2 UK didn't roll out the update quick enough, still the spoofing of Zune to trigger the update worked rather nicely :)

Could only get WMA working on my Samsung Omnia 7 - MP3 files failed to be recognise as ringtonesWavePad client for me

Weird, maybe be the codec your using or something. MP3 works fine for my Omnia 7

I found this http://www.wpcentral.com/microsoft-details-custom-ringers-wp7-mango from June where Daniel Rubino gives a helper pic! it is actually easy now....

Mixcraft does the job just fine (got full version from... a close personal friend ;P), and it allows for a good deal of customization to the file itself.

Don't forget that ZEDGE.net was one of the sites that worked with Windows Mobile and appears to work also with WP7! Just... Through your PC... (can't download to phone, but you can listen...)For those that want pre-made anyways... jejeje

There's a key thing I don't see mentioned. It seems simple, but I guarantee this is a few people's problem, and I did the same thing.The Genre has to be "ringtone" NOT "ringtoneS" If it is set as ringtones, the phone will not recognize it.And yeah, no custom alerts is dumb. I've been waiting all this time thinking I was gonna get my Transformers sound effect back for my text messages. Guess I have to wait for the Tango or my contract to be up, whichever comes first...

I do not see Custom Ringtones as an option on my HTC TrophyCreated MP3 467 KB 39 secs

Finally! "Clocks" (Coldplay) back as my ringtone. Makes me feel all...WM 6.5~ish!

Reading this makes me miss my Android with the ability to just select a song from your music library and set it as a ringtone right on the phone.Oh well, for all the awesomeness that is Windows Phone 7 I guess a few sacrifices are necessary.

Roxio Media Creator has a Sound Editor included with the utility. Already created a half dozen ringtones without issue.

Ive always found http://www.brinked.com/create-ringtone.html does the job!

I have always used http://www.cellsea.com/ for my ringtones as the site alows you to download a user uploaded ringtone or edit your own, then save it to your PC or send it to your phone via text... all for free, I did have to register to use the ringtone maker :'(

I have always used http://www.cellsea.com/ they have a free ringtone editor and will allow you to download your newly created ringtone (from your audio source which can be edited) or you can find and download others' creations as well, either a direct to PC download or they send it via text message, free minus your cell plans texting fee$

okay, two mornings in and it just wont happen for me. when i switched from my lg shine to a smartphone (samsung focus i917 with att), i was really excited because there is a favorite song that i wanted to set as a ringtone. but, in february, there were no ringtones available for the wp format. i couldnt believe it, but i remembered a friend had the same issue with his iphone first generation. so i waited. got mango a few days ago. awesome. and spent two days dissecting all of the stipulations:created two ringtones, one with audacity and one with mobile17mp3 format28 seconds long462b and the other is 166bin zune, edited them to "ringtone"and, they dont show up in "ringtones and sounds"so, that function is just not available for the att focus i917 ?and i really, really wanted that ringtone on my phone.

or did i miss something ?i mean, i was carefully thorough completing all of the steps. i restarted from scratch dozens of times, deleting files completely and starting over and over again. it just wont show up in my ringtones area. in fact, there is no "custom ringtones" in the ringtone area of the focus i917.

I have tried to update my htc hd7 many times but couldn't get custom ringtones on it. Could anyone please tell me how to get custom ringtones installed on my phone? Thanks

I always use http://www.Ringer.org to make free ringtones from favorite songs. It's free, online, very easy to use

and what about me, I usually use http://audiko.net it's cool too.
Windows Central Newsletter
Thank you for signing up to Windows Central. You will receive a verification email shortly.
There was a problem. Please refresh the page and try again.