Customize your Xbox One with these awesome vinyl skins and services
I'm a huge fan of customization, and thankfully, there's a ton of ways you can personalize your Xbox One and Xbox One S using high-quality skins and services.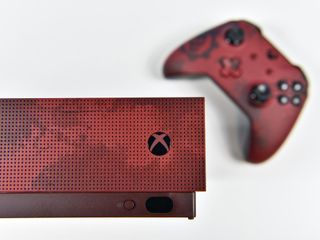 Microsoft has tons of Limited Edition Xbox One consoles floating around, but a lot of these were either as part of a small promotion or one-off contest. The Gears of War 4 Xbox One S, with its laser cuts and custom sounds, is an example of customization in the extreme when Microsoft has gone all out to make something truly special.
What if you're not a fan of Gears of War, though? What if you want to celebrate a different fandom, such as Star Wars? Thankfully, there are lots of high-quality skins and services on the market for exactly that purpose. Here's a round-up of some of our favorites!
Darth Vader by VanKnight
Rogue One: A Star Wars Story is coming, so why not celebrate the return of Darth Vader to the big screen with an epic and detailed Xbox One skin?
VanKnight makes an entire range of high-quality Xbox One vinyl skins which have great reviews on Amazon. They're not only easy to place, but crucially they are easy to remove if you get bored! The decal includes a console skin, plus skins for Kinect and two Xbox controllers, cut to precision with easy instructions.
See on Amazon (opens in new tab)
Game of Thrones by VanKnight
Winter is coming, so here's another VanKnight skin, this time for the Xbox One S!
The standard white Xbox One S doesn't always lend itself particularly well to dark or bright colored backgrounds, as skinning the ventilation grill would be a tricky affair. Thankfully, this wintry Game of Thrones skin works quite well with the white Xbox One S, both vertically and horizontally.
See on Amazon (opens in new tab)
My Neighbor Totoro by VanKnight
Here's a skin for the Studio Ghibli fans out there!
My Neighbor Totoro is a critically acclaimed anime movie from the late 80s that helped solidify the studio's place in animation legend. If you're a fan of My Neighbor Totoro or other Studio Ghibli films such as Spirited Away, this skin is the perfect way to celebrate the studio's achievements!
See on Amazon (opens in new tab)
VanKnight
VanKnight has an entire range of custom Xbox One console and controller skins, for all sorts of sports teams, pop-culture shows and movies, and even games. See their full range using the link below!
See VanKnight on Amazon (opens in new tab)
Gold by NDAD
If you're not interested in a pop-culture design, perhaps these skins by NDAD are more your style!
This is a console skin ideal for Buckingham Palace. This gold-style Xbox One vinyl is perfect for those who fancy a bit of bling in their life, and would be the perfect companion for the incredibly rare gold Lumia 930. Gaudy or gorgeous? You decide.
See on Amazon (opens in new tab)
Carbon Fiber by NDAD
If gold doesn't take your fancy, perhaps this stylish black carbon fiber design by NDAD will!
Carbon fiber materials are usually found in sporting goods, high-performance vehicles and even in the aerospace industry. The carbon fiber style has been a popular, almost ubiquitous skin choice for various products as a result, including phones, laptops, and now consoles!
See on Amazon (opens in new tab)
Wood by NDAD
Just like carbon fiber, wood-style skins are also an incredibly popular choice!
Of course, this isn't made of real wood, but the style is right on the money. Just like other NDAD products, this is cut to a razor-sharp precision to fit your Xbox One, controllers and Kinect, adding a natural edge to your console's design.
See on Amazon (opens in new tab)
NDAD
Although NDAD's Xbox selection is far smaller than VanKnight's, the company offers a much different style, focusing on materials and patterns rather than full art prints. See their full range using the link below.
See NDAD on Amazon (opens in new tab)
Decal Girl
Decal Girl is a leading skinning service for all sorts of products, but they have a huge range of skins for Xbox One. You can even make your own!
Decal Girl has skins for the Xbox One, Xbox One S, and even the Xbox 360 if you're still old-school. You can even pick up skins for your Surface and other modern Windows laptops — all cut to match the exact dimensions of your device.
dBrand
dBrand is another highly popular skinning service, allowing you to design your own skins for shipping directly on their website.
Just select your console, materials, your chosen finish, colors, and positions, and you'll be good to go.
Visit dBrand (opens in new tab)
Colorware
If you want to go nuclear, you can hit up Colorware for a custom painted Xbox One. Using their online system, you can select the coloring of each section of your console to match your home decor, favorite sports team colors or something else entirely. You can either buy a new Xbox One S directly from them or send in your own to be customized and returned.
Controller Chaos
Image 1 of 3
Speaking of custom paint jobs, Controller Chaos is an incredible company that is my usual go-to when it comes to buying gifts for friends and family. Controller Chaos allows you to create your own custom designs for Xbox One controllers, but they also have a vast range of other styles and brands on offer, custom painted with meticulous precision. Be sure to check them out.
Xbox Design Lab
Although it's only available in North America, the Xbox Design Lab is an excellent and easy way to get your own custom Xbox One S controller with little fuss. Simply go through the company's 3D wizard, choose your colors, enter your shipping information, and you're all set!
Visit Xbox Design Lab
Over to you!
Do you have a customized or limited edition Xbox One console or controller? What sort of custom design would you get? Let us know in the comments!
Windows Central Newsletter
Get the best of Windows Central in in your inbox, every day!
Jez Corden a Managing Editor at Windows Central, focusing primarily on all things Xbox and gaming. Jez is known for breaking exclusive news and analysis as relates to the Microsoft ecosystem while being powered by caffeine. Follow on Twitter @JezCorden and listen to his Xbox Two podcast, all about, you guessed it, Xbox!
Well, if your like me, you have a Day one Xbox one, that is long out of warranty... The cover comes off pretty easy... and you can spray paint it your cover... keeping in mind to take care of the front senors (power button) but, it should be fairly easy to do. https://www.youtube.com/watch?v=zNXe_nEjoeo That is how you pull it apart... The hard drive with some Linux scrips can be replaced, dropping a 2tb into a Day one XBOX one is very possable with this method... You need to boot to Linux (can use a bootable CD/DVD), and pretty much format the new drive and setup all the partitions with one script and copy all data from the old one to the new one. When dropped into the Xbox one, you wont even need to re-install all the games that you had on it and you get the advanage of more space on the internal drive. A 2tb 2.5" drive (that will replace the internal one), is $75-129 depends on brand and where you buy. Replacing with a SSD, has questionable speed differences in games(system might get a little faste overall but, most games dont get that much faster loading times) and your cost goes up to get a 1tb+ drive, so something to think about. This method to get a 2tb SSD drive will be around $300+ so you might be better just buying a Xbox one S for around $400 with everything. So once your xbox one is out of warranty and you dont mind playing, there is a lot of things you can do with it.... Even a failed DVD/blray drive can be fixed with about $25-30 in parts...Microsoft wants about $130 to fix it (a friend is dealing with this issue now)

I recommend dbrand to anyone.
I have the original XBone with their mahogany skins and it looks great. The vinyls are really good quality which is something that's normally a problem with other sellers like slickwraps.
Windows Central Newsletter
Thank you for signing up to Windows Central. You will receive a verification email shortly.
There was a problem. Please refresh the page and try again.