Let's go Hoarding with the blood-red Gears of War 4 Xbox One S Limited Edition console
By Daniel Rubino last updated
Here is our full tour and unboxing of the limited edition 2TB Gears of War 4 Xbox One S console! Don't miss this if you're a Gears fan!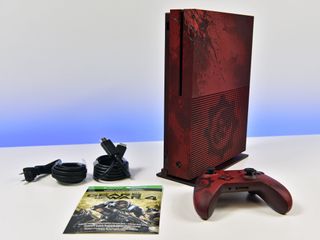 Have you heard the news? On October 11, 2016, Microsoft and The Coalition are releasing the highly anticipated Gears of War 4 for the Xbox One and Windows 10. Gears of War 4 is the beginning of a new chapter in the popular series, and I spent some time recently talking to the people who made it.
Starting on Thursday, October 6 you can get your hands on the limited edition Xbox One S Gears of War 4 2TB Bundle (opens in new tab). In case you have hesitations, I managed to get one before the launch. Today, we'll unbox it and show you why you may want to splurge for this fantastic release!
What it is
The Xbox One S Gears of War 4 Bundle is a limited edition custom run of the new Xbox One S. The One S includes a 4K Blu-Ray player and support for HDR video and games — along with a 2 TB storage drive (Gears of War 4 is around 55 GB for reference).
Microsoft Xbox One S Full Review
However, instead of just a fancy paint job this edition features laser-engraved claw marks giving a whole new sense of realism to the game box.
This special Xbox One S also features the franchise's Crimson Omen symbol and a red color scheme to give it a unique and stunning look.
Besides the exclusive console you also get a few other treats, including:
Crimson Omen limited edition Xbox One S controller
Gears of War 4 Ultimate Edition
Gears of War 4 Season Pass
Early access: Get to play GoW4 four days early starting on October 7
Gears of War Collection: Unlock Gears of War, Gears of War 2, Gears of War 3, and Gears of War: Judgement that can be played on the One S through Backward Compatibility program
Exclusive in-game content: Grab the Vintage Oscar Elite Gear Pack (Vintage Oscar, Vintage Retro Lancer, Vintage Boomshot, etc.); pre-order Vintage Del Gear Pack plus six additional Gear Packs
Needless to say, that is quite a lot of Gears stuff. Did I also mention it has a custom startup and shutdown tones? Take a listen!
There are also 500 GB and 1 TB versions as well, however, those are white and 'deep blue' instead of crimson red and don't ship until November 1.
How Much?
The Xbox One S Gears of War 4 Bundle runs for $449 (opens in new tab), making it one of the most expensive editions available.
The regular 2 TB Xbox One S costs $399 (opens in new tab) making the Gears limited edition a $50 markup. However, that is a good deal as the Gears of War 4 Ultimate Edition and Season Pass will cost you $99. Were you to buy everything separately you would be paying $499 for the bundle instead of "just" $450.
How is it?
Putting aside that this is just a rebranded Xbox One S with laser-etched claw marks the Xbox One S Gears of War 4 2TB Bundle is fantastic. Speaking of, those claw marks (presumably from the new baddies in Gears 4 aka 'The Swarm') are a real treat, and they're also found on the included One S controller, which is a nice touch.
I prefer the dark Crimson red to the white for my home setup. While the white version stands out in a dark media center the Crimson blends in while also looking unique. For those who don't like the "grill" on the right-hand side of the One S, the Gears of War version appears to hide it with the Crimson Omen logo.
Obviously, you shouldn't even bother with this console of your not a Gears fan. If you are a Gears fan then this console is for you if:
You do not yet own a One S
You want to the Gears of War 4 Ultimate Edition + Season Pass
You have or are considering getting an HDR 4K TV shortly
The last point is because Gears of War 4 is one of a few new titles this year that supports HDR gaming (HDR10) for the first time. I have been playing the HDR version on my Samsung 65-inch 8K series TV and IT. IS. JAW. DROPPING. I was a bit concerned that HDR gaming would be just 'okay' or even a gimmick, but no way, it is astounding to look at. There is more detail, brighter and richer colors and I'm afraid once you see it you can never go back.
Availability
The Xbox One S Gears of War 4 Bundle is available in the United States, Canada, United Kingdom, Ireland, Italy, Australia, New Zealand, Austria, Belgium, Denmark, Finland, France, Germany, Netherlands, Norway, Portugal, Spain, Sweden, Switzerland, Czech Republic, Greece, Hungary, Poland, Slovakia, and Turkey.
Where to buy
For those in the US and UK and some other regions you can order the Gears of War 2 TB Edition Xbox One S on Amazon and the Microsoft Store:
Need more? Don't miss our other coverage of Gears of War 4 including:
Daniel Rubino is the Executive Editor of Windows Central, head reviewer, podcast co-host, and analyst. He has been covering Microsoft here since 2007, back when this site was called WMExperts (and later Windows Phone Central). His interests include Windows, Microsoft Surface, laptops, next-gen computing, and arguing with people on the internet.
Probably a stupid question, but is there a visual difference with HDR gaming on a standard 1080p TV?

I don't think so. I have an HDR tv but I kinda don't see the big deal with HDR, I'm ok with fun games, that's all. :)

if you don't see a difference, that means most likely your tv doesn't support the HD10 version of HDR and/or you have 4k/hdr modes turned off (off by default on all TVs)

Yes it does, I bought it for that same reason. I see the difference, but what I'm saying is that I don't see the reason why everyone is going all crazy about it like if it's so fantastic. There 'is' more vivid colors, Brighter brights and darker blacks, but I don't see it to make or brake a game, even if the game is fun. On a side note, I have worked with a lot of color sensitive monitors paired with workstation graphics cards in the past, so I can say what i said. :)

Only in a 1080p TV that supports HDR.

They don't exist. At least not currently, and I doubt any TV maker will produce one as it would cut into sales of their more expensive 4K models that do have HDR that they can make higher profits with. HDR requires an HDMI 2.0a connection and there just isn't any good reason to go to the extra expense of adding that to 1080 TVs when you can just force customers to go 4K-HDR instead.

Just checked and my pre-order has gone through, money gone from my account, so hopefully I'll get it on launch day. I've already received GoW 1,2,3,judgement free codes as I'd pre-ordered the game before I decided I wanted the console too, so hopefully they aren't locked to my account so I can sell them on as I already have those games from the remastered GoW 1 from ages ago. Dan, are you sure the 'free' kinect USB adaptor kit offer is still ongoing? When I was arranging one for my other One S the MS rep couldn't tell me how long the offer would be going for but that it was a limited time deal. Great to see they have included the stand, which I understand only came with the launch edition 2Tb One S and not the 500Gb/1Tb models. The One S looks great lying flat, but this one NEEDS to be upright.

You can try to follow the directions here to claim your Kinect Adapter. Should work, but not 100%.

I've done that with my launch One S with no problems, but when I asked the rep if the offer would still be valid for this GoW edition he was unable to give me an answer. I'll find out tomorrow I suppose.

I wish they made a forza 3 version.

Cool looking console... kind of want this one...but, of course no budget for it...

Can i buy it in US and use it in India???? Should i use power converter or no?

I didn't pre-order so I don't get GOW 1-3 and Judgement? Posted via the Windows Central App for Android
Windows Central Newsletter
Get the best of Windows Central in in your inbox, every day!
Thank you for signing up to Windows Central. You will receive a verification email shortly.
There was a problem. Please refresh the page and try again.