Cyan update hitting Lumia 920 in UK, Italy and Spain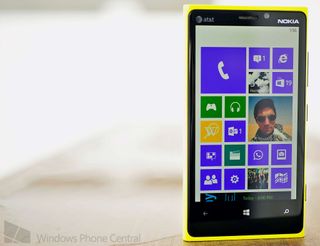 We've been receiving word from Lumia 920 users that the Cyan update is now rolling out across various European markets including the UK, Italy and Spain. Users on Vodafone and O2 in the UK have mentioned that they were successfully able to install the update, making the Lumia 920 the second device in as many days to receive the Cyan update after both carriers initiated the OTA for the Lumia 1020 yesterday.
Considering that these updates are usually rolled out in phases, it may be a while before everyone receives the OTA update. Do note that if you're running the Preview for Developers, you need to downgrade to Windows Phone 8 to be eligible to receive the update.
Have you received the Cyan update for the Lumia 920 in other regions? Let us know in the comments. Also remember to follow our Cyan update tracker to know the status of the rollout of the update for other devices and territories.
Thanks to everyone who sent this in!
Eagerly awaiting in India! I even downloaded an app to show me once its available. Lol. Better than going into settings and checking for phone updates all the time.

GOod idea. I can't even check for updates because I am on 8.1 DP and CYAN won't show up for me as an update. WIll have to downgrade to 8.0

Waited Waited Waited like forever!!!

Me and my friends, collegues and even some clients are waiting for Windows Phone 9.

Yeayyyyy.....probly next week other 20's

I have a cv great Britain in India...hoping it works here...great news none the less was waiting for for,like forever...

Vodafone has reportedly started rolling out Cyan for all Lumia devices here in Germany.

Can't wait for it to hit Bosnia!

No update yet. In UK with unlocked 920 running CV GB

Ditto, you'd think that would be first to get it.

Yup. I just cannot understand why that is! We should be the first to get it! It's probably some deal the carriers made with Microsoft to try to create an illusion that branded phones are somehow "better".

simfreeeeeeeeeeeeeeeeeeeeeeeeeeeeeeeeeeeeeeee l920 waiting in line

Hi when 720 receives cyan update

There has to be atleast one guy who asks "when". It will come when it will come. Nobody knows the exact date apart from Microsoft/Nokia. Go and ask them.

I wonder sometimes how many people think this site actually is run by Microsoft.

This update has been a bit of a shambles...

several european countries Germany, Czech Republic, Hungary and etc on Vodafone for the Lumia 720 is getting the update listed on the page... Cant wait for Lumia 720 in Malaysia! :D

You are quite right. For instance,in UK O2 and Vodafone seem to have Cyan avaliable for L520,L620,L720,L820... http://www.nokia.com/global/support/software-update/wp8-software-update/...

I saw the nokia page showing 620,720,820,920 available with cyan in italy

Yeaa...vodafone is pretty fast in testing updates..only 520 left

Cyan is now available in Italy for L520 too...Vodafone seems fast!

please update 8.1 Update Tracker, the 1020 unlocked Singapore Country Variant also collect received the update

I got Cyan on my 920 in the Netherlands today.

Were you on the developers preview?

Nope. I was, but I recently switched back to 8.0. I don't know if that is still a requirement though.

Your 920 still lag after the official 8.1/cyan update?

My 820 in UK is now been updated on O2.

So I guess Cyan is still blocked for phones with the developer preview installed?

According to WinBeta, the issue with Bitlocker has already been fixed with 8.10.12400.899 upgrade and the fix is already present in update 1. http://www.winbeta.org/news/explaining-81012400-and-81014147-updates-win... But OK, wait and see. Still waiting for my 920 on 8.1 update 1

Yes, I reviewed this too on WinBeta, but will just have to wait and see...Currently have 8.1 Update 1 DP on 920 AT&T...US.

I have a Lumia 925, and the update has been available since last month, and I just checked now still nothing, am on dp

Lumia 520 is next queue :)

For 620 , 720 , 820 already started in italy :D

The Cyan Update app is also reporting it as "Available" for MTN South Africa, and not as "Under testing" anymore. There is no update prompt when I "Check for updates" though. I'm running 8.1 Dev Preview so probably still on hold

Downgrade to wp8.0 and go for update check.

Thanks, I'll wait for the fix. Happy with 8.1 Update 1 and not in such a rush. Thanks though

Same Here... Running L920 CV in Italy!

Same here I will wait for the fix, I have a Lumia 925

Why does the cyan update not give you the ability to change your loudspeaker audio on 1020?

It doesn't!
Cyan I think for legacy devices is probably nothing.
It didn't even fix the audio popping sound,no brightness slider,no USB settings..... NOTHING!
I ain't complaining but just telling you what you'll get

Felt happy when i saw the cyan,920..... Then sad on the european region part.

They're gonna eventually give it to people with dev. Preview right? That's what happened to my 1520/at&t. Just sayin cause reinstalling all of your apps?? Ouch

You don't need to manually install all your apps if you use the backup feature. They will automatically install when you do a restore during setup

Still waiting Lumia 920 France CV

i'm fairly sure 3 use the unlocked country variant phones. 3 aren't big on locking devices.

Wake me up when MSFT resume cyan rollout to 8.1 DP users....

Wakeup!!!!!!! Rinnnnnnnnnnggggggg ....oh wait false alarm ....is not XD

Cyan Update available for Lumia 1020 in India

Check it tonight again during 7-10 if not then Cyan update would be rolled out tomorrow.

Bring it with a fix plz.. Dnt wana downgrade.... Its a mess to start over again...

Not really a mess, just time consuming. The backup feature does a nice job of getting apps and settings restored.

assuming it takes one hour to restore your phone back to full functionality... no, not that precious. Most people these days live around 613,000 hours. One hour out of 613,000 is like a pebble in the ocean.

Finding firmware, net connection, working pc.... U missing other things also... Every1 dnt have the requirements at hand u know

No update in Germany Provider Telekom

Anyone on EE in the UK had this for their 920? Ours hasn't.

they're nearly ALWAYS last, I fecking HATE EE. Trouble is its the ONLY signal I can get in my village so I'm stuck with them :o(

You're lucky, I fecking hate EE and I lose reception all the time. Stuck with them till the contract runs out.......

Will try this on my RED 920 on EE when I get home and update accordingly. Edit... And yes there are shite, can't wait for Oct when my contract finishes to leave this rubbish network. Red 920 was the only reason I joined them.

you'll be in for a disappointment (but then being with EE you're used to that!) Just tried mine no joy

We'll get it in 3 months if we're lucky. I'm only still with them as I have it ½ price due to my ex working for them.

Got it last night in Uk - and loving it! More tiles is life enhancing!!

waiting to hit the Philippines...

Ppl i wondering.... My L920 have brand to AT&T...thats mean i have to wait AT&T to release the update or ?????

Nothing yet here. Lumia920 sim free UK CV.

Vodafone updates all Lumia except 820 in Greece also. Waiting for 820 CV!

Έχω το L920. Το αγόρασα από Κίνα(είναι αυθεντικό) και είμαι στη Vodafone. Θα πρέπει να περιμένω να είναι διαθέσιμο στην Κίνα ή στην Ελλάδα το update;

Not to be repetitive but the cyan update won't be hitting the phones on the developers preview, right?? I was just so excited to know that 920 was finally getting the update!

Yeah me too. I also thought the issue was fixed when Joe said that all the devices on DP will get new firmware when it is released for those phones/region.

Wonder how it'll work for me. I have a Voda 920 but using a EE sim

Then you will have to wait for Vodafone to release the update. Best way to check, is the about screen and look under "Carrier", if it says CV GB then you have the country variant for Great Britain. However if the phone is carrier branded then you will have wait for that carrier to release the update (unless you flash the country variant rom).

Users from Croatia are also getting update!

but joe said no need to downgrade to 8 to recive cyan but we are cing that we have to downgrade what's happing now

It's optional, cyan is frozen temporarily until bitlocker issue is resolved for DP users.

actually we dnt have bitlocker bro that means downgrade is must and compsary

logical error in your deduction

Nothing in Denmark yet for the 920.

Come to Malaysia a.s.a.p
pretty please!!!

Color me interested as soon as MS unblocks Cyan rollout for DP users...

It's showing as available with. Vodafone

Have any upgraded from WP8.1 GDR1?

The Cyan update for Nokia Lumia 920 Vodafone Germany also available

What's up Microsoft? You were born in the USA, why are we getting put on the back burner?

USA is not the center of the world ;D

Because phones in the USA are virtually gridlocked by the carriers. All your handsets are not only HEAVILY subsidesed by carriers, but they literally have a stranglehold on when updates get pushed. That's one thing I really hate about American networks. You get suckered into these long term contracts and once they've got you, you're stuck until it expires. Three UK are a lot more flexible. I pay monthly, but it's a rolling subscription each month, so If I want to opt out and change network, there's no contract. I just cancel the recurring subscription and move on. It makes life so much easier. We also believe more strongly in selling unlocked devices so you can buy the handset up front for full price (except there's no carrier mark-up so it's cheaper in the long run) and then you order a 'free SIM' from a carrier of your choice and pick a subscription plan for that carrier.

Sweet! Finally....but in abit of limbo now as I've been playing big business deluxe for the past couple days now and downgrading would mean I lose my progress... It is times like this the lack of a offline / online back up tool / app becomes extremely frustrating (the cloud save function down to the developers to implement/enable).

do not understand then why joe said that not to lack back wp8 to upgrade to cyan

Sweet! Finally....but in abit of limbo now as I've been playing big business deluxe for the past couple days now and downgrading would mean I lose my progress... It is times like this the lack of a offline / online back up tool / app becomes extremely frustrating (the cloud save function down to the developers to implement/enable).

So, can some one just sort this please;
If you have the Preview for Developers complete with GDR1, will you be able to load Cyan?
Will the Preview Dev people ever be able to upgrade from here on in?
Peter

Yes you will because cyan is a firmware update and is independent of the OS update

Gdr1 still need to downgrade????

i believe yes.. my both phones wont find any update

Aargh! What a pain. Well, after it took me a hard reset to get the last DP update onto my 820 I can't motivate myself to downgrade to 8.0 just to get back to Cyan/8.1. I'll sit it out until DP gets it fix.

Me too! Got my 920 while passing through Dubai when it was launched. However being on DP Update 1 - probably be a while before I get cyan - not sure I want to do the whole downgrade - restore thing


Oh Snap! Fix the bitlocker issue quickly micronokia!

Nokia site is also showing Lumia Cyan as available in Australia for CV and Optus 1020s. Telstra is lagging behind as usual. Sucks for me because I'm moving house and thus have no local Internet access to grab the update or the Nokia Recovery Tool (I'm on the DP with 8.1 GDR1).

Nokia lumia 1020 user from morocco just updated my phone to windows phone 8.1 this morning

Also available for Nokia Lumia 520 in Italy (CV)

What does cv mean please
Peter

CV = Country Variant (ie. no carrier specific customisations)

Going by Nokia's tracker page, Cyan is available for almost all Lumia models on Vodafone in Italy, Spain and UK (even L520!).
Not sure of Vodafone's overall reputation in Europe (it's very good here in India), this seems pretty good..

Yay, Malaysia next please!

Are The Preview for Developers and Cyan the same thing?
Peter

No, cyan is a firmware update for Nokia devices

And still no cyan for 1520 Netherlands pffff realy stupid

Flashinh my 920 with Italy rom in 3, 2, 1 ...

For some reason, it grabbed Black via Nokia care suite rather than cyan.

Yes. Isn't available yet through NCS. I have to install black and then updated via OTA for Cyan, and update again for Update 1 Dev, after all that a hard reset :) dandan! A brand new and fresh Cyan phone.

hope for Lumia 920 RM-820 :(

finallly here 920 gets it...great....... I think its carrier specific update


What I don't understand is why carriers are more quickly than the CV?

Carriers = test against their own network, CV = Nokia test against all mobile networks in that country

You mean the Microsoft Mobile Oy (former Nokia Devices and Services)

Seems Vodafone Germany have completely updated all Lumias & be 1st of its type,,waiting in india

when will i get cyan update for my lumia 720 in India ?? please tell me guy don't ignore my comment

Not got on my cv in the UK, I thought cv got them first before carriers

I'm a little annoyed that the carrier versions are getting the update quicker. I'd think that the sim-free country variants would get the update quicker, but whatever... Had my L920 Germany CV since day 1 of WP8. Looking forward to the update when it comes. Trying to stay patient....

I have lumia1520 in Kuwait and on develop preview.we receive cyane notification since 4 days in Kuwait but unable to update to cyane even jbelfeir tweet that no need to downgrade DP to 8 but still we are unable to update to cyane

I should be there in about 2 weeks. What's your address?

Use FedEx, it'll be available early :P

haha! good one! *fist bump

Lumia 920 in Tunisia Update Cyan ???

So, contrary to the adverts, EE remain the slowest network in the UK. They've hardly done any updates on any model.

920 cv uk i get an error when i go to check for update.

When Nokia Lumia 720 is going to get cyan update in India?

Update Windows Phone 8.1 Tracker, shows update isn't available for 920

I think Lumia 820 will be the last one to get update.

Do you want to make a bet for one million USD?

No love for Latin America from Movistar #Peru +920

Are the new features of DP GDR1, like Live Groups also in the Cyan update?

You mean folders? If that's what you meant then no, it's not available but one can always enroll in Developer Preview after the Cyan update and update to GDR1

Yup that's what I mean. So I can just update to DP also after the Cyan update?

In Spain, but country variant here, so... No update yet *cries in a corner*

hi from cyprus i have received the update 2 min ago for my nokia lumia 920 CV :D

It still says under testing on the Nokia website for CV....?

That page isn't updated in real time...

No information on CV in Sweden at the moment. Det beror på produkttyp, operatör och region - alla dessa faktorer måste testat innan de lanseras. Mvh// Nokia Care It depends on the product type, operator, and region - all these factors have to be tested before they are launched. Sincerely // Nokia Care https://twitter.com/NokiaSverige/status/497738135279648768

This bs, I have a Lumia 920, and live in the states and still only have black. I check all the time, still no updates.

Check more often and it might make it happen quicker? Have you tried stomping your feet?

still waiting for update l920 .. Libya

It would be nice if Microsoft adopted the Apple model where all devices get the updated on the same day. Although, I've long since given up on that ever happening.

Apple's unique position in the market with it's relationship with carriers means this is the exception not the rule-as I understand it. WP for now at least does not have the clout to circumnavigate the carrier shenanigans.. you.may be waiting a while indeed.

Why this 3 UK Carrier is still on Under Testing phase for Lumia 925 even though it has been released on all carrier in UK.?

because that list is apparantly not updated in real time?

"making the Lumia 920 the second device in as many days to receive the Cyan update" - well... ill be waiting for months or (worst) ........ never. (ASIA-PACIFIC region)

Got it in Germany for my Lumia 920 und 820 today... Both are software branded @ vodafon but no sim lock

Nokia lumia 920 uk cv, no update yet ...

Waiting for it in Colombia! +920.

What will Cyan actually give the 920?
I'm quite happy to wait for the fix.