Cyberpunk 2077 features acid rain and other deadly environmental challenges
CD Projekt RED is making Cyberpunk 2077 the most dynamic world it's ever created.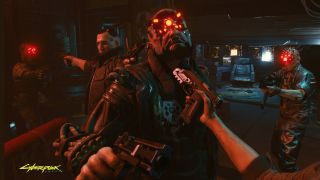 (Image credit: CD Projekt Red)
What you need to know
Cyberpunk 2077 features dynamic weather, acid rain, and other deadly environmental hazards.
It releases on April 16, 2020 for Xbox One, PlayStation 4, and PC
You can preorder

(opens in new tab)

it today.
In an interview with Wccftech, CD Projekt RED's Alvin Liu discussed a few gameplay features making their way to Cyberpunk 2077, one of which is a dynamic weather system like that which was seen in The Witcher 3 and has become increasingly common in AAA games on the market today.
He further went on to say that NPCs will react accordingly to these hazards as they did in The Witcher 3, and that NPCs will have their own daily routines to make the game that much more immersive.
Cyberpunk 2077 releases on April 16, 2020 for Xbox One, PlayStation 4, and PC. You can actually play it soon! I bet you'd never thought you'd read that sentence.
100% more Keanu Reeves
(opens in new tab)
CD Projekt RED is turning from fantasy to sci-fi

Smashing expectations with The Witcher 3, CD Projeky RED is now turning its attention to the sci-fi world of Cyberpunk 2077. Create your character, explore the bustling Night City and see everything it has to offer.
Excellent and affordable Xbox accessories
Up your Xbox experience with one (or all) of these budget accessories, all of which are approved by the gamers of Windows Central.
PowerA Play & Charge Kit for Xbox One (opens in new tab) ($15 at Amazon)
This charging kit keeps your Xbox One wireless controllers juiced up, and it offers batteries for two controllers. At just $15, this is hands-down our favorite budget charging companion.
ElecGear 4 Port USB Xbox One S Hub (opens in new tab) ($19 at Amazon)
This brilliant little USB splitter hub attaches perfectly to the side of your Xbox One S console. It's ideal for use with chargers, controllers, headsets, and more.
Controller Gear stand (opens in new tab) ($13 at Amazon)
Proudly display your Xbox gamepads with this stylish and functional stand. The licensed design is minimalist and black, and it has a hidden storage compartment, making the price of $13 a real steal.
Jennifer Locke has been playing video games nearly her entire life, and is very happy Xbox is growing a stronger first-party portfolio. You can find her obsessing over Star Wars and other geeky things on Twitter @JenLocke95.
Global warming? Oh no! Cue the complaining about politics in video games.

The Night City glacier will steadily melt as you play through the story

Then cause some aspects of low lying areas inaccesible unless you purchase diving biomods so you can breath under 10 ft of water or something... lol.

LMAO!!! How dare they try to accuse industry of poisoning the air.

Oh no! the polluting nano particles and their inane propensitity to infect every living thing have affected video games as well. Damn those pesky particles.
Windows Central Newsletter
Thank you for signing up to Windows Central. You will receive a verification email shortly.
There was a problem. Please refresh the page and try again.