DailySteals showcasing the Nokia Lumia 920 Windows Phone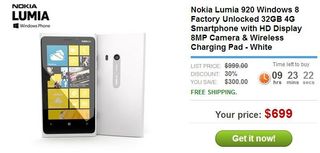 If you're in the market for a SIM unlocked Nokia Lumia 920 Windows Phone, https://www.windowscentral.com/e?link=https%3A%2F%2Fwww.kqzyfj.com%2Fclick-100048247-12608836%3Fsid%3DUUwpUdUnU14089%26url%3Dhttp%253A%252F%252FDailySteals.com&token=vX6o9YZ3 might have just what your looking for. The Lumia 920 is being offered for $699 with a free wireless charging pad.
The deal lasts until midnight EST and comes with free shipping. The only downside may be that the Lumia 920 deal is only for the white model. The factory unlocked Lumia 920 comes with a one year warranty and you can find all the details on ordering here at https://www.windowscentral.com/e?link=https%3A%2F%2Fwww.kqzyfj.com%2Fclick-100048247-12608836%3Fsid%3DUUwpUdUnU14089%26url%3Dhttp%253A%252F%252FDailySteals.com&token=vX6o9YZ3
Thanks, everyone, for the tip!
George is the Reviews Editor at Windows Central, concentrating on Windows 10 PC and Mobile apps. He's been a supporter of the platform since the days of Windows CE and uses his current Windows 10 Mobile phone daily to keep up with life and enjoy a game during down time.
Wow that's 200$ more then at&t

It's unlocked the ATT model isn't

Love my job, since I've been bringing in $5600… I sit at home, music playing while I work in front of my new iMac that I got now that I'm making it online(Click on menu Home) https://goo.gl/UblBC

but it's unlocked, which at&t will not do. it also isnt black, which rogers will not do (and you'll end up paying $600+ to get it from rogers unlocked)

that's not the point. Even if you buy without subsidy, a $200 premium to not be shackled to a carriers whims is just wrong. And that suggested MSRP $999 isn't even in the realms of reality.

The DailySteal is from you if you buy this.

not windows 8! but windows phone 8!

Will this work on AT&T in the US?

If your with AT&T you wouldn't need to buy it at such a high price. Are you planning on using it overseas?

It will work, but you won't get LTE.

This appears to be the global variant which does not support the AT&T 4G bands. See here for specs;
http://www.developer.nokia.com/Devices/Device_specifications/Lumia_920/

Ripoff price. Hardly a bargain and not worth dealing with DailySteals. I understand its unlocked; but, anything over $600 for a smartphone is standard price. $700 is crazy for a phone in the US.

And this is why US carriers will continue to hold their customers by the balls.

Dude. $600 is nothing in comparison for $1000 in NZ and $449 for a HTC 8S

the crock is there is nothing stopping Nokia from selling these unlocked in Microsoft store for the same non subsidized price as ATT.

Perhaps some sort of agreement with AT&T? (in the US at least)

Does that price inc taxes, or is the states allowed to advertised without taxes?

Will this work on TMobile? Which carrier will this work with best back in the States?

It does come with the charging pad. I'm not sure I've seen it unlocked cheaper.

Seems like the first "free" in the first paragraph shouldn't be there... Does it?

So this 920 runs "windows 8"?.... -.-

That's so Not a steal! ATT charges 449$ cash. No it runs WINDOWSPHONE 8! :P

Factory unlocked dude, not the same thing as AT&T. In case you don't know, the are people outside of the US who want this phone too. And there are barely any factory unlocked Lumia 920s on the market.

If there are people outside the us that want it, they can get it from Telstra in Australia, which comes factory unlocked in most colors for AUD$696, this is the normal price. You can also get the charging pad for appx AUD$45 from jb hifi, tho they list of for AUD$69 (if I'm remembering the price correctly)

No point if ur in the usa.. U won't get LTE!! btw #LUMIA920 AVAILABLE on #amazon black only

That's just bullshit. I live in the U.S. and I prefer purchasing unlocked devices. To hell with being tied down with 2-year contracts with shitty carriers.

May I ask who do you then use for the actual call&data plan?

Amazon is now selling the Lumia 920 in White and Red, in addition to Black. And it's back in stock again.

You do know that there are other carriers in the US aside from att right?

I'm in the Philippines and that deal apperas cheaper than what we can get it for here. Especially with the free wireless charging pad. Are they a reputable site? My gf is is California right now so I can have her order if they are a legit site. Thanks!

$699.- is not a bad price with charging pad. But, can you get an exchange warranty? What about an insurance? I would say, without a 24h exchange warranty, where they replace your unit if it has defective hardware. I would not buy. You get a defective one, you send it in where? How long would you wait with the tight supply?

Yeah lots of questions indeed. What does 1 year international warranty means? If in case I have to send it in to Nokia Care, I can do it here since we have service centers here in the Philippines?

One thing that I dont quite get:
1) Rogers and ATT seem to have blocked internet sharing on their devices--even if unlocked. If I buy one like this, can i use internet sharing when travelling even if my base is ATT?
2) Is it for sure that this wont run 4G on ATT?

Frequencies used on the AT&T Network Frequency Protocol Class 850 MHz GSM/GPRS/EDGE 2G 1900 MHz GSM/GPRS/EDGE 2G 850 MHz UMTS/HSPA 3G 1900 MHz UMTS/HSPA 3G 700 MHz LTE 4G 1700/2100 MHz(AWS) LTE 4G

I just returned from a business trip and I used my ATT branded L920 tethering with my surface tablet. The LTE was great and I was able to use both devices with very little battery drain? Not sure if there may be regional differences?


it seems to be to be a good deal
i am international down in the caribbean, been waiting for an unlocked phone for a while. i do wish it was yellow though.
there is such a pent up demand for this phone, so frustrating that i can see all the locked handsets in the US/UK etc and all we need is for nokia to just release a factory unlocked one.

of course unavailable for UK. I will never get this phone in here :(

Sweet its a nice price for unlocked.

http://forums.wpcentral.com/nokia-lumia-920/208618-920-unlock-sale.html

I picked up a yellow and a red one yesterday here in Australia from Harvey Norman for $696 each, no lock, no carrier branding.

Shows that Norman sells $829ea
Pre-Order NOW! Plus, BONUS Blueant S4 Speakerphone valued at $129
Nokia Lumia 920 Windows 8 Phone - Red

How long do we have to wait for the ATT exclusivity to end?

$829 is the online Harvey Norman price, hardly anyone here has paid that in store as they generally price match, and given Telstra outright unlocked price is $696 Harvey Norman gave me 2 at this price no questions.

Buy nokia lumia 920 unlocked in India: https://www.firangibhai.com/products/Nokia-Lumia-920-Factory-Unlocked.html
Windows Central Newsletter
Thank you for signing up to Windows Central. You will receive a verification email shortly.
There was a problem. Please refresh the page and try again.