Dance Central Spotlight, Warframe, Warriors Orochi 3 Ultimate all debut on Xbox One today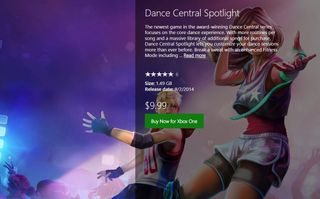 It's been a big news day for Xbox One game debuts, and we're seeing three additional titles added to the mix with Dance Central Spotlight, Warframe, and Warriors Orochi 3 Ultimate all debuting on Microsoft's living room gaming console. For gamers who need some entertainment after school now that we're in back-to-school season, these games should offer some entertainment reprieve.
Dance Central Spotlight continues with its dancing focus. There's a Practice That mode to help dancers rehearse difficult steps and moves within the song.
Warriors Orochi 3 Ultimate is a tactical action game where warriors fight to bring down the Orochi Serpent King.
Warframe is an army game where soldiers are summoned to join the war.
Are any of these games of interest for your relaxation and entertainment? Let us know if you pick up any of these titles.
Windows Central Newsletter
Get the best of Windows Central in your inbox, every day!
Chuong's passion for gadgets began with the humble PDA. Since then, he has covered a range of consumer and enterprise devices, raning from smartphones to tablets, laptops to desktops and everything in between for publications like Pocketnow, Digital Trends, Wareable, Paste Magazine, and TechRadar in the past before joining the awesome team at Windows Central. Based in the San Francisco Bay Area, when not working, he likes exploring the diverse and eclectic food scene, taking short jaunts to wine country, soaking in the sun along California's coast, consuming news, and finding new hiking trails.
Probably gonna get DC Spotlight. The DC games are really fun. Has anyone played warframe? Is it good?

Warframe is excellent, totally took me by surprise. I was anticipating Dance Central, but have played more of Warframe.

I played it with a friend a while ago on Steam and we both found it really boring. To be fair we only played for about 3-4 hours, though.

If you like TPS, rogue-likes, co-op, and magic, it's really good. Space ninjas with guns and magic. If you can't stand grind at all, don't play it (even so, the grind doesn't feel heavy).

I might get Dance Central for the girlfriend.

LOL I was going to say the same thing!

Warframe is amazing. It's free to play on stream. I'm just wondering if I can bring my account to Xbox one from the PC

Was wondering the same thing its a great game

Probably in the near future

Yeah it is attached to the Warframe account so you will get to play your old character

I'm on Warframe now. Yeah!!!!

How dance central works can anyone tell me?

Works with the Kinect. You mirror the dancer in the screen

Aashish. Watch this video of what it is. Its the cutest :) https://www.youtube.com/watch?v=skHXpJ3uLvA

Omg that lil one is so cute. Can't believe how well she handles the moves.

I been playing Warframe since Feb on PS4. It's pretty decent kind of repetitive

Arent all corridor shooters repetitive? COD etc. Its why I prefer BF4.

Warframe is not just a shooter, its a bit diverse and more options and unique. I used to prefer Battlefield, now its a COD clone. BF4 compared to BF3 sucked. They should have kept it similar.

To bad there have been no follow up to Samurai warrior 3, that would be awesome.

Didn't like Warframe, I just couldn't get into it but I know others enjoy it a lot.

Love KOEI's Warriors series, but they need to not be so exclusive to Sony with the Dynasty Warriors Xtreme Legends and Empires games.

Warframe is a good free to play game.

So excited for Warframe. It's the one game I really miss from having a PS4. It's like Phantasy Star Online and Gears had a baby.

I got Dance Central Spotlight. It's all downloaded and installed, but it will not start. It's not a good sign that it needs a patch before it can even start for the first time.

Yeah, I've had a few issues where Dance Central Spotlight will freeze after completing a song. I've had to quit the app and re-start it. Also currently it's not letting me purchase additional songs. I'm getting an error message to try again in a while.

Mine doesn't even start. It goes start splash screen, ESRB screen, a message about music not being rated by the ESRB, and then back to the start splash screen minimized. Then it just sits there until I select it and start that process all over again. I can't get past the ESRB screens into the game.

Harmonix is aware of it and came up with a weird but effective quick fix while the work to patch it: change your gamerpic and everyone else's gamerpic on the console. You can change it back after that, but you just need to change it. Here, from the official Harmonix forums.

My one freezes when my co-op partner joined. Not a good party game O_O

If you change your gamerpic, it won't freeze anymore. Here, officially from Harmonix.

Been playing Warframe on PC for ages. It's a great game. So many Options to weapons, Warframe Tenno Classes etc to kill all them aliens.!!

I've bought DC 1, 2 and 3 and now spotlight and this one definitely feels like a step back. Recycled moves, no story, the characters models seem inferior to DC3. And even in some parts of the dancing the game seems to get a little slow, like running a game with a cheap vga. Played a couple of hours and i'm dissapointed so far. I'll give it more time, it's DC and I love the franchise.

As someone who has never played Dance Central before, my initial impression of Dance Central Spotlight was that it was ridiculously fun, so it's surprising to hear someone say it was a step back. But, I suppose I don't know what I'm missing out on. The moves are fresh to me so I can't comment on that, but it seems odd that character models would be better on Xbox 360. Story mode sounds interesting. Wonder why they didn't include one this time around. Surely there must be some improvements, such as greater accuracy with the Kinect? Any others?

The kinect tracking seems better, i give you that. I wanna show you one choreo from DC2 https://www.youtube.com/watch?v=cGAQRagE218 and one from DC3 https://www.youtube.com/watch?v=6kSvAgKUwLE In those games you felt like it was the right move for the dance, and every dance had different moves. In spotlight I feel like they got rid of all of the choreographers and just started to pick random moves from past games. Oh, and if you have the time, watch this two aswell, i think you'll understand my point (also they are great choreos) You make me feel: https://www.youtube.com/watch?v=ENzMWvksOAA and Oh my gosh: https://www.youtube.com/watch?v=fO2_s_vnYQU (this one is pretty sick) These are all on their hardest level. I'll still support the franchise and i'm still having fun dancing with the game. It just feels to me like a rushed and unpolished game. Have a great day ;)

Cheers. Yeah, those do look well put together and well choreographed, and you're right that the graphics don't look that much better. I wonder if Harmonix was less motivated to perfect Spotlight once Microsoft opted to unbundle the Kinect (it definitely seems odd that they didn't put in a story mode if that was a staple in previous versions). That said, have you gotten to the most advanced dances in Spotlight? Maybe they're also as well put together? Regardless, I hope it still reviews well, and subsequently sells well. I've definitely enjoyed the game so far. We badly need fun games like these and I'm worried they're going to go extinct. Edit: Oh, and did I read somewhere on those videos you linked that Dance Central 1, 2, and 3 had online multiplayer via Xbox Live but that Dance Central Spotlight doesn't? If so, why the regression!?

I got WarFrame and DC:Spotlight. :)

Dance Central is really fun. warframe is also really fun. i wondered why it's Free!!!

Thank for geat post! Biệt thự Pháp

Thank you too halong bay tours

https://bellasofa.wordpress.com/ http://bella-sofa.blogspot.com/ http://sofabella.vn/

I want to receive your share investments lap dat may chieu, sua may chieu