Dance Central Spotlight makes the moves on the Xbox One September 2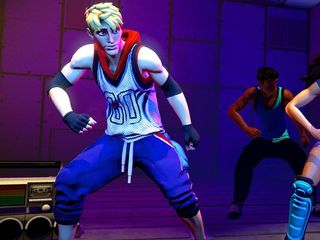 Dance Central Spotlight, the first game in the popular dance series made exclusively for the Xbox One, will be released as a digital download on September 2 for the price of $9.99 by developer Harmonix and publisher Microsoft.
Like the three previous Dance Central games made for the Xbox 360 console, Dance Central Spotlight will require the use of the Xbox One's Kinect motion gesture sensor. In other words, people who buy the new $399 SKU that doesn't have Kinect bundled with the console will be out of luck when it comes to playing this game.
The rest of us will be able to dance the night away with 10 music tracks out of the digital box. They include:
Avicii – "Wake Me Up"
Cher Lloyd – "I Wish"
David Guetta ft. Sia – "Titanium"
Jason Derulo ft. 2 Chainz – "Talk Dirty"
Kid Ink ft. Chris Brown – "Show Me"
Lorde – "Royals"
OneRepublic – "Counting Stars"
Pharrell Williams – "Happy"
Rihanna – "Diamonds"
will.i.am ft. Justin Bieber – "#thatPOWER"
In addition, there will be 50 more songs that can be purchased and downloaded for Dance Music Spotlight for its launch, They will include pop classics like "Love Shack": from the B-52s and more recent hits like "Summertime Sadness" by Lana Del Rey.
Microsoft adds:
Will you be shaking and grooving on Dance Central Spotlight when it is released in early September?
Source: Xbox Wire (opens in new tab)
Windows Central Newsletter
Get the best of Windows Central in your inbox, every day!
Nice price :-) I'll buy the base game. If the add on songs aren't too expensive I'll buy them too :-)

Is this a full game? I did read the article, but want to be sure.

The price says no, but I am reading it as yes. Not 100% myself though.

You get the songs listed at that price. Other songs are DLC.

You buy the game and 10 bundled songs for $10. Then you can individually purchase additional songs (price not disclosed yet). 50 additional songs have been announced to be coming. I hope even more will come later on. This is a great pricing strategy for this type of game. This is one of my most anticipated Xbox One games this fall.

Agreed! Let me pay for what I actually want. Hope the new Rock Band follows this structure!

Thanks people. Looks like a good idea.

A game released for Kinect? Amazing. If anyone at Xbox wants to know why Kinect flopped this time around look at how it was launched for the 360. It came packed with a game. There was a steady stream of Kinect games, some retail, some download, some free, released afterwards. Xbox One Kinect has had almost no releases. At the very least Microsoft Studios could've ported older games to the new system. That there's still no Xbox One Kinect Party is a shame.

I agree there should have been a free downloadable game that came with it.

Yep, Kinect Sports Rivals needed to launch on Day One and come bundled for free, just like Wii Sports did. Huge missed opportunity that was.

It's kind of a crap game anyway. Not horrible, but not what Kinect Sports from 360 was.

It definitely needed to be better as the first flaghship, first-party Kinect game, that's for sure, but it's not a crap game; it's just not worth $60. It's a much better game than Wii Sports was when it debuted the Wii. They should've done the same. If not, then it should've launched at $40, not $60, and it should've kicked off Games with Gold in May (before the Kinectless SKU in June debuted, when every X1 owner had a Kinect).

The menus, navigation, setup and a couple of the games leave a lot to be desired. I enjoy it for the most part, but was not near as fun or easy to use as the first gen. Also, no golf? WTF?

How do you dance to royals? O_o

Dancing gamese are the shit. There, I fixed it for you.

Why, because you can't dance? Neither can I, but I don't hate :) Especially at that price!

My reason is because of how flooded the 360 marketplace new released add-ons were with this shit every week. Was glad when they put rock band in its own hub. Now its guitar smith ir rock smith or whatever the hell it is now.

You mean dancing games not DDR or in the Dance Central series.

I'll buy it at that price. Should be a good party game.

Wow. Great surprise on the price. I love that I'm not licensing loads of awful songs and my already purchased songs from 360 will import. Hopefully the game is as fun as the previous ones.

At that price I'm worried if it has all of the characters. However if they are downloadable (purchasable) then I'm game. I'd be willing to buy the characters because the game is only 10 bucks.

Awesome news. Will be getting it as soon as it's released

LOL is this September 2, 2014?