Darksiders Warmastered Edition confirmed for Oct. 25 launch for PC and Xbox One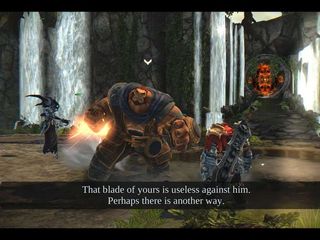 Nordic Games has now confirmed previous reports that it will release Darksiders Warmastered Edition. The graphically revamped version of the action-adventure game is coming on October 25 for PC, Xbox One, PlayStation 4 and Wii U.
In their press release, Nordic Games admitted that news of Darksiders Warmastered Edition got out on the internet ahead of schedule:
Darksiders was first released by developer Vigil Games and publisher THQ in 2010 for the Xbox 360, PlayStation 3, and PC. For those if you unfamiliar with the game, the player controls War, one of the Four Horseman of the Apoaclyse, as he seeks vengence against those who tricked him into bringing about the end of the world:
Apocalyptic Power – Unleash the wrath of War, combining brutal attacks and supernatural abilities to decimate all who stand in your way
Extreme Arsenal – Wield a devastating arsenal of angelic, demonic and Earthlyweapons; and blaze a trail of destruction atop Ruin, War's fiery phantom steed
Epic Quest – Battle across the wastelands and demon-infested dungeons of the decimated Earth in your quest for vengeance and redemption
Character Progression – Uncover powerful ancient relics, upgrade your weapons,unlock new abilities, and customize your gameplay style
Battle Heaven and Hell – Battle against all who stand in your way - from war-weary angelic forces to Hell's hideous demon hordes
For the upcoming Warmastered Edition, Nordic Games will be offering these new features:
Native 1080p rendering resolution for console platforms
4k support and additional video options for PC
Doubled all the texture resolutions
Rendering improvements and rework
Better shadow rendering quality
Post processing effects
60 FPS in moment to moment gameplay (PS4, Xbox One, PC, 30 for WiiU)
Darksiders Warmastered Edition will have a price of $19.99 when it is released.
Super cheap! Love it for my Wii U.

Nice and cheap, sign me up

Any word on reduced price If I already own the standard version for PC?

This will have to wait, my october monies are for Gears of War.

Hmmm, interesting, though I still have the original on 360 might grab this version at that price. It's hell of a lot more palatable than the cost of the Ultimate Alliance remasters.

One of my favorite games of all time (Top ten list) and arguably one of the most underrated games of all time. I'll be more than happy to get this new version.

Oops! The image above is from Darksiders 2—also a very good game. That being said, the original Darksiders is an absolute masterpiece.
Windows Central Newsletter
Thank you for signing up to Windows Central. You will receive a verification email shortly.
There was a problem. Please refresh the page and try again.