Darkwood Xbox One preview: An atmospheric top-down horror title that demands your focus
Darkwood is a satisfying blend of horror and survival mechanics that will keep you on edge at all times, and it's not afraid to punish your mistakes.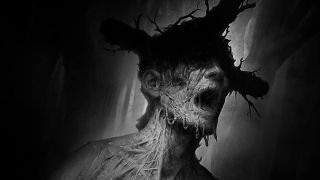 Top-down titles are rare these days, but something even less common is top-down horror titles. Darkwood, a critically-acclaimed title on PC, fills that niche, and it's finally expected to get its Xbox One release on May 17, 2019.
After playing Darkwood for a few hours, I'm pleased to say it definitely lives to the hype, though there are some minor things that bug. Still, if you love horror and survival games and you'd like to experience these genres from a top-down perspective instead of the usual walking simulator mechanics, you should definitely keep an eye on Darkwood.
(opens in new tab)
Explore by day, hide at night

Darkwood is a tense and challenging horror and survival game with superb atmosphere, great visual presentation, and a strong gameplay core, but it's marred by clunky movement and unintuitive combat mechanics.
Using the cycle to survive
Darkwood centers around an unknown man trying to survive inside a mysterious forest. Terrifying monsters roam at night, and in order to survive their assaults, you'll need to hunker down in, fortify and maintain a base. To do this, you explore the woods by day, carefully trying to avoid wolves, environmental hazards, and other dangers as you collect materials. This isn't easy, though, as your map doesn't show your current position, so you'll need to memorize landmarks to plan routes and return the way you came. As the sun falls, you have to book it back to your headquarters and build barricades, lay traps, grab a weapon, and pray you'll make it through the night.
This day and night cycle creates a challenging experience that will keep adrenaline-junkies hooked for weeks. Nothing in Darkwood is easy, and the game isn't forgiving if you make mistakes. More likely than not, you will die several times before getting into the rhythm, but once you get used to the gameplay systems, you'll have a ton of fun. The game's only major flaw is how movement and combat work, with both of them feeling annoyingly clunky and at times, even unresponsive. This can be frustrating in a game where one missed weapon swing can mean instant death, but it doesn't ruin too much since you should only be fighting as a last resort.
Atmosphere done right
Every horror game needs great atmosphere to create tension and unsettle the player, and Darkwood doesn't disappoint. The forest you explore isn't overtly scary; rather, its foggy wisps, muted colors, and all of the mangled bodies spread about simply make you feel uncomfortable. Walking through Darkwood's forest makes you think that anything can happen to you at any moment (and it can).
The sound design in particular is nothing short of spectacular. Everything from your character's heavy breathing to the sounds of branches snapping as creatures crush them with their appendages sounds incredibly realistic, to the point where I actually thought the sound of creaky wood in-game was someone coming down my stairs in real life.
Final thoughts on Darkwood
Despite the disappointing combat mechanics, Darkwood is a compelling and challenging horror survival game that I can't wait to sink more time into. If atmospheric horror with superb sound design and strong survival mechanics is something you enjoy, you're not going to want to miss Darkwood.
Darkwood is expected to be available on May 17, 2019.
The woods aren't safe
(opens in new tab)
Explore by day, hide at night

Darkwood is a tense and challenging horror and survival game with superb atmosphere, great visual presentation, and a strong gameplay core, but it's marred by clunky movement and unintuitive combat mechanics.
Excellent and affordable Xbox accessories
Up your Xbox experience with one (or all) of these budget accessories, all of which are approved by the gamers of Windows Central.
PowerA Play & Charge Kit for Xbox One (opens in new tab) ($15 at Amazon)
This charging kit keeps your Xbox One wireless controllers juiced up, and it offers batteries for two controllers. At just $15, this is hands-down our favorite budget charging companion.
ElecGear 4 Port USB Xbox One S Hub (opens in new tab) ($19 at Amazon)
This brilliant little USB splitter hub attaches perfectly to the side of your Xbox One S console. It's ideal for use with chargers, controllers, headsets, and more.
Controller Gear stand (opens in new tab) ($13 at Amazon)
Proudly display your Xbox gamepads with this stylish and functional stand. The licensed design is minimalist and black, and it has a hidden storage compartment, making the price of $13 a real steal.
Windows Central Newsletter
Get the best of Windows Central in your inbox, every day!
Brendan Lowry is a Windows Central writer and Oakland University graduate with a burning passion for video games, of which he's been an avid fan since childhood. You'll find him doing reviews, editorials, and general coverage on everything Xbox and PC. Follow him on Twitter.
Damn I don't know if i can handle these horror games any more lol. Looks great though!
I think outlast is still probably one of the scariest survival horror games out there.