Date set for shutdown of Nokia Memories website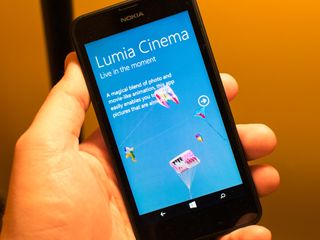 While Cinemagraph users are already preparing to switch over to using OneDrive to store their cinemagraphs in January, we now know when the Nokia Memories website will shut down. Nokia Memories will be discontinued on January 12, 2015. You will need to take steps in order to keep your posted cinemagraphs that are no longer stored on your device.
As previously reported, your cinemagraphs on Nokia Memories will be unavailable after the switch. Users will need to check the URLs on their creations in the Shared view in the Cinemagraph app. Open them on a PC, and download them as a GIF or video to save them. From January 12, you will be able to share your cinemagraphs on multiple social networks with the apps' upcoming sharing features.
Are you ready for the switch from Nokia Memories to OneDrive? Leave your thoughts in the comments.
Thanks to Aman for the tip!
Windows Central Newsletter
Get the best of Windows Central in your inbox, every day!
Never even heard of Nokia Memories, I guess when things go away they become more known...

+ Nokia connect rebranded

To Lumia Connect WP8? Weird name.

When did that happened. I didn't see the update on my phone?

Will there be a time when I can "share again" from my Cinemagraph app and they'll re-upload to OneDrive, or will it literally all be lost? It'd be nice if they could provide an easier way to keep the files. Don't see why THEY can't transfer them over! :/

Try installing the Beta version of it and see if all your files appear in that..Cause the Beta is gonna be updated to the feature full app they are talking about..!!

My previously shared ones only appear in the Shared part of the original Cinemagraph app which the Beta doesn't have... They're not from my current phone, so to keep them I'll have to safe each individual gif from the Memories website and download, right?! I think they could do something to port everything across.

Yup!! That's feasible bro..!!

So there wont be any flagship launch before January 2015

What's the Lumia event that Microsoft are running a UK competition to be at? Last time it was the launch of the 920!

Last I looked using the Beta Cinemagraph, the files are uploaded as 10 second mp4 files that stop playing and not continuously playing gifs. They need to fix this.

Yup. Because there's no need to have something called "Nokia Memories" when Nokia is still much alive ;P

http://1drv.ms/1xMzMAp WP8.1 animation glitch

Someone discovered it in the forums LONG ago.

Nice..Not many get two Start Screens..!! :P:P

Haha, I love that one! It's do easy to replicate, I do it all the time for fun. It "doubles" every single open app, including the Start Screen. Visual bug only, doesn't actually duplicate any apps.

How can we share after shutdown ?

It sounds like they are shutting down the site before the new app, with the sharing features, is released? So they will be lost.

What the fuck is wrong with Microsoft? Why is it ditching all the beautiful services?

Dead weight. If it doesn't fit in their plans, they should most definitely get rid of it. Its no use having it around and treating it like the runt of the litter.

Ditching "Nokia" Actually..!!

I'm lost. What are you talking about.

Thanks for the Memories...

Though I never used, I assume it could be fun for people using it.

Hey Real Daniel u guys should make some guidelines not only for commenting but also for usernames!! :p

Why you are so bothered? It is my username.

I've been using Nokia devices for such a long time. It's really sad that I'll not see the name in the coming devices.

Me too.. Loved Nokia.. :(

We as a community should organize sth to honor Nokia one last time *-*

Nokia memmories? Using Winphone for 2 1/2 years total now lol .. Never heart of it