Switch to Sprint, get free unlimited calls, texts and data for a year!
This Sprint deal may seem too good to be true, but it isn't.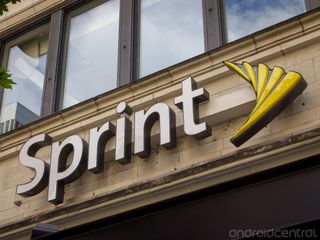 We often tease Sprint for its desperate attempts at getting customers on other networks to switch over, but this latest deal is a doozy and well worth investigating.
Until June 30, customers on T-Mobile, AT&T, or (especially) Verizon get up to five lines of free unlimited service by switching over to Sprint. There are a few caveats, which we'll get to in a moment, but as long as you're a new Sprint customer, the deal is very enticing. The service is not some limited version of Sprint's regular unlimited plan, either: up to five lines get Sprint's full unlimited package, which includes calls, texts and up to 23GB of high-speed 4G LTE (and unlimited data at slower speeds after that) just by switching over.
Sprint claims customers who bring five lines over can save over $2,000 in the first year if they switch from Verizon.
Now, the caveats:
The offer is open to new customers only.
After the first year, which technically ends July 31, 2018, service will cost $60 for the first line, $40 for the second, and $30 for each subsequent one.
The offer is only open to customers who bring their own unlocked and eligible phones. (This includes devices like the Google Pixel, Nexus 6P, Moto G5 Plus, iPhone 7, and Galaxy S8. Check out the full list.)
You have to buy SIM cards through Sprint for $2.99 each and activate them on the company's online portal.
Along with the unlimited calls, texts and data, users get 10GB of hotspot data per line and HD video streaming at 1080p.
So while there are a few hoops to jump through, it's definitely worth pursuing for that insane level of savings. If Sprint has even decent LTE service in your area, you can't beat this kind of deal.
Windows Central Newsletter
Get the best of Windows Central in in your inbox, every day!
Providers are getting desperate.

Tmobile Tuesdays gave away Xbox game pass yesterday. There's about 4 phones in my family plan and I'm the only Xbox gamer so i took everyone's code. 4 months covered. Woo

Nice! Stay with T-Mobile and keep unlimited calls, texts, and data...plus Digits, Kickback, T Mobile tues., service basically around the world...etc.!! As a former VZW customer, I am so impressed with T-Mob

i also take everyones gas card and restaurant $25 dollar giftcards. yeah it's such a great perk when you have the whole family or friends whos on Tmobile.

Also keep Windows Phone, elite x3, idol 4s, Lumia 950, etc. Sprint has nothing.

Thanks, I'll switch from down here in Africa.

No WP on the list. No deal.

So I need to toss all our phones? That doesn't sound like a deal to me...

it sure is if your still using windows mobile devices!

Activation fees? Can you just jump the Sprint ship after one year and jump on another carriers deal at the time or are you locked in a two or more year deal with Sprint?

This is from the Sprint page..: "No Activation Fees" "There's no annual contract and you can keep your phone, number, accessories, photos, apps and music. It's really that simple." There's various fees (min $2/m) and taxes (min 40c/m) though so ask Other details are in the FAQ

One of the most Windows-related articles of all time.

Also, Sprint has the network coverage equal to that of 1930's rural America landlines.

Why would you insult the 1930s rural American landlines like that? :P

Getting crap for free is no deal!

I'd switch, but then I would have to get up and go outside by the oak tree to make a call. Bah,I'll stick with Verizon from the comfort of my chair!

Do you have to prove that you stopped your other carrier? Why not just get a phone to us as hot spot, when it is there after all it is sprint.

I think you switch your number...

Too bad no windows phones on sprint...

Sprint? Yeah right. Never again!!!!

for a month of high speed

This is more like jio in my country.. Unlimited texts,calls,data free for 3 months.. And then 400₹(~5$ usd) for 3 months of daily 1GB 4g data and unlimited calls,texts.. And this is why.. India is in first place of using mobile data in the world..😎😎😎

I had sprint and paid 120.00 a month for two lines, my service was bad. I ended up switching carriers. Maybe service has become better in the last year, but not sure if it's worth making a switch for free, unlimited Talk text and data.

No windows phone compatibility... Why is this article here???

Because not everyone on WindowsCentral has a windows phone, many have moved on.

Also a lot of us are on the fence, fed up, and weighing our options even if we still have Windows Phones. I could buy an unlocked phone tomorrow and still come out way ahead! Depends on how good Sprint is in your area.

Sprint's horrific network isn't even worth switching to if it's free, they have decent coverage but the towers are overloaded and slow.

Dont switch to Sprint, take my advice I have them for 3 of my phone lines. Their prices suck, their website and online portal sucks, their phone selection sucks (and its made worse by their CDMA network and the fact its hard to find manufacturers selling phones for their network), their network coverage is spotty, and their customer service is not great.

Nah, still wouldn't get me to go back. Throw a free BMW in the deal then I'll go back.

Windows phones are not eligible for this deal. Not even unlocked devices. Why is this article on WC??

Because of the 4 windows mobile users left here, there are Hundreds who use other better devices, and windows as their computing device.

Maybe if they get Madonna to throw in a free BJ.

KEEP IN MIND: no VoLTE MEANS no talk and surf - so, no checking email or online access while on a call.

When I was with Sprint, it was three hundred and thirty for five lines and a tablet. T-Mobile brought that down to one hundred and twenty a month. Sure it isn't unlimited but still. I left cause they charged twice as much for phones as I could get similar ones unlocked.

As others have stated, it is odd that Sprint, which has no Windows mobile devices (due to Microsoft, HP and Alcatel no longer submitting devices for CDMA certification), is making an offer for Windows Central readers. Worth noting: Sprint's Unlimited data plan is similar in structure to those offered by Verizon Wireless, at&t, T-Mobile, Cricket and so on. Basically, if you exceed so much data with your smartphone (a soft cap), and, you connect to a tower that is experiencing congestion, you will be deprioritized until the congestion clears, or, you connect to an uncongested tower.....at which point your data speed returns to normal. If you have a hotspot device, similar to a Verizon Wireless Jetpack, and, you exceed 10 Gigabits of data (another soft cap) before your monthly billing cycle ends, your data speed will be dropped down to 3G and remain there until the start of the next billing cycle.

Wow... This is an amazing offer. I'd save over $100 a month for a year. BUT too bad Sprint service sucks! I was in downtown DC last night. Like only a mile from the capital in a restaurant and both people with me that had sprint had ZERO bars in the restaurant. I had 4 out of 5 bars on T Mobile with LTE. That shows even in cities Sprint service sucks at getting through buildings. This begging offer from Sprint still won't get me to switch with their horrible reception.
Windows Central Newsletter
Thank you for signing up to Windows Central. You will receive a verification email shortly.
There was a problem. Please refresh the page and try again.