Deezer launches Universal app in the Windows Store for all your music needs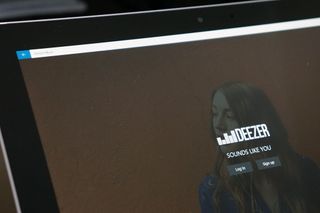 Deezer, the popular music service, has launched a Universal app for Windows 10. Now available as a preview in the Windows Store, you can try out this new app for free on your PC, phone and tablet.
Announced on the official Deezer blog, the preview brings together multiple ways that were previously available for those who seeked to enjoy music in the Windows ecosystem. Bundling them together into a single app is hoped to make things much more simpler for subscribers of the service.
With the new app installed, you'll be able to enjoy a more ergonomic design, as well as updates that will now affect multiple form factors simultaneously. Give it a try and let us know your thoughts in the comments.
Download Deezer for Windows 10 (opens in new tab)
Rich Edmonds is Senior Editor of PC hardware at Windows Central, covering everything related to PC components and NAS. He's been involved in technology for more than a decade and knows a thing or two about the magic inside a PC chassis. You can follow him over on Twitter at @RichEdmonds.
Looks nice and better than the Win8.1 app. Posted from Windows Central for Windows 10

Installed on Lumia 1520 but after hitting the app icon, app starts but fails to load. Greetings from Portugal

Great, I look forward to trying it out. Spotify need to pull their finger out. Posted from Windows Central for Windows 10

Spotify needs indeed to pull its fingers out...

Not able to signup from app, says server error or not connected to internet.. Facebook login says invalid email & pswd.. Loging in says incorrect email id or pswd. Wtf deezer?

Same here in fact I've been waiting for Deezer to become available on Android ever since I first heard about it. I've been dying to try this service too.

Launched a useless app after taking so much of time to launch.. :/

Why do u say it's useless?

U know it's not available in India. Don't u?

But it works for the other guy in the comment section

Works fine for me. The login not the sign up (I don't know if this really does have a problem)

I think this problem is bcz of the region availability.. Deezer is not available in india.

That's most likely the problem

I am from India and it worked for me.(Region and language and all that setting set to India and English-India)

Oh well. Then tough luck to those its not working for.

Don't They have some feedback thing going. I'm sure you can leave a comment on their support pages

Idk.. I tweeted them about the issue on their help page

Interesting. I need to go get groceries.

Well. Ui is the same and basically the hamburger menu went to the bottom of the screen. ( no hamburger left )
Downloading music does not work, settings menu is literally just data tracking and besides that is app is like windows 10 mobile. A beta. Only this one does not lag or crash.
But time will tell :D Posted from Windows Central for Windows 10

Where do you see a hamburger menu? I think you are looking at the wp8 version

If you please read again, you may realize that I literally said what you said. You simply didn't understood that I was comparing >.< Posted from Windows Central for Windows 10

And I'm just sitting here, waiting for universal Spotify app.

Keep waiting. The current app is (mostly) on par with the other platforms mobile apps and it already has a desktop app for Windows. Don't see anything changing any time soon.

Also, I like the Spotify app. It is crashing for no reason sometimes on windows 10 but besides that I am loving it. Its fast to use. Don't see why I need more features Posted from Windows Central for Windows 10

The Discover Weekly is not there, but aside from that, not too bad. I mean the app itself on W10M. Also people like to say that Spotify gets updates all the time, lies.

Yeah I know. I like it. Just its a game breaker that theres no real settings menu and that I cannot download my playlists. Will use 8.1 app for now. :D

But the UX is awful, at least on older devices like my 925

I think spotify is more than happy to focus on iOS and Android markets. Just be grateful they havent pulled the current app from the store... Posted from my Note 5

Yay..! And waiting for Spotify.

I literally just wrote a long-@ss comment on a support ticket for the old app on how it was all-foreign to the platform and all :) And seeing this UWP app, wow, let's see what it's got

Cool cool cool, keep them coming.

Its about time.. looks and feels tons better than that dreadful Win8.1 app.. Finally..

Would rather have Spotify

Why? What's the unique feature that Spotify has that Deezer doesn't?

Downloaded, using and loving it. Now that mixradio will shut down soon, deezer is my new way to discover good music Posted from Windows Central for Windows 10

The App works fine for me Posted from Windows Central UWA On my Lumia 930

Couldn't sign up. Hope they fix it sooner than later.

Its bcz of region availablity.. Check at the website whther the deezer supports ur region or not

What about xbox one? It does have a Windows too. 10 to be exact.

Windows Central; employ a proof-reader! That second paragraph is truly awful...

Am I the only one who cant find the app in the app list once downloaded on PC. I initially launched it from the store then immediately pinned it to the taskbar so I have it there but it isn't appearing anywhere else. This is happening on both my laptop and tablet. Also there's no icon on the taskbar. I just have to remember that its there as well as open apps leaving a space where its pinned

Ok the problem sorted itself out on my tablet and had to reinstall it on my laptop. All is good

Quit whining like a little girl... the app is on preview and you can just login using your Facebook.
The ads are now showing up... I may use the old version if I dont want ads in the way

Had ads on the old app not here though. Might show up soon enough though but I don't really mind.

really? never had any ad on the old one... thats strange.

Maybe it's time jump off the ship... Bye bye Spotify

Good luck with that.
Spotify is a much better platform.

Guys here if u missing any good music streaming app in windows store then use Saavn. It has all the songs free streaming and ads aren't there at all or are not very intrusive.

Artsts names doesn't show up in the volume panel (you know, the thing, that shows up when you change volume). Not on PC, nor on mobile. And the live tile is now functioning on PC, but doesn't on mobile. And it still shows my favorite albums instead of the music that is actually playing. And they could add some animations or transition things to it, to make it look nicer. But for a Preview, Beta, or what this is called, it's ok. And at least, flow is here in the desktop app finally! Posted from Windows Central for Windows 10, on HP 250 G1 notebook

with all the complaining, not one person noticed the "BMP TSH BMP TSH." Damn, what's happening to this place, rather, you people?

It is still a bit instable - crashed once and then did not play anything anymore. Had to restart. Also some areas are not feature complete yet. But hey, new apps are good - bring it on!!!!! Submitted via WC-Universal App (flex)

Good buy spotify!.. Hello universal deezer! :)
Fits me perfect as my display dock just arrived today! Posted from Windows Central for Windows 10

Already pinned on my taskbar.

App just got updated, but even so I can't log in. I'm in the US, looks like it's not available yet?

Windows Central Newsletter
Get the best of Windows Central in in your inbox, every day!
Thank you for signing up to Windows Central. You will receive a verification email shortly.
There was a problem. Please refresh the page and try again.