Dell retires its small console-like Alienware X51 gaming PC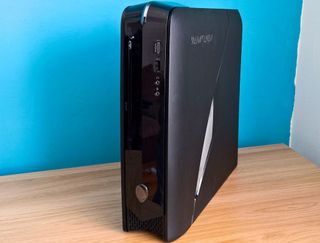 Dell has officially ended sales of its Alienware X51 gaming PC. It was first introduced in 2012 and offered gamers a smaller console-like design.
In a blog post (opens in new tab) Dell celebrated the legacy of the Alienware X51:
Dell also made a funny video farewell to the Alienware X51, with the current Alpha, Aurora and Area-51 desktop PCs offering their thoughts on the passing of their brother (apparently the Area-51 has a voice that sounds like Christian Bale's Batman).
Windows Central Newsletter
Get the best of Windows Central in your inbox, every day!
Sad. I love this P.C. Works and it's relatively portable

Same. I love mine. It's even now hosting my new AMD RX 480 graphics card with ease. Such a good PC.

Interesting. I still wonder if Microsoft will follow the Surface model with Xbox and allow OEMs to build their own.

It is in favor of the xbox.

Reminds me of this: https://m.youtube.com/watch?v=XxLLhwCx4cM

Bummer. Aurora is too big and the alpha is too small (and not upgradeable), I really liked the size of the x51.

I don't think there was anything smaller than this in the mini Itx class towers. It was between this and a Syber Vapor for me. I chose the the latter due to being on sale at the time I was looking, otherwise I may have gone with this one. This was the sleekest tower there ever was with an Optical disc drive.

I remember when Dell made excellent gaming PCs/laptops.

Is this their Steam Machine "console"? Posted via the Windows Central App for Android

No, their Steam Machine is Alpha. X51 is a normal gaming desktop, albeit smaller and slimmer.

It's sad to hear this news. I got mine back in 2012, my first Alienware.

Rip, the really good product from alienware

I bought one of the original generation X51s. I wanted to be able to game, but I also needed less bulk (apartment living). Anyhow, I loved the little thing. I eventually upgraded the GPU to a GTX750Ti and it is still playing games for my nephew (Warcraft and Elder Scrolls). I even convinced two friends looking for similar profile machines to buy the Gen2 X51. They love theirs, too. Great form factor, love this beast! I'm sad to see it go.