Delta loves Windows 8 - will equip pilots with Surface 2 tablets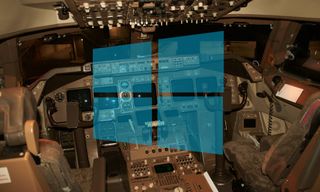 Last month, Delta decided to equip 19,000 of their flight attendants with Windows Phone devices; the move allowed attendants to access a new point of sale system built upon the Microsoft Dynamics for Retail platform. This month Delta has also decided to equip its pilots with Windows tablets, but not the Nokia "Sirius" tablet it had originally planned.
Delta has announced they will be equipping their pilots with Microsoft Surface 2 tablets. The transition is an effort by the company to go green and paperless. Electronic flight information will allow data to be updated and changed as needed, as well as being fully manageable by Delta.
According to a spokesperson from Delta, "In less than two years, Delta cockpits will be paperless as we roll-out the Microsoft Surface 2 tablet running Windows 8.1 RT as our company-issued devices." The company has stated that the rollout will begin with their 757 and 767 fleets and eventually spread to their 777, 747, and MD88 planes.
As of now, Delta pilots are allowed to bring their own tablets, mainly iPads, into the cockpit with them to help manage flights. The company hopes to shift away from the current Bring Your Own Device (BYOD) policy and have their pilots switch to company-issued devices.
The fact that tablets are currently being allowed in cockpits, is causing a controversial concern over whether or not pilots are actually doing their job or just enjoying a bit of in-flight entertainment. Devices issued by Delta itself, could use group policies to ensure those using the devices are using them for what they are intended for.
Microsoft has no plans to kill off Windows RT and the "lonely operating system" might find a home for itself within enterprise environments where cheap, yet productive tablets, are a growing need.
Let us just hope Delta does not blue screen on my next domestic flight.
Source: WindowsITPro
Get the Windows Central Newsletter
All the latest news, reviews, and guides for Windows and Xbox diehards.