Despicable Me: Minion Rush gets a huge update today for Windows Phone, Windows 8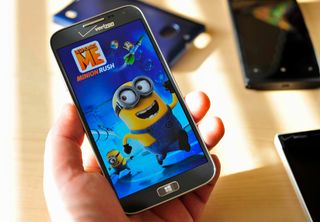 If you're a fan of the popular endless runner Minion Rush, we have some good news for you as version 1.7.1.4 has gone live in the Store for both Windows Phone 8 and Windows 8. The fun pint sized game (50 MB) from Gameloft has been kicking on Windows Phone for a while, but today's update is quite the doozy. It even has a changelog!
Let's see what's new.
Despicable Me: Minion Rush (Windows Phone/Windows 8)
The Minions are ready for new adventures! Check out a fun new environment, a new mini-game, a new costume and more in this exciting update for Despicable Me: Minion Rush!
New Environment: Discover the secrets of the Anti-Villain League from Despicable Me 2.
New Mini-Game: Unlock a new Power-Up and get ready for a Mission to the Moon!
New Costume: Run dressed as a Starfish Minion!
More Challenges: Compete against friends from your country in the new local leaderboards, and participate in daily contests to win prizes!
Revamped Main Menu: Receive notifications to never miss an event!
Overall bug fixes and optimizations.
That sounds like a lot of fun to us, and there's even a new Tile/icon for the game to reflect those changes.
Despicable Me: Minion Rush – Windows Phone 8 – 50 MB – Free – Store Link
Despicable Me: Minion Rush – 8 – 141 MB – Free – Store Link

(opens in new tab)
Thanks, Pranjal R., for the tip!
Daniel Rubino is the Executive Editor of Windows Central, head reviewer, podcast co-host, and analyst. He has been covering Microsoft here since 2007, back when this site was called WMExperts (and later Windows Phone Central). His interests include Windows, Microsoft Surface, laptops, next-gen computing, and arguing with people on the internet.
It's a pint sized download because when you first run the game it has to download a lot before you can play.

Please don't update. The in-game download always gets stuck at 94%. So the game is basically not playable anymore! I tried reinstalling twice. The problem remains.

When it hits 94% it can take sometime. It took me 1 min of sitting at that percent before I moved. Games update is fine, just be patient with it.

Ice age village was the same way sometimes i couldn't load it

i left it for 15 minutes, nothing happened. only my phone got heated up badly.

For me it took 15-20 minutes in 94% may be it is the download speed wait and leave the phone on charging and wait.. Its worth the wait

It will take some time depending on speed of your internet connection. it is downloading content even the progress bar is stuck at 94%. you can check the data usage in data sense

That sucks! I have no problems though so it must be something on your end.

It stops for a minute or two... :)

No problem for me. Its run perfectly.

Mayb because of your connection. I updated the game yesterday and nothing happened. It was smooth. :D And maybe you shouldn't lock your phone. It's just my opinion. :)

It was stuck at 945 for around 7 to 8 minutes, then it went to completion. I have the game installed on my SD card and it is lagging a lot while playing. :(

Game disables certain keyboard controls on my Touchscreen
lenovo yoga 11s such as mega minion forces me to tilt my laptop.

Seems to stutter a bit on the 1320 when starting a new run.

Same with my 1020. It is just maybe a bit unoptimized

So the problem is with high ram devices too? Thank goodness, I thought it was too choppy on my 720.

Try to move the game to sd card, it will help. Also, does the starfish costume and the moon minigame show up in the shop, cuz they don't for me.

Just updated it for Windows 8.1. There's seems to be issues with Xbox Controller support.

What Xbox Controller support, AFAIK it doesn't support a controller?

Yes it does and it always has. I uninstalled and I'm downloading again because Gameloft games have a tendency of going wrong after an update for me.

Force closes after in game download Lumia 520

Anyone can connect with Facebook friend from Android or IOS? I can't seem to find my friends who play at other platform.

Mine reached 94% and won't pass from it

Wait it will for a few minutes time will take from 94% it depends on your download speed

I had a problem with game not downloading at first. Update was given but when started it just disappeared and said no download in progress. Problem finally solved by turning phone off and then back on.

I take much times after 94%, half an hours

I didn't see any new costumes

The update is just fine and works flawless in my L920. True it got stuck for a few minutes at 94%, but then it completed and then there were some additional 'bananas peels' to be downloaded. Then you are good to go.

Is it at the same version as ios and android?

Where is the moon mini game and a new costumes?

Can't find the moon, any tips?

The moon is a mini-game powerup, like the stuffed unicorn. It can be bought in the shop using bananas.

It's not in the shop at all, I think they may have forgotten to include it. Unless you have to be a certain "Level" to unlock it.

hi .. i also can`t find the moon in the shop to buy it .. i don`t know why ?!

Yuck is that a crappy Samsung plastic junk on ur hand go and wash ur hands

So its stuck at 94% frm hrs...havnt lockd d screen nd all bt still it didn't buldge from it..im so done wid it now..!!

Darn, Mine installed fine, and now I'm stuck at the loading screen. I even closed and restarted, still stuck. Also rebooted, and then opened it without anything else running, and still stuck at a 'loading' screen. It sure looked like a cool update.....:(

Did anyone notice that it now takes 660mb of space?! Sh!T. Btw it doesn't lag at all on my 8s.

Ok, so they finally added moon and AVL. What about the other zones like downtown, mall, minion beach?

Dude, have you played the game? It's there!

Oops, they must have added them in another recent update in the last few weeks and I missed the changelog. When I last had it on my phone around a month ago it only had lab, residential, and Macho. I loaded it on my Android tablet and found there was all kinds of stuff I was missing, so I took it off my phone.

Does anybody with 512 ram notice any improvements? This game is lady on my Lumia 520.

Still Cant find the moon, some help please?

Cant find it too. Also the starfish costume is missing. I guess gameloft just forgot to add this things to the game -_- Maybe there will be another update.

You have forgot the starfish costume and the moon power up... :)

do you have a starfish costume or the moon in the shop ? because in my game they do not exist.

Hi guys ! i play this game on my laptop [ windows 8.1 ] and i dont know where to buy the moon .. because i cant find the moon in the shop to buy it like i had seen on youtube. is there a problem or something ? Sorry for my english.... please help me :) !

I have also been unable to find the moon game or starfish costume. Has anyone found a solution to this? Or an explanation as to why it's not there?

I think that moon is again stolen by mr.gru.

Hey consider about another update because its so laggy in my lumia 520

It always stuck at 94% and I have waited for 1h but still nothing happens:( I have redownload it twice :((
Windows Central Newsletter
Get the best of Windows Central in in your inbox, every day!
Thank you for signing up to Windows Central. You will receive a verification email shortly.
There was a problem. Please refresh the page and try again.