Despicable Me Minion Rush lands on Windows Phone 8 and Windows 8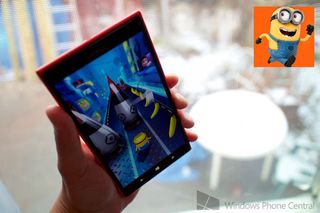 December is shaping up to be a great month for Gameloft fans. Last week, the mobile publishing giant released Dungeon Hunter 4 for Windows Phone 8 and Windows 8. Mobile Windows platforms need all the action-RPGs they can get. Dungeon Hunter is also one of 15 titles that Gameloft announced back in August.
Another one of those titles – perhaps the most highly anticipated one – is Despicable Me: Minion Rush. 3D endless runners are crazy popular, to say nothing of people's love for the Despicable Me movies. Those folks' hearts should be a flutter today because Minion Rush is finally available on Windows Phone 8!
This release coincides with the Despicable Me 2 Blu-ray (opens in new tab) and DVD (opens in new tab), which just came out today. The promised Windows 8 version of Minion Rush is also now available. Neither Windows version has Xbox support, which should come as no surprise after Dungeon Hunter 4 and Asphalt 8 released without it.
Strive to be the best
Minion Rush opens with a short cinematic starring the Despicable Me films' adorable minions. These guys (who closely resemble Cheetos) live for nothing else than to please their employer Gru. One day they discover Gru has implemented a Minion of the Week program, complete with shiny trophy for the star minion. Soon the minions set out to win the award – by outrunning their peers in a series of obstacle courses.
If you've played the Temple Run games, you should have a pretty good idea of how Minion Rush plays. Swipe left or right on screen to move around, dodging obstacles and collecting bananas (this game's high-Potassium currency). Swiping up dodges, whereas downward swipes slide. Spiral-shaped sections of the level require tilting in order to keep your minion balanced and on-track.
Windows Phone specifics
Minion Rush features some beautiful 3D graphics. The art style matches the looks of the movies quite well, with bright and welcoming colors and lots of minion cuteness. The actual frame rate could be a little better on Windows Phone – a common problem with Gameloft titles. But the game still plays quite smoothly, so frame rate hardly becomes an issue.
The Windows Phone version includes content from the first Minion Rush update that appeared on iOS and Android. This includes the unlockable "El Macho's Lair" environment. Subsequent updates added Mall and Beach levels, but those haven't made it to Windows Phone yet. Our version will get those levels eventually, though Gameloft doesn't plan to release other platforms' minor seasonal updates on Windows platforms.
Gameloft's press release suggested that Minion Rush would have an exclusive landscape orientation mode on Windows platforms. Normally, the game is played in a portrait orientation. However, I haven't been able to get landscape to kick in. It could be that only the Windows 8 version will have it and the signal got a little crossed on Gameloft's end. Our contact at the publisher is investigating, and we'll update when we hear back. Update: Only the Windows 8 version supports landscape, which is fine.
Minion Rush is free to play and supported by optional In-App Purchases. It runs on devices with 512 MB of RAM or more, so all Windows Phone 8 owners can enjoy it. We'll have more Minion Rush coverage soon!
Despicable Me: Minion Rush – Windows Phone 8 – 46 MB – Free – Store Link
Despicable Me: Minion Rush – 8 – 141 MB – Free – Store Link

(opens in new tab)
Thanks to meandu229 for the Windows 8 Store link!
Windows Central Newsletter
Get the best of Windows Central in in your inbox, every day!
Paul Acevedo is the Games Editor at Windows Central. A lifelong gamer, he has written about videogames for over 15 years and reviewed over 350 games for our site. Follow him on Twitter @PaulRAcevedo. Don't hate. Appreciate!
Yes, Awesome❕ It's really is beginning to look like the masses are finally aware that WP Exists..
Not that they literally weren't before, but now they are acting like it does.. The good thing about that is the snowball effect that it has on other developers.. What will WP look like a year from now❔

If developers keep abandoning Xbox Live branding like Gameloft did recentley it will look like a barren wasteland a year from now.

Well, as much as I'm disappointed about XBOWP I'm mostly talking about the platform as a whole.. Where will the WP platform be a year from now❔

@Thenutman
What is this obsession with the bloody XBox Live stuff. Android and iOS are doing just fine and dandy without it. In fact, developers are more interested in those two OS's than they are in Windows Phone and couldn't care any less for XBox Live for mobile's. All they are interested in is an audience, that's it. Screw Xbox and screw XBox Live.

Lol❕ Calm down, young clamfish.. XBLOWP is supposed to be a differentiator for WP, and if executed properly it would've made WP a companion device for the Xbox.. WP having strong XB skills was supposed to be a selling point for WP, an incentive for people to purchase a WP device.. The idea is just too good to give up on yet.. + WP is not playing the same game as iDroid, so there has to be new, and original ways to attract developers, and consumers.. The sad thing, and what's wrong, is that it seems like we know this when MS somehow doesn't.. Oh, and you don't either.. LOL❕... Sorry about that..

This! I'm tired of people thinking we should be on par with other OSes, we should be EVEN BETTER! Which we are. :)

Yes⬆⬆⬆⬆⬆⬆⬆lol❕... Yes⬆⬆⬆⬆⬆⬆ Well said, and that's not a pipe dream❕❕

Actually, Android has Google Play and iOS has GameCenter. Support for both services is fairly important to gamers on those particular platforms.

Xbox for windows phone is DEAD, I'm sorry to be the one pointing the obvious to you. Having said that, wanna bet that a year from now windows phone will be a lot bigger and better than it is today? In Europe it will be the 2nd OS and even in America it will grow more than it did this year. The only wasteland will be in the minds of people that think that windows phone will die without Xbox.

Who have you ever seen say that WP won't survive without Xbox live❔.. And, it's not what we expected, but it's far from dead.. I hate irrational comments like that..

Except you don't know whether they have abandoned it, Kingdoms & Lords is a recent Gameloft game that has Xbox Live certification. The only reason that I can think of as to why Minion Rush, Dungeon Hunter 4 and Asphalt 8 lack Xbox Live certification is IAPs that are not supported on Xbox Live. Remember the issues with Chickens Can Fly?

Wish it wasn't true, but Gameloft has officially stopped producing Xbox titles. It's not the IAPs; it's just the time and cost associated with Xbox certification.

Paul, do you have any idea how much time, and what the cost is for one game to be XB certified❔

Now if only we could get PVZ2...

Is it slightly sluggish for anyone with a Lumia 920?

I didn't notice any lag tbh

Didn't notice any lag either on my L920... it is noticeably laggy on my iPad 2... but on the Lumia it just flows!

Yep... Even though the graphics are toned down...

I can confirm that it is a bit sluggish on L920. I have played the game on iPad and it's not sluggish at all. I hope they fix it soon.

Need OPTIMIZATION like almost every game that is ported on WP.
Devs only port the games on WP without optimizing them to run perfectly on WP and this is one main problem at the moment for the Store!

No Legg on minds n I got tha 920

*lag *mine *and *I've *the. Thanks.

LOL Chris. Sometimes it's hard to ignore the ones who can't be bothered with auto correct and spell checkers.

Look for 1 shut up both of y'all. I can spell it tha rite way. This ain't no school dummies

So spell it the right way then and people won't mistake you for a retard.

Dude shut up. Don't try Tu show off on WP Central. U just lucky

Please be nice to each other, guys.

not really that sluggish.. just nice.. better than the iphone 4 versions... but i do admit the graphics are a little off standard?? pixelated in some ways or something??

You got your equation wrong! I've fixed it: Xbox Live on WP = fail

Xbox live is a part of WP, losing that means losing something that makes WP what it is. Should we also embrace apps without live tiles or the Metro UI just to say we have them?

If they did it with Xbox Live, it would've taken them months to release it, thanks to Microsoft's certification process.


I would've rather waited a few months and gotten Xbox integration. That said, Microsoft badly needs to revise the Xbox on WP process by adopting an ID@Xbox-esque program. Let Microsoft know it by tweeting to them: #SaveXboxWP

Your limited line of thought = fail.

Limited line thought? Xbox Live on Windows Phone is one of the major selling points for the platform, yet we continue to see top tier dev's failing to implement and use it in highly anticipated games. It is a clear fail from MS and to some extend the devs.

GCrane1982 is right. Xbox gaming on Windows Phone is a huge selling point for a passionate niche of gamers (the ones more likey to buy games) who chose Windows Phone because it had this feature. Microsoft is really dropping the ball and they deserve to be reprimanded online. #SaveXboxWP on Twitter does that.

i agree. ive seen worse non live enabled games due to this quick & dirty peer review they do that its not worth downloading not to mention they are the type i may play 2 or times (if not sooner) then delete

One more app ticked off on the Most wanted list

Another great game by Gameloft released without Xbox integration. The outlook is not good, but I'm not giving up saving Xbox on Windows Phone (#SaveXboxWP) till an official press release comes from Microsoft. If you love Xbox gaming on Windows Phone, help us: http://forums.wpcentral.com/gamers-lounge/249754-asphalt-8-not-xbox-title-lets-mobilize-reverse-trend-savexboxwp.html

Minion rush, finally !!! Bananaaaaaa

What's the connection with bananas? I haven't seen the movie but they are selling DM2 DVDs in the banana sections of our supermarkets, and now I see they're in the game too.

I think in the very first Despicable Me Trailer they were singing about Bananas. Also they are yellow and somewhat random (to randomly say it) so that's probably why.

I think you mean , PO-TA-TO-OOooh

Go to Youtube and search "minion Banana" it's a short movie about minions and their obsession with bananas. Fun to watch :-)

YESSSSS THEY NEED TO CHANGE THE ICON

I agree, what is with the solid orange background?

Check again after you download.

What version have you got then as it's solid orange for me!!

I'm talking about the live tile

It official I can't keep up with all the great apps and games coming out for windows phone OMG keep it coming

Yes, been waiting for this. My son loves it. No xbl is a slight downer but if great games arrive quicker without it, then im ok with that. And please, non of the save xbl on wp stuff. I agree that this needs to be saved but only ms can do that. I know we need to make our voices heard but if people choose not to dl an app because it doesn't have xbl, then you know what will happen, devs stop releasing their apps on WP. Devs aren't going to wait for the cert process becoz its long and stupid and unfortunately that leaves WP in a catch22 which only ms can resolve. Rather than support(granted an one key aspect) xbl, why not support the whole platform and get the apps?.

The #SaveXboxWP campaign is about us telling Microsoft executives on Twitter that 1. we care greatly about Xbox gaming on Windows Phone, 2. that the certification process is clearly flawed and that we want them to fix it rather than kill it. It's about encouraging Microsoft to fix and promote a unique, exclusive feature that sets Windows Phone apart from iOS and Android. You should be encouraging as many people as possible to voice their opinions to Microsoft because Microsoft has really dropped the ball on their mobile gaming strategy.

I never said they should kill it but rather relax the process until they can have parity with other cert processes like on ios and android. You are correct that it sets it apart from ios and android but what's the point of getting great games if they always lag far behind the same games on those mentioned platform? It is stupid that ms requires a dev to repeat the whole process just to update a game. As a dev would you tolerate that??? Ill say again, xbl on wp is a great trump card for the platform but as it is its greatly let down by the cert process. Lets hope that ID@Xbox goes towards solving this. Finally, i encourage users making their voices heard because its an option we never really had before and in some cases, it works. Keep up the good work.

I wasn't referring to you when I said "rather than kill it"; I was referring to Microsoft's actions, which suggest they're trying to kill WP Xbox (if it that weren't the case we wouldn't see so many developers releasing non-Xbox games all of a sudden, sure some of them would've left on their own in protest of the process, but not seemingly all of them all at once, so it's clearly Microsoft at fault here). The ID@Xbox program is a sliver of hope, but right now it's only for Xbox One. We need to get on Twitter and tell Microsoft to transfer the program over to Xbox on WP. You should tweet #SaveXboxWP to these accounts specifically: @iocat @albertpenello @ID_Xbox

Doesn't work on WP 7.8., not compatible. Thanks Microsoft again !

It's a gameloft app release, what does it have to do with microsoft?

Yeah, it has always been announced as a WP8 game and we clearly indicated that in the title and article itself. It's a drag that Microsoft left WP7 behind, but we've known that for a long time now.

Dude, you've got to update already. The 520/521 are dirt cheap now. Join the rest of us.

Yep , it was Black Friday here and i noticed Lumia 520 was sold very well , was out of stock , good price. But for the same price i bought a Nexus 7 tablet and is really great . Gonna try to use my WP 7.8 phone for one more year (i have pay the full price) and then i will see what i buy , for now noticed Android is way better. If games and apps keep coming for WP then maybe it will be a option to consider.

Yeah seriously, there is absolutely no excuse for anyone to still be on a Windows Phone 7.8 device in this day and age. This is completely thanks to Nokia and their vast array of handsets to choose from for all budgets.

Well... I'm still using my Focus, but that's mostly because I still have almost a year left on my contract. When I got my phone Rogers still had three year contracts as the default.

Three year contracts are terrible and unheard of here in the UK. Most people here take out a two year contract but you may still be able to get a 12 to 18 month contract if you can afford the high monthly cost.
With the fast pace of mobile phone technology to be locked in to a three year contract will guarantee you'll be left with an out of date device for a very long time. You have my sympathies.

No xbox, glad I did not get the 1520.

Can't download yet I guess. I keep getting an error on my phone when I hit the link. Tried looking for the app but can't find it either. Am I missing something? And yea, I did read the article... Edit: it just came live for me... jejeje

CAN'T BELIEVE IT IT'S HEREEEEEEE!!!!

I chuckled at seeing this title being released! My 4 year old fat boy plays this all the time (when he's allowed to) on the Kindle Fire HD. I don't think I'll put this on my 8XT, but it is still great to see such a title come to the WP users! Indeed, keep the big league titles coming please!!!

Wow...nice that you call your 4yr old a 'fat boy'. Maybe don't give him a complex at this young age. Just sayin.

Goodness. Just because I am typing it on here (but actually I do say it all the time verbally when speaking to others about him), does not mean at all that I am directing the comments towards him. For crying out loud, he is a 4 year old, very sweet boy. He's not reading these stories, I'm not breaking his 4-year old spirit, and 4-years olds won't even develop such a complex.

@SEKKDS
Seriously, don't take the previous comment so personal. But also, you would be surprised at how much a four year old will pay attention to what is being said. Never underestimate the human mind whatever its age.

Mad my day. But its not that full than the iOS version. Awsome.

While I'm happy to see this come to WP...how many endless runner games are there going to be? Minnion Rush TR 1, 2, Oz Rail Rush Angry Gran Run

Hey. How many... THIS IS THE ENDLESS RUNNER GAME ;)

But hey, those specially-marked Walmart pizzas are finaly beneficial to me. I thought I'd have to throw out the cards which unlocked in-game stuff.

Im still waiting for Temple Run 2
:3 U_U (*_*)

I'm getting an error trying to download. Bummer!

Great game.It need work and optimization to run perfectly smooth and i hope Gameloft will provide the right updates to do so!
I feel a little sad seeing XBOX dying on WP and also knowing that Gameloft will not provide the missing updates (like Halloween and the most recent on iOS the Winter holiday update) for Minion Rush!

the best thing in windows phone is that you r waiting and it comes

Sweet we getting big games like ANDROID N IPHONE

For some reason i keep getting errors saying servers are unavailable...nuuuuuu!

Choose English to bypass and change the language in settings. This worked for me.

For now Microsoft should reserve Xbox achievement integration with in house games. Pump a really good title once every four months and update it with new achievements, levels, etc, aka Halo Spartan Assault. I'd love to see Forza and Project Spark titles next.

Even this is unlikely unless a lot of people take to Twitter and yell at Microsoft executives to #SaveXboxWP. Still, given how poor Microsoft Studios's support of Xbox on WP has been, I think a better strategy is to encourage an ID@Xbox-esque revision of the certification process so that more indie developers can make Xbox games on WP.

To be honest it might not be entirely Microsoft's fault. With Myerson on the rise and Windows Phone being the only consumer platform at MS garnering the most attention from outside developers, I am SURE Microsoft 'gets it.' They've probably put a few resources behind obliging Gameloft to pump titles (thanks Gameloft, much appreciated!), but it's clear others just aren't jumping on board. Think about it, why is it only Gameloft and not anyone else? Hell, despite the frigging fact that there are a lot of Windows 8.x users we aren't seeing a rapid climb in apps, much less games, is very intriguing. Microsoft may be fighting a much tougher fight than just talking to developers and streamlining processes. In fact, all that conspiracy talk of there being a concerted effort to scuttle Microsoft (in media, in perception, etc) might not be crazy talk. In my opinion Microsoft should follow up on your suggestion and the suggestion of all of its users. The one thing a person CANNOT fault a company for is doing right at the request of customers. PLEASE Microsoft, please, please, please LISTEN to your end-users. You shareholders might call the shots, but it's us customers who keep you in business. So... do what needs to be done to make XBL achievements easy, be it for companies such as Gameloft, or independent developers.

That's not a good idea compared to how Xbox WP launched and what gamers want from it, but it would still be better than the actual situation at hand. Microsoft has stopped developing or funding Xbox WP games, and before long the last few third-party developers making Xbox WP games will give up on it as well. All due to Microsoft's management of the Xbox process for WP and failure to support and fund Xbox WP in virtually any way for a while now.

So Paul, is this confirmation that XBOWP is "officially dead in the water"? It sounds like it to me.

That's my take. Microsoft is unlikely to ever openly acknowledge that they've given up on Xbox WP and pulled all their people from it. But that doesn't change the reality of what has happened - they just don't like to admit anything.

It's so AWESOME!! I'm gonna die!!!

yes yes yes yes yes yes yes yes yes!

Meh, I already have Rail Rush I don't know why I would need another 3D endless runner. I'd much prefer more "console" gaming on my Phone in the same vein as Chaos Rings.

Guess its time to give up gaming on Windows Phone. With no Xbox live games why do we have an Xbox tile on our phones?

Don't give up just yet: join the #SaveXboxWP movement on Twitter. Here for more details: http://forums.wpcentral.com/gamers-lounge/249754-asphalt-8-not-xbox-title-lets-mobilize-reverse-trend-savexboxwp.html We need to tell Microsoft repeatedly that we care about Xbox games on Windows Phone. If they don't hear it from us over and over, they won't do anything about it.

No L1520 love,, doesn't show in the store

It should work. That's the Lumia 1520 pictured above

Yay! I loved this game on iOS. I was always so jealous of my friends who had it haha

Force closed on lumia520.after watch movie there are loading,but after loading app closed itself.

Okay....seriously where is TEMPLE RUN 2 ?

they haven't care to fix the bug in Temple Run 1.....they haven't update game even once since they released it for 512MB WP8 devices...so i won't expect Temple Run 2 to come soon....

atleast they gave way better graphis than this..about bugs,i haven`t come across any

when you go above 3000m in TR1 in 512MB devices.....frame rate drops and fails to register swipe sometimes

Frame rate drops,well,that should be expected of 512 MB devices.Try to reduce the number of background tasks running,soft reset the phone and see.

Strange. I think Minion Run's graphics are much better technically than Temple Run on WP8.

Cool now all I want is candy crush temple run 2 is coming, rayman fiesta, Mincraft app, and we could bring all the other apps on IOS with in time but I mostly want infinity blade then were good keep improving our apps and OS were good keep getting apps etc get to work Microsoft! Lets go!

Also keep them gameloft games coming just epic!

s://itunes.apple.com/us/app/despicable-me-minion-rush/id596402997 Look at this then look at the WP store app. If they are gonna release it during december why not give us the christmas update. Ugh, one thing i hate moving to WP it seems they think WP users aren't smart enough to realize they aren't getting all the features that other Operating Systems offer. Hopefully in a year WP will be more like iOS because i need better games. My apps are almost taken care of but games are next.

Who doesn't realize the game is out of date compared to iOS? We said so right in the article. An out of date Minion Run is still better than no Minion Run at all.

The only game I'm waiting for :D

Lags soo much on my Lumia 620 that i cant even play

Speaking of Temple Run, when are we getting Temple Run 2 like Nokia promised?

Finally its available on windows Phone...Yesssss!! Thanks a lot Gameloft and Microsoft for keeping up to your promise. :) Grabbing this game right away. I don't care 1 bit that its not XBOX, makes no difference to me at all as I never play games online.

No xbox, haha Lol,,, xbox is gone now...

Its not so smooth and dumb graphics....angry gran run was ossm compared to this

+1..dunno how the other one was,for me in comparison to TR1,this sucks..

Smooth and smart graphics! Beats dumb spin off titles like angry gran run!

can anyone "friend" someone who uses the iOS version? Seems I can invite everyone but those users.

Awful graphics,compared to even the optimised version of Temple Run.Disappointed..:(

Keep it comng baby!!!Hell Yeah WP8 rocks!!!Gameloft thanks btw!

"..server not available..." ...is this game playable in the philippines?

change your region to united states. I'm from malaysia, been trying to install this game and face with same problem. But after change my region to united states; the game install within minutes. You can change back to your original region setting after install this game. works fine with my Lumia 625 although just a lil' bit lag but overall still playable

fun game and works perfectly, but ulgy logo..

Works fine on my L720, very minor lags, but... still good.

When the game starts, it reaches a screen of QUICK TIP and again starts downloading. What is it basically downloading I have no idea. Also it keeps giving server error. :(


Just downloaded it and played 1 run and uninstalled it, it does not worth the time u wait for downloading it as the graphics sucks and it is laggy compared to iOS and Android version...either optamize the gams or keep them for u Gameloft...can't u optamize it like Asphalt 8?????

Ok, so another endless runner... great. As if that's any fun anymore :-/

had some lags at first. But now working smoothly on my 520

I just updated it on my ipod with Christmas seasonal update, hmmm how to play this, like an old version of Minion Rush? Will wait for the updates then... Well, at least it came.

awesome. I just played it on my windows 8 laptop

Just one word it AWESOME played it for only one day quiet addicted to it ......m waiting for competators though any wp8 user add me on fb @Prinston Cardozo ....

Yeah, it says 46MB in marketspace, in fact it takes up to more than 400MB of storage space after installation......
Windows Central Newsletter
Thank you for signing up to Windows Central. You will receive a verification email shortly.
There was a problem. Please refresh the page and try again.