Gameloft announces Asphalt 8 and 14 more games for Windows Phone 8 and Windows 8 [Updated]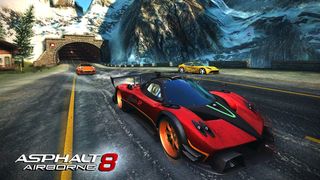 As mobile Xbox gamers probably know, Halfbrick recently released a new version of Fruit Ninja and Square Enix's Chaos Rings became available to all Windows Phone 8 users last week. Beyond that however, we aren't aware of too many game developers with plans to support Xbox Windows Phone in the future. Microsoft has been dark on the subject all year, and nobody else is really talking…
Nobody except Gameloft, that is. Last year, the publisher announced 12 Xbox Windows Phone 8 games – 10 of which have launched so far. Today Gameloft has reaffirmed its commitment to mobile Windows platforms by promising 15 more games for Windows Phone and Windows 8! Only four new Windows Phone games have actually been revealed, but it's exciting news regardless… especially for Windows 8, which will be seeing much more support from Gameloft in the near future.
Head past the break for exclusive details on today's announcement!
Coming to Windows Phone 8 and Windows 8 in 2013
As I just mentioned, Gameloft has largely been cool towards Windows 8 since the tablet and PC OS launched last year. The publisher has released only one game so far: physics puzzler Shark Dash. Arcade racer Asphalt 7: Heat is due out this month as well. After that, the 15 games in the announcement will follow.
News of those games coming to Windows Phone and Windows 8 would be great enough on its own, but it doesn't stop there. Gameloft also promised that several of the announced games will feature cross-platform multiplayer between phone and tablet! We don't know if Play/Pause/Resume support via cloud saves is on the table, but let's hope so. And let's also hope that hit MMORPG Order & Chaos Online makes its way to Windows 8 with cross-platform multiplayer. Dare we dream?
Asphalt 8: Airborne
Previous series entry Asphalt 7 made a huge splash on Windows Phone 8 for a variety of reasons. One, it was the first game for the platform to feature 3D impressive graphics and real-time online multiplayer. Two, it cost only a buck, ensuring a large online player base. And three, Asphalt 7 is one of the fastest, most intense racing games on Windows Phone.
Thankfully we'll be getting the sequel as well, presumably with cross-platform multiplayer between Windows Phone 8 and Windows 8. Asphalt 8 boasts the best mobile racing graphics yet, with new particle effects including dust, snow, and rain. That's right, weather effects – and they will impact car handling. A new physics engine promises to provide more realistic handling to boot.
Asphalt 8 is set to include 8 brand new tracks and one returning track from the last game: Monaco. Online multiplayer returns with two new game types: Gate Drift and Infected. Multiplayer won't be limited to real-time, either; this one adds asynchronous multiplayer to the mix. Asphalt 8 won't be a sim-style racer, but it certainly should entertain arcade racing fans (like me!) for hours on end.
Despicable Me: Minion Rush
On top of cloning popular console and PC games, Gameloft also produces some quality licensed titles. Amazing Spider-Man, Dark Knight Rises, and Ice Age Village were all good-great games. Despicable Me: Minion Rush should maintain that same pedigree when it comes later this year.
As the name implies, Minion Rush is a 3D endless running game similar to Temple Run. It will be the first Xbox-enabled game of its kind on Windows Phone. Players will control one of the Cheeto-like Minions from the animated films as he dashes through the city and former supervillain Gru's lab. Any good endless runner needs long-term goals to complete, and this one brings plenty. It promises tons of costumes and weapons to unlock and over 300 missions to complete.
Minion Rush has already been downloaded over 50 million times on other platforms. Let's see how Windows Phone and Windows 8 can add to that tally. It will of course be free.
Dungeon Hunter 4
Windows Phone and Windows 8 aren't exactly overflowing with action-RPGs; only The Harvest comes to mind. Soon the latest entry in the popular Dungeon Hunter series will take care of that problem. Players will take on the roles of amnesiac warriors who are forced to defend their kingdom from a demonic invasion. Think of it as a mobile clone of Diablo.
On top of a strong story and four playable classes, Dungeon Hunter 4 boasts strong combat, item crafting, and character customization. But most exciting of all are the four-player online co-op and PvP modes. This one should certainly give Order & Chaos Online players something to do while they wait for the next content update.
Dungeon Hunter 4 will be free to play. That's mostly a good thing, especially as far as creating a large online player base. Expect more than a few encouragements to purchase premium currency though.
Total Conquest
This one is a clone of Clash of Clans, a popular iOS city building/RTS game that has yet to arrive to arrive on Windows platforms. It takes place during Roman times. Players must build and fortify their own city, populating it with citizens and gathering resources.
Unlike your average city building game, this one also has a strong focus on combat. You can hire a variety of warriors to join your army and then take them out to raid other villages. The combat happens in real-time, allowing players to direct their army in the heat of battle. Total Conquest should be a hit with history and strategy buffs.
Six Guns
We already knew Six Guns would be coming to Windows Phone 8. In fact, I've played the Windows Phone version and can testify to its greatness. The news today is that Six Guns will arrive on Windows 8 as well!
Six Guns closely resembles popular Wild West open-world console game Red Dead Redemption. You'll play as a gunslinger who takes on missions for the citizens of frontier towns. The West is vast, so thankfully you can call a horse to ride at any time. A map and radar will aid in navigating those distances as well.
The combat will be easy for gamers accustomed to using a virtual stick and buttons. Auto-aim makes targeting a snap, and you can also lean against objects for cover. You won't just be fighting NPC banditos, either. Like the game that inspired it, Six Guns has a full online multiplayer mode.
Six Guns will be free to play when it arrives on Windows platforms
Kingdoms & Lords
Again, Kingdoms & Lords was already announced for Windows Phone 8 and will now be coming to Windows 8 too.
This game resembles Total Conquest in that it blends city building with combat. But Kingdoms & Lords is a less serious, more mainstream game. The graphics are much cuter and medieval themed; and the combat resembles an RPG more than an RTS. It also has some social elements like challenging friends or coming to their aid when called.
Like most of the games announced today, Kingdoms & Lords will be free to play.
UNO & Friends
Were you disappointed that UNO & Friends for Windows Phone can't play against other versions of the game? Well, now that it's coming to Windows 8 we should have even more players to compete against.
UNO & Friends is a free online multiplayer version of the popular card game. Check out our recent review of the Windows Phone 8 version and you'll know what to expect from the tablet/PC game. Hopefully Gameloft adds chat to both versions by the time the Windows 8 game rolls around!
Bright time ahead
Gameloft promised 15 new games for both Windows Phone 8 and Windows 8, but today they only revealed the seven titles above. The other eight games will arrive in 2014.
Update
Gameloft informed us today that most of these games will NOT be Xbox enabled. We'll have more details very soon.
Windows Central Newsletter
Get the best of Windows Central in your inbox, every day!
Paul Acevedo is the Games Editor at Windows Central. A lifelong gamer, he has written about videogames for over 15 years and reviewed over 350 games for our site. Follow him on Twitter @PaulRAcevedo. Don't hate. Appreciate!
Wow, talk about support, i love it. All Xbox games I wonder?

I bet that yeah, they will all be xbox games. Asphalt 8 definintly will be.

We do confirm that in the intro, yes.

Any launch date for Asphalt 8??? It coming on iOS on 22nd August..

No specific date for our version, but it will likely come a short time after the iOS version.

Paul, reading is hard. Committing is easy.

maybe not so easy after all... ;)

It's a good start but there should be more games :D

Minion Rush with achievements

Looks like solid games. Good.

There are very good games, Asphalt is my favourite on the iOS and Android. Good for Windows.
I am an Outlook.com, Skydrive, Skype, Bing user. I currently use an iPhone, but as my favourite apps become available on WP, I will give the platform serious consideration.

I can't wait for minion rush, I've played it on my kindle fire hd and loved it but the kindle can get a bit tiring to hold after a while.

i lurrve minion rush! just hope they get it to work on 512ram devices..
my 520 is dying for minions! :D

This is going to be an amazing Windows 8.1 launch in October...

We're seeing Gameloft games but also the Project Spark beta.

Looking good. Better games than on Android :-)

All of these games are on/coming to Android as well.

Android has no Xbox integration and Xbox Achievements in their games :)

#Asphalt8 will be available tomorrow for both ios and android but not for #WindowsPhone :(

We need more games than those announced.

What do you want, every game ever made? This is huge HUGE I say! It's big anyway

these are huge games, atleast i am satified

These are nice and good, but I would really like to see more high quality exclusives (and maybe some adverts for them), to get people to have an itch to switch.

Hope mc5 will be in the mix!!

Hopefully all will be Xbox Live enabled, if so then it will be a instant buy for me! :)

Microsoft needs to add sd card installation capability atvthe priority coz we have games but evey phone lower than 9x.. Can only have 1 big game... Which is quite annoying even Symbian ask for installation either on local or sd card...

+1 that!
I own Asphalt 7 but never able to install it on my 820 if i want other games on it.
This is what's keeping me from buying Modern Warfare or any other large game that I'll never be able to install/play without getting rid of other games.

Yes you are right I too purchased halo spartan, asphalt 7, fifa 13 but every time I want to plat I had to reseat the phone... Even after installing the amber the other issue lies a bit microsoft should allow the ability to install it to micrl sd otherwise we will have to stop playing big games we cant evrytime purchase play and delete everytime... This has to be fixed in gddr3 anyhow

Only 9xx above having internal memory can take advantage of this we cant its annoying

Yes!! I love Minion Rush!!

I've always wanted to try minion rush on my Lumia 928. I have it on my iTouch 4, but it runs extremely slow on ios6.

Fantastic news, gameloft is pushing Xbox and you have to give them a lot of credit and €\$\£.
Additionally we get Tetris Blitz...great news day

Cool, i was waiting for some free xbox games.

will Minion rush be free? No, it'll probably cost $3.......oh the joy of the 'Windows Phone Premium'

...plus we'll get to buy it again on Windows 8.

It will be free, you Negative Nancy. All Gameloft WP8/Windows 8 games cost the same as they do on other platforms. :)

When is the Minions game coming out?

None of these games have exact release dates, but they're all planned for this year.

Seeing as that "this year" only has around 4 months left, there's not much to complain about :)

You want some cheese with your whine?

Now Microsoft need to put some of there in house games on there own eco system as well, forza series would be nice and some others then others might come on board too.

What would they call it ? Forza8... jejeje that would be sweet. WP8 and W8 support... Hey, I can dream can't I? jejeje

Rockstar's GTA games on ios would be nice to port to WP8 (Not Xbox enabled)

That would be great for the platform!

Ps i already have contacted sledgehammer, the makers of gta 3/vice City for ios and android

These gta games would literally make me fall in love all over again with my 920, i love gta and windows phone, i really hope they come eventually

Awesome!! Keep em coming!

All I want is Candy Crush for windows phone 8

Xbox gaming on WP would be dead without the support of Gameloft and Nokia, kudos to them...

Clash of Clans alone is worth buying an iOS device for FYI. Total Conquest won't come close but at least WP is getting it and it's free to play.

Please don't state 'for your information' after giving an opinion..

They should probably fix their already released broken games before dumping out more shovelware.

If you consider these games shovelware, you've got some terrible taste.

Amen!! And here's to hoping order and chaos comes to RT

Again...GAMELOFT....I greatly appreciate your support for Windows Phone and Windows 8. While I know many of the haters will bash both OS's, which scares away many devs, I think it is great that you have looked at it on your own and made a conscious decision that "yes" these are great OS's and should be acknowledged.

Agreed. Gameloft basically saved WP's gaming experience, but you cant hold this up on your own..

So Nokia brings the apps and cool OS updates, Gameloft brings the games, Microsoft brings? If Nokia and Gameloft can do it why can't Microsoft? Especially when you see the effort they put into promoting the X1. Baffling.

I'm sure Microsoft made a deal with Gameloft to get these games on windows phone and windows 8. Gameloft isn't just doing this out of the kindness of their hearts lol.

Exactly. But Microsoft does need to bring its own properties to WP8 and Windows 8 as well. Spartan Assault was a good start but they have a lot more franchises than just Halo that they could capitalize on.

Maybe a Fable ARPG? Us RPG lovers have been a little short changed on WP8... Besides Spectral Souls, Chaos Rings and Order and Chaos Online.... What else do we have?

The Harvest is an action-RPG, and Gameloft just announced Dungeon Hunter 4. Also there's Final Fantasy. But yeah, that's not nearly enough RPGs. And a proper Fable action-RPG woulf be fantastic.

Unfortunately I already finished The Harvest on WP7 and its not compatible with WP8. I'm sure Order and Chaos will keep me busy till Dungeon Hunter 4. Hopefully it comes to windows 8

Can't wait for this one too. And dungeon hunter.

YEEES, DUNGEON HUNTER FOR XBOX <3.

Now that's support!

Looks great, Can't wait for this one and Six Guns.

AHHHH F**** Y*** JUST WHEN I GOT S3 ONLY TO PLAY MINION RUSH!!!

You really got a phone just for one game? Waste of money I say.

Not really, also becuase of the notification system, but it's only temporary, I kept my 920 and will definitely stay with Windows Phone forever, S3 is just for a moment (then I'll give it to my brother:P)

Really hope modern combat 5 is on its way! Great to see more titles coming!

Take that instagram and google and all other companies who are frozen and undecided on jumping on a vast windows ecosystem. Granted, this appeals to the "gaming" community, nut the gaming community I'd a subset of the windows community, yet gameloft is investing. High fives to gameloft for their efforts, and I hope you get lots of people rewarding you for them

Asphalt 8, yes.
I can't believe Microsoft will release another update by October. May be they will release it post Android 5 launch in Nov.

Some people take drugs to get a high. WPCentral works for me when they report this kind of news.

He he, I agree. Paul is our drug dealer :)

Then you never done drugs

@jly I want to die at 30?

Better delete that. The NSA has him on their list now.

Including "dust, now, and rain". Should be "snow".

Still not enough games there should be at least 1 new Xbox game released every week. Especially since the app store has loads of junk. I don't get Microsoft people want to spend their money but they keep giving us dribs and drabs. This is why windows phone will never come close to the success of iPhone and android. The equipment is great but the app store sucks major balls. They just keep releasing a steady stream of photography apps. Come on already!!!! 13 games what a joke.

Don't See What The Numbers Are,See What They Are! Are You Really Going To Play All 1 Billion Apps On App Store??? NO! Only Those Which Please You! If It Wasn't For Gameloft, The App Store Would Have Been Nothing! Even Though There 13,You Should Appreciate Them That They At Least Are Doing It! What Would You Do If They Didn't Ported These 13 APPS?? Still You Would Be Crying! Be Grateful For What You Get!

Everytime Whenever I Go To Youtube And See ASPHALT 8 TRAILER, I Only See COMING TO IOS & ANDROID! Believe Me For Asphalt 8,I Was Thinking Of Buying An iPod But NO! I Then Thought That I Should Be Happy For What I Have and Maybe Gameloft Might Consider At Least Asphalt 8 A Port and Guess What, Not Only Asphalt 8 But All Of My Favourite Titles Are Coming!

WHY NOT JUST TYPE IN ALL CAPS, YOU WONT HAVE TO HIT SHIFT BEFORE EVERY WORD YOU SHOULD ALSO ENTIRELY STOP USING PUNCTUATION TOO ITS OVER RATED HOW ARE YOU

Two wrongs don't make a right! But I agree, Hyperkid's capitalization abuse is pretty annoying.

Its How I Type
You Have A Problem With It?

Umm, 14-15 games from one developer is a lot. How many games do you think Gameloft publishes in one year? You're basically conflating two separate issues and turning what is only good news into bad news in the process. Don't be like that. ~ ~

I Know Paul! I Am Sorry If I OverDid A Little But My Point Is That Some People Only See QUANTITY OVER QUALITY!

Holy moly someone is high on coke.

It is a little sad how happy this news makes me hahaha, but I don't care!

Dungeon Hunter 4?? Yeaahhh!! Hope it will support 512 MB ram devices. Anyway, all the games are great. Thank you Gameloft

good job Gameloft. way to support the platform.

Can't wait for Asphalt 8! Specially if it costs 0.99€ like the awesome Asphalt 7.

Well now I'm relieved and feel more comfortable with my WP8 device. I kept a spare Android for gaming and now can get rid of it.

I'm looking forward to Total Conquest!

Is Microsoft even looking to have a single paying model for games across Windows 8 and Windows Phone 8 i.e. integrate both stores? Even if some of these games are free, games like Halo: Spartan Assault have to be bought twice..

GAMELOFT: please bring Order & Chaos Online to Windows 8. Very exciting news

^ This

I'm surprised if it's not already in development. But then this is Gameloft we are talking about.

Looking forward to Total Conquest

I always appreciate the support Gameloft gives to our platform. Can't wait for all these games to arrive!

All these look great actually, I want them all!
:P

Despicable Me: Minion Rush!! I LOVEEEEEEE the Minions! Cant wait!!
Now Microsoft: please back with AT LEAST one Xbox WP game release!!! Besides Gameloft, what are the games that are coming?? Something from Rovio? Something from EA Games?? Cut The Rope Time Travel?? More Temple Run or Disney Games??

All Gameloft games are Xbox games ;D And I think it's safe to assume Rovio will bring Angry Birds: Star Wars 2 to WP8 (at least to WP8). And probably Bad Piggies too.

Gameloft is a hit and miss company for me. Asphalt shows what they can do. But if they launch a buggy game e.g. Ice Age, they won't bother fixing it. I'm still waiting til they fix the crashing issue on startup, dont wanna lose my progress.

THIS.
I appreciate their support for the platform though. For me the most important questions are:
How optimized are these games to run efficiently? (What are the minimum/maximum frame rates, will my device over heat etc)
How frequently are they going to UPDATE these games to add new features and further optimize the code?


Damn, Gameloft is really changing my opinion on their company. Not only because of the Xbox WP8/ W8 support, but also because their games tend to be good. Keep it up Gameloft, you're gaining fans here!

This is why OEMs need to make phones with bigger and more storage.

ASPHALT 8! Yessssss!!! And Six Guns looks pretty awesome too lol. Actually, nearly all of these are quite appealing :)

I would play these IF ther wasn't emulators on the market place witch ther is Sega and gameboy emulators and the wptorrent app with kickasstorrents.com for roms can't go wrong to bad we don't have the psp or the PlayStation emulators

Emulators are great, but actually paying for games and supporting the ecosystem is even better.

Count me out on free to pay games.

As much as i hate them too, they seem to be the future of mobile games which depresses me a tad :'(

then again! Probably minion rush will cost how much? while in android its totally free! most of the apps in android are free while in WP need to be bought!

Try read the article. Anyway, games are not free, they just call demos "free". People actually think anybody is willing to work for free ? I don't like f2p model, it messes with game design, prefer the more honest method of paying for a full product.

Your first statement is completely incorrect. Also, you're just going to have a harder and harder time because free to play is the dominant mobile payment model and will only continue to grow.

Yeah, it is what it is. I don't do f2p, I think I have more than enough to play, considering my time, and... Xbox One.

Bam!!! F**kin awesome! thank you thank you thank you so much!! :3


Microsoft just needs to buy Gameloft and make them their WP8 game division since they're not willing to pick up the slack on their own platform.

Not getting my hopes up, most probably only 1GB ram

I wonder which game is coming tomorrow..

So, all these games support 512 MB devices as well?

Unlikely. Kingdoms & Lords does and I bet Despicable Me will, though. Maybe Total Conquest too.

Wow!!! That was something to cheer about!!

Whoa! This is awesome. I loved Asphalt 7 so naturally I'm excited for another entry in the series, especially if it's also 99 cents. Aside from the Despicable Me endless runner, I think the whole batch looks like a lot of fun.

It's About Time for PLANT VS. ZOMBIES 2 to come to Windows Phone, please make it free just like on iOS.

+920 MS should jump on that and get it released on wp before android, that would be amazing

Man, if all these games support the Xbox 360 controller, my life would be grand! Playing these games on my Surface RT and Xbox controller... sweet. I'm not into touch gaming (need my tactile feedback!) although I think Halo is very well executed.

I think Asphalt 7 on Windows 8 Supports the controller. Cant 100% confirm though but I heard some buddies talking about it.

Hmm.. When I type Asphalt in the Windows Store, I don't get any results! Strange.

Only available in smaller markets. It is in beta. Switch your region to Mexico. It is there for sure.

Super nice! Thanks alot mate!

Yup, Control Scheme F is the Xbox Controller.
Others are accelerometer only, accelerometer/screen, screen wheel, touch screen and keyboard.

HOW ABOUT WINDOWS 7 PHONES?????? Like Nokia Lumia 710! Please, please make an effort to release these new games/ or apps to windows 7 phones too. It's really frustrating.

As much as I agree with you that WP7 gaming died faster than a hedgehog crossing a dual carriageway. You haven't got a chance in hell for more than one of these games coming to WP7s, let alone a low end one.

Agreed - Xbox games for WP7 are pretty much dead. maybe 1 or 2 more games will eek out, but I doubt it.

Just do keep the support for 512mb devices. Cmin with new platform gaming in Xbox!!

I'm liking the news of Asphalt8... I've bought both of the current Asphalt games (5 & 7), though 5 was definitely a disappointment (and expensive) 7 is an awesome game. Plus, can't complain for 99c. I'm also liking those c&c games coming out. Finally more great games for our platform!

Yeah, Minion Rush! Hope it will be able to run on the 512MB RAM devices.

Well this is good and unexpected news. I guess Xbox Live on Windows Phone isn't dead yet. Though I hope they still get other publishers besides Gameloft in the fold as well. Is one Xbox enabled game per week too much to ask?

I absolutely love that Gameloft is showing us the love. Super exciting, from a gaming respective, I'm starting to feel like I'm not a 2nd class citizen because I use Windows Phone. I only wish Windows Phone releases could start to launch t the same time as ios and android. Looking forward to Despicable Me, I hope its released soon!

No Xbox no buy. Sorry gameloft! Sorry Microsoft. Too bad these looked like some great games. Seems I will have to stick to console Xbox gaming. Shame.

Is reading the article that hard?

You can find it out even in the title. Lol

NO XBOX = NO PURCHASE FROM ME

Some of the games will be free to play so I think you won't miss the Achievements that much.

I don't like "free 2 pay". Awful games, designed to suck pennies out of kids.

Windows phone 7.8 users are move to android or quality and best IOS.

The smart thing to do would be to move to Windows Phone 8, obviously. But anyway, that's enough promoting Android and iOS. Don't do it again if you want to comment here in the future.

i am still waiting for MINION RUSH.. any idea of the arrival date??

Is there any update on which of these games won't have Xbox achievements and the reason why? Kingdoms & Lords just launched for WP with Xbox achievmeents, so that was a good sign. All of Gameloft's games so far have had Xbox achievements so it would be very strange and unsettling if suddenly they stopped doing that.

I think Kingdoms & Lords is the last one. We're still working on an article about it - we'll know for sure when that goes up.

If that's the case and Gameloft's future Windows Phone and Windows 8 releases aren't Xbox games, that doesn't bode well for the future of Xbox gaming on those platforms, coupled with the fact that other studios are also choosing to eschew Xbox certification. I really don't get what Microsoft is doing here: they should be doing everything they can do facilitate Xbox growth on Windows Phone and Windows 8/RT. This last year has been frustrating, and I both dread and look forward to reading the upcoming article about it to at least know why.

You said it, man. Very bad for Xbox WP/Xbox Windows 8... Though we've certainly seen the writing on the wall for a long time now. On the plus side, maybe Gameloft will actually keep its titles updated once they don't have to deal with Xbox Live certification!

It will for nokia Lumia720 for 512mb ram

GREAT game, minus one star because you need to always connect to internet to upgrade and so on and you will need to pay for in app purchase to be able to at least gain an enjoyable standard when playing this game.
.
I recommend to buy for Inventory because this is what this game about, you MUST merge or mastering item crafting to get weapons upgrade and so on. I have 40 slots for inventory (purchase 38 slots for 90 gems and then purchase 40 slots for 100 gems).
.
As I mentioned before, I really enjoyed this GREAT game, however you are going to throw real money into this game if you are a serious gamer. Otherwise you will loose a great amount of precious time just to leveling up and crafting things.
(this game is about slash + crafting + slash + crafting, repeating forever. One crafting period at least take a few minutes and up to more than ONE HOUR!!! Of course you CAN Speed things Up if you do in app purchase for many many gems).
.
One more time, the most important purchase for me is to get my Inventory up to 40 slots (I spent around usd4 to buy 550 gems). That is enough (at least for now - level 16-, and I hope it will be enough for me to complete this game).
.
Many thanks to GAMELOFT for bringing this GREAT game on Windows Phone 8 platform.

Minion Rush isnt Xbox enabled , please modify....

We updated the article months ago, so...

make clash of clans a windows phone game pleeeeeaaaaaaaaasssssseeee!!!!!!!!!!! quickly please.

Hii...!!!
can anyone tell me when asphalt 8 great wall updated for windows 8.1 pc?
plzzz rply

There is never any need to ask someone to reply. If they feel like replying, they will. ~ ~