Despicable Me: Minion Rush picks up Xbox Live support, holiday-themed content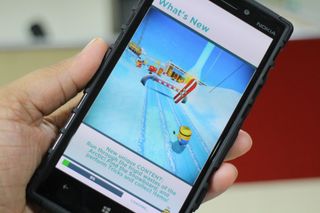 Fans of Despicable Me: Minion Rush will be glad to know that the game now supports Xbox Live with the latest update. Also new is a host of content that includes new locations, themes and quests.
The Xbox Live integration allows you to challenge your friends in head-to-head missions and more. As for the new content, here's what you're getting in version 2.5.0.17:
THE ARCTIC BASE! This new area is full of snow, speed, and science! Take on cool new levels with unique obstacles and discover the TOP SECRET area: The Arctic Base interior!
Join a special holiday quest to help Dr. Nefario and recover lost decorations and gifts as you run through The Arctic Base
Unlock the Snowboard mini-game by completing the holiday quest
12 Days of Deals: Check back every day for holiday promotions and login rewards
If you haven't already, download the update from the link below, and let us know how you're liking the holiday-themed additions and the Xbox Live integration in the comments.
Thanks for sending this in everyone!
Windows Central Newsletter
Get the best of Windows Central in in your inbox, every day!
Harish Jonnalagadda is a Senior Editor overseeing Asia for Android Central, Windows Central's sister site. When not reviewing phones, he's testing PC hardware, including video cards, motherboards, gaming accessories, and keyboards.
That one-eyed yellowish thing

...and is called a minion

I think all the games I argued some time ago for not having achievements are now showering us with achievements. Wow.

#SaveXboxWP says, 'You're welcome'.

Seems like more Xbox Live support in games. Great to see.

Asphalt 8 also got that support

I want a Lumia with latest Intel 14 nm processor with power vr gt7900 graphics chip. Too much I guess.

Don't you want it also with 16 GB RAM, LAN plugin, CD ROM and 56" Screen ? XDDD

Its possible with windows 10 but I will ba a tablet with 16GB of RAM the phone will be ok with 4GB. I want cherry trail on phone .

Asphalt 8..but only Windows Phone... Windows Version still without xbox

Patience my friend, the two tend to go hand in hand. If not same day, expect xbl support on windows version soon(and not ms soon either ;))

Haha u right, "ms soon" made my day :D

Gameloft seems to be big on xbox live all of a sudden.

I wanted to say the same thing xD

Must have received an "investment" from MS.

Well minion was showing in Xbox section of games since last couple of days

Banner just changed today with the update though. I've been looking at it the past few days and there was nothing different in the game until now.

looks like MS is finally getting its act together for XBOX suport for windows phone

Wow ! Somehow there are more and more game came up with Xbox label....

its like one of Gamelofts developer found a piece of code which will enable there games to have Xbox Live support, and they are just adding to all there games. To infinity and beyond Xbox will live forever ....

You made me LOL! :D Or maybe Microsoft's ease of Xbox certification? ;)

If Ms made easy, definitely it will be notified in windows central.

But, it's also well worth notifying that, gameloft's titles got Xbox integration soon after they announced it. At the very most, it took around a week or two. While on an average, Xbox certification process takes months to pass into the store itself!!!
Had gameloft applied for Xbox support, we were still be notified by Windows Central, just like we were this time, no?

Has it improved for the 512 MB

Share your Xbox gamer tag
Fmukbil

Omfg :O I wish candy crush had xbox achievements :)

Candy crush is trying to woo me but my will is strong, I use to laugh at people asking for it before we got it on Windows.

Rebirth of the XLive!!! I like that!

Struck on my phone some times...

I cant install it.. Install button is missing..

Yea cool, we all love updates

Asphalt and minion rush......
* remembers that he is banned in both and turns away slowly*

You got banned from Asphalt and Minion Rush? Say what now?

Without reason im banned in this game.. So I uninstalled it.. There is no help from customer support.. Worst..

This is great news. I'll hae to download it no.

Did anyone see the new achievements banner? The old one was pretty good. This looks like lame. I think the team behind Xbox Music designed that banner.

Dear Fellow Minion Rusher, We have some cool news for you!!! Participate in our weekly Despicable Me - Minion Rush tournaments for just USD$0.99
and stand to win USD$1,000 worth of cash prizes or up to 75% of the pool prize money!!! All you need to do is play minion rush, guess our score and beat it by the smallest margin!! Download our app @ https://www.windowscentral.com/e?link=https2F2F... Weekly Tournament Cash Prizes:
1st Prize USD $500.00
2nd Prize USD $300.00
3rd Prize USD $200.00 For more information, please visit our Tournament Guide, Rules & Regulations and FAQs on our app or website @ http://www.vs-win.com. If you have any problems, questions or comments about our service, you can reach us @ enquiries@vs-win.com.

THIS NEEDS TO BE MADE INTO A XBOX360/XBOXONE GAME WITH THE KINECT , MY SON LOOOVES THIS GAME AND WHEN HE WATCHES IT ON YOUTUBE ON THE TV HE RUNS AND JUMPS AND EVERYTHING ,,, YALL NEED TO GET ON IT AND MAKE THE GAME ALREADY FORREAL LOL
Windows Central Newsletter
Thank you for signing up to Windows Central. You will receive a verification email shortly.
There was a problem. Please refresh the page and try again.