Destiny: The Taken King expansion is now available for deployment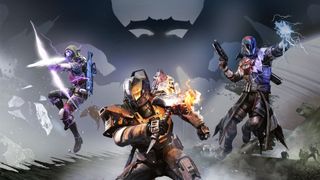 Destiny: The Taken King is now available for purchase on the Xbox One. The third expansion for Bungie's Destiny brings with it a new story campaign with quests, more enemies to overcome, new locations to invest time exploring, as well as new Strikes and Crucible maps.
In order to take on the new challaneges, players will have access to three new Guardian subclasses unlocked with weapons, armor and gear. Oh, and there's a new raid for good measure.
Please note that you require the first two expansions for Destiny for The Taken King to work. Hit the links below to make the purchase.
Purchase Destiny: The Taken Kings from Amazon (opens in new tab) ($59.88)
Download Destiny: The Taken Kings for Xbox One (opens in new tab) ($59.99)
Windows Central Newsletter
Get the best of Windows Central in your inbox, every day!
Rich Edmonds was formerly a Senior Editor of PC hardware at Windows Central, covering everything related to PC components and NAS. He's been involved in technology for more than a decade and knows a thing or two about the magic inside a PC chassis. You can follow him on Twitter at @RichEdmonds.
Too bad the vanguard and suros gun packs are green 150 attack weapons though. Pretty lame. Hopefully they do good in pvp

More content! Now only 45 more DLCs and they tell us why they don't have time to tell us the story

IGN has a video "Destiny in 5 minutes". Go watch it.

Been playing for 1.5hrs already :) didn't have to pay for the dlc either - it seems to have self activated against the digital guardian edition of destiny I purchased months ago - win for Xbox one :)

What? Are you kidding around?

Nope. And the first cut scene makes it look like this is going to be crazy :)

This is ridiculous because I had the DGE and I paid almost $80.00 for this new one. Bungie needs to stop their bullshit.

I'm waiting to sort out which one I need, there's more than one and if you already have the first two expansions, why buy the bundle with those included? You just wasted $$$ on something you could have gotten for $30 less... =\

AS long as you are paying for it they will do it. Be like me and Quit the Game.

I also got the full blown digital edition months ago. But its still asking me to purchase to play Taken King levels. Did yours just download automatically when you went to play a TK mission?

I did that 17GB update last week, and then in my games it just showed as "manage". I thought I'd try tonight and it's all there. I noticed as well that the add-ons for legendary pack etc all had a reference to if you purchased one of the three digital editions. The only thing I had to manually install was the legendary pack. One of the guys at work is going to try the same path and see what happens to confirm for me.

Tipped my toes in it this morning and can't wait to dive in when I get back from work. Also there is a typo in the second paragraph in the word challenge

This is America! There's always coins be typos

I do not want to go to work today. Longest day ever...

challaneges are my favorite.

Is it weird I prefer watching people play this game rather than playing it?

This. NHL 16. And in two months, star wars battlefront. When the hell am I supposed to get anything done when I can easily put 500 hours into destiny alone!

I still need to finish MGS5! Not happening this week lol

Avoid UK digital store prices at all costs - ridiculous! The new ver 2.0 update is very good though...

Please Post when they Drop the Price to $10. Not enough Material in this game to warrent $50.

What? I bought destiny for 360 when it was $30 and if I knew how great it was when it launched, I would've easily paid $60. Now the game is basically twice as big and they are only asking $60 for it. You will be waiting a long time.

I bought Dentiny for $20 and thought that is what it was worth. THe Patches for another $20. $20 content is all i felt it was worth.

Well The Taken King has brought me back to Destiny. Played like crazy on first release, then it got repetitive for me so I left it alone. But with the time gone from the game and the new content, it's feeling very fresh again. So good job Bungie. Is 40 the new level cap, or can you go further?

Thank GOD! I never got this game. The time you need to invest into it is crazy, and I got my fill of time eating MMO's with WOW. I initially stayed away because of the repetitive grinding and a weak storyline. With the PS4 getting dlc and the like B4 the XB1, it makes it even less appealing. Now they're milking their fans for every cent they can.

It's not that crazy, really you could do this pretty quickly and honestly, it really is two games now...just wrapped up in one package but if you didn't get it before, you can get it for an $80.00 bundle, so 2 for $40 basically.

Your definition of crazy obviously is different from mine. You have to put 100's of hours into Destiny and I don't have that bandwidth. Maybe when it's Games with Gold I will try it, but I got better games to sink my time into. This Fall will be crazy busy for me wth Fallout 4, Halo 5, and Tomb Raider.

You don't have to do anything. You get out of it, what you put into it. I've been playing since launch and still take time to play other games. I get it though, you have your opinion too. Point being, those of us who love destiny get plenty of value from it.

Every one who knows about this game or is fan of this, whatever they do, it will get it. I havr my reason buying this Dlc 'cause all my friends play it.

One of my guardians has the first missions available again, is this a thing where if I just play through again, I can get to the new one automatically? ;p
I will say, with all due respect to the amazing Nolan North, it sounds very much like a Saturday morning cartoon now... =\

I enjoyed the game never finished it. I don't see value in it. I don't play it enough. It's set up like a repetitious job of playing the same sequential missions again and again only harder. I want more spontaneity in a game. Something a little more unpredictable. I will be holding off for a sale. My lvl 24 character can sit waiting. I don't feel the servers are going anywhere for a while.

Can't wait to head home tonight for this. No raid though until Friday I think.

That's one expensive expansion pack. Pretty sure I can buy Witcher 3 for less than this.

Exactly my thoughts. If you're going to timesink Witcher 3 is better AND cheaper.

I like Destiny and while I want to play this, I didn't buy either of the expansions and won't be spending the cost to pick up both of them plus this now. Maybe I'll grab the first expansion and take my time with that until there's a price drop for Black Friday.