Destiny's second expansion House of Wolves is available now for its eager fans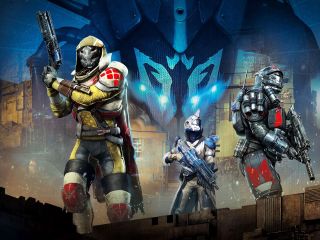 Destiny fans have been waiting patiently for the game's second expansion pack, House of Wolves, to be released. Today, they got their wish as it is now available to download for the Xbox One, Xbox 360, PlayStation 3 and PlayStation 4 consoles.
House of Wolves costs $19.99 on its own or players can get it with the Destiny Season Pass for $34.99 that includes access to the first expansion pack, The Dark Below, that launched in December. Here's what Destiny players can expect when they download House of Wolves:
New Missions - Of course, perhaps the most anticipated thing House of Wolves brings to the table is a slew of new missions. The story has the Queen calling upon Guardians to help hunt down the Fallen who once served her. The Fallen decided to rebel... and the results play out over the course of the story missions included with the new expansion.
The Shadow Thief - An all-new cooperative strike for three-man fireteams, The Shadow Thief has players hunting for Taniks, a Fallen mercenary living on the moon in House of Wolves' Ketch spaceship. Expect quite a challenge from this one!
Trials of Osiris - A new multiplayer mode, Trials of Osiris provides players with scorecards. Players complete these by maxing out at either nine wins or three losses, at which point said scorecard can be cashed in for rewards. The multiplayer mode places two teams of three Guardians each against one another; these teams score a point for eliminating the opposing team, and the first team to five points wins.
Prison of Elders - Prison of Elders is House of Wolves' new Fireteam-focused arena mode, which has players fighting their way through five rounds of enemies that progressively increase in strength. Each round sees three successive waves of enemies and a random boss fight. How long can you hold out?
Performance-based Rewards - Completing multiplayer sessions will double rewards for Destiny players – and for the first time, players' performance will help in determining what rewards they receive. In other words: You get yours.
New Arenas, Gear, Weapons, and Armor - House of Wolves adds three new Crucicle maps to Destiny, along with plenty of never-before-seen equipment. The ceiling for Guardians' levels has also been raised to 34, and players will be able to upgrade all of their exotic and legendary armor to match the new level.
The Queen's Bay - Finally, a new hub area has been added to Destiny's universe. Until now, the only place that the game has offered for purchasing gear and getting bounties has been Earth's Tower – but House of Wolves allows access to The Queen's Bay, located in the Reef (which was seen briefly during the campaign). This zone features new vendors and missions, all relevant to the House of Wolves story and theme.
In addition, the multiplayer maps included in the first expansion pack, The Dark Below, are now free to access for every Destiny player. Plans have already been announced to offer "a major content update" for the game that will be released this fall but details about what will be contained have yet to be revealed.
Check out Destiny: House of Wolves for the Xbox One (opens in new tab)
Windows Central Newsletter
Get the best of Windows Central in in your inbox, every day!
I forgot about this. Witcher overshadowed the launch.

Yeah... trouble with Destiny is you're either in or out. The base game just leads into a dead end unless you buy into all the DLC x x

Uh, you mean Farm Simulator 15 overshadowed everything?

Destiny... Bungie was my favorite game developer before Destiny, but now now.

Hope so:) but Destiny was a big failure :/

I'm not sure 9 million copies sold is a failure. I liked it. (Just didn't have the MMO longevity we were lead to believe, but I put in a solid 70 hours - so good game)

But how many of this 9 million arw playing it? Or did enjoy it?

A solid seventy hours you say. I'm approaching a thousand hours. You barely scratched the surface.

You have a low barrier for developers then.

I was blinded by my love for Halo. Destiny is trash to me for a few reasons. And... 343 is doing a better job than Bungie ever did with Halo. This is all my opinion of course.

I was also blinded for my love for halo:/ And yes! 343 is doing a better job then Bungie ever did :)

I love destiny. Im playing house of wolves over witcher currently

Eager fans??? Who are you taking about?

There are millions of destiny players

People enjoy different things. Different strokes for different folks.

The Dark below isn't showing up free for me yet?

It's just the Dark Below multiplayer (Crucible) maps, not the actual DLC itself.

Destiny is a great example of superb marketing. Got me hook line and sinker, now I don't play it for some reason. Good game though

You forgot to mention that the PlayStation version gets extra content.

Sorry i tried to hang in with this game for as long as i could but after 2 months of having to put up with there cr*p online problems i just gave up. Then there was the constant grind trying to get the best weapons what a joke.

I love Destiny and this expansion. It's been cool so far. I can't wait to get the new weapons and gear.

I loved Destiny, as a single player gamer, and often as a cooperative player using matchmaking. But the part i never liked was the need to find and form a team to be able to get thru some of the main and best stuff in the game. I don't have too many friends on xblive and the few i have don't play Destiny, so it was frustruating for me randomly asking strangers for help in the Tower just to complete a mission. Matchmaking helped with this but it's only available on a few missions.

Like you would enjoy play raid with 5 other that #1 dont know what to do #2 want free reward and dony vare to do their part?
Matchmaking in the easier stuff and premade in the harder activity ia the correct way to go.
Matchmacking in Daily story (or story overall could be a thing maybe)

The could really solve this problem if they added the option for matchmaking on every mission, that way if you have your fireteam you can go with that or if you don't then you have the option to be paired with others automatically who want to do the same mission as you.
Windows Central Newsletter
Thank you for signing up to Windows Central. You will receive a verification email shortly.
There was a problem. Please refresh the page and try again.