Details emerge for Microsoft HoloLens battery life, field of view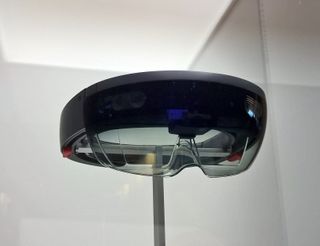 Additional details about the Microsoft HoloLens have trickled out. Speaking at an event in Tel Aviv, Microsoft Technical Evangelist Bruce Harris offered details on both battery life and field of view.
Harris noted that the HoloLens headset as it stands right now offers about 5.5 hours of battery life for average use, while heavy use would bring that down to 2.5 hours. According to Petri, Harris also noted that the headset can connect to pretty much anything through Bluetooth and Wi-Fi, and that apps that can currently run on Windows 10 can run on HoloLens out of the box.
Addressing field of view, Harris said that the current HoloLens field of view is similar to a 15-inch monitor viewed from about two feet away. Both cost and battery life concerns contributed to that size. Microsoft is apparently planning on increasing the field of view once it makes sense from a cost perspective.
Microsoft originally announced HoloLens in early 2015. As opposed to virtual reality, which immerses you in a different virtual environment, HoloLens is an augmented reality device, layering digital information and objects over the existing world. The company will start shipping HoloLens Developer Kits this quarter for $3,000.
Source: Petri
Windows Central Newsletter
Get the best of Windows Central in in your inbox, every day!
http://letmebingthatforyou.com/?q=220to%20meters Posted via the Windows Central App for Android

I've read comments all this time that the field of view has been disappointing, but that description doesn't sound bad at all.

I don't think it's the field of view, really, it's the side affect that comes with it. Turning your head really fast results in losing sight of what you're looking at via HoloLens. Like there's latency and the field of view isn't quite big enough to compensate. If that makes sense.

I guess people were expecting something similar to Tony Stark's J.A.R.V.I.S interface. Either way, Hololens is pretty darn impressive and it will dominant this new A.R category. Posted with the Nexus 6, Nexus 5, or Surface Pro 3

Seems like you can think of Hololens like a 3D desktop where your windows can either be flat or 3 dimensional and the Hololens just keeps track of all your applications in the 3D desktop/environment that it creates from your surroundings.

Imagine a 15 laptop sitting two feet from your eyes, and thenn how wide your natural field of view. Whether that sounds good or not is a matter of debate I guess, and it is ultimately hard to tell unless one actually tried it on. Posted via the Windows Central App for Android

I'm still impressed, regardless it's interesting to hear that FOV seems to be limited by cost, I thought the main reason was because of motion sickness. Would love to know the resolution of the "screen", I.e. Are we talking 1080p or 4k...

the original prototype they showed reporter had a wide field of view. that was the model where the headset was thethered to a box that you put on your back. when they made the current stand alone headset, the field of view sharnk and the complaints began. this explaination gives hope that as the parts get cheaper, they will expand the field of view.

They didn't change the FOV. The original prototype apparently blocked your peripheral vision, which made it seem larger than the current headset.

I have personally been out to Microsoft head quarters and tried hololens it isn't bad at all. The view angles make perfect sense while In use. I tested a few programs and it is mind blowing for what I'm allowed to say as of right now.

Yeah I'd assume the FOV isn't a huge issue, however, if they could reach 100% FOV I'm sure it would make it even more amazing

It was careless language from some bloggers who tried HoloLens describing the field of view as like looking through a "mail slot" that got people upset about FOV.Your standard mail slot by the way is 1.7 X 8 or 13 inches and from two feet away looks nothing like a 15 inch monitor.

i think that now Namco bandai should have to focus on new generation games of tekken and pokemon !!!
it must be great for the rest of the world !!!

15" from 2 feet away?? Meh, that's like going back to 1999

Except HoloLens wasn't possible in 1999...

Prince isn't that short. He's 5 foot 2.
Awesome year.

FOV sounds like it sucks big time. How about a 80" HD monitor at 1 foot away. That's what we are expecting.

Give me a shout when you have that developed. I will buy one. Until then I will sit here and pout about how this isn't the future yet.

Good! Those were the days...

More like tunnel vision to me. Might be difficult to get used to.

It's not meant to be immersive. It's meant to augment what you're already focusing on (which, given the physics of the eye and density of the nerves in the middle, is more focused than most believe.)

This isn't the consumer one.

I haven't read the article yet but even without reading, I can tell this is important news.

I've used it and it's way better than what people said

I've heard the same thing from somebody else who has used it.

I've tested it at Build 2015. It was awesome, but the FOV was a dissapointment. For the intended use cases right know (industries and such) it's perfectly fine though.

Corporate interest seems high, so the price would come down, and experience go up. First gen tech. In four years time it should be nicely outpacing the google monocle :')

Dev kits are always expensive like autoCAD is expensive. It's not proceed for what the product IS it's priced for the money you could make from using it.

Doubtful the FOV is only limited by a power source. Allow tethering to a marine battery.

Yes, I can imagine wearing a bag full of battery on the back, kind if like ghostbusters to have hololens all day long.

Yeah it was very impressive, at least when I played that alien game they demonstrated. Had no issue with the field of view.

The small Field of view wouldn't matter much if one couldn't see the real world on its border. This wouldn't let users get fully immersed as Microsoft is advertising it. $3000 is already very expensive. It is targetted for only enterprise users so if it goes up to $4000, many wouldn't care coz its already out of reach. But those people who can pay should get the fully immersed experience. Or Microsoft can make a Hololens Pro version with perfect experience, no matter what it costs.

A. HoloLens is not meant to be immersive, it's not a primarily game platform, this is not VR, and this is not a release to consumers...
B. It's a dev kit, it's not meant for "users" it's meant for developers to create software that will make them money, it's an investment, not a consumer product at this point.

MS is advertising Hololens such as it can fully immerse you in its holographic environment. I know its not a consumer product . Infact almost all videos of Hololens are targetted for Enterprise users. Oculus Rift's consumer product is almost double the cost of Developer's Kit.

Not true. Only certain elements are virtual in your environment.

What not true? Every element is not virtual and that makes it Augumented. What are you trying to say?

You seem to be expecting something from the movie Back to the Future 2. This product might be able to do the addictive game from Star Trek: The Next Generation. This is brand new unheard of tech. Be patient and let them get this right. I'm an early adopter and expect some level of experimentation and perhaps even disappointment from a first gen tech. Seems like every person on here is expecting something that's 5-10 years out to appear tomorrow. Just pretend it doesn't exist if hype is bothering you. WindowsCentral community is getting toxic. Stop reading articles on cutting edge of you can't relax a little.

Perhaps you can tell MS this, as the only demos they really do are the gaming ones.

I'm not entirely sure you know what hololense is. Its augmented reality not virtual reality.

I know the difference between both AR and VR.

The FOV sounds pretty lame

Technically, it is Mixed Reality because it overlays the virtual over the physical world. A phone app overlaying the virtual over a camera feed would be considered augmented reality.

That battery life seems kind of low, but I suppose it's about as long as it needs to be for most situations, given that people generally aren't going to be wearing it for extended periods. Hopefully charging can be done unobtrusively while wearing it, too.

I was surprised. I thought it was going to get 2-3 tops. The original google glass was rated at a single hour, for a much less intensive set of tasks. 5.5 with medium usage is low, but much better than I predicted. Hopefully we'll see improvement to battery in further models.

5.5 hours when untethered, not bad at all. However we need more breakthroughs in the battery tech, only way we can stop leeching electricity endlessly to power the ever growing list of gadgets.

Harness the technology of Tesla so we can power everything wirelessly.

We're pretty much at the limit of current battery tech, which is why EVERYTHING is now about making things as power light as possible. We need to stop this stupidity and ditch LiOn tech for something that can actually run out phones for more than 8-10 hours before needing to be recharged again.

THIS IS GREAT!!! Come on everyone lolol no one else has this tech right now this early.... Google glass had a small little box in the corner of your field of view.... and it wasnt even interactive AR. Remember the Surface Pro 1 battery life, screen resolution, thickness, and kickstand? But fast forward 2 and a half years and look at the Surface Pro 4!!! This is super exciting..... Its freaking technology, when has any technology not gotten better over time? This is fantastic news. 6 hours is fair enough, 15inch screen isnt great but its a great start. I can expect this to be completely different 2-5 years from now. Thats what I'm excited bout..... I'm excited for the tech to get implimented into glasses and goggles and mirrors and windows. Microsoft is making the first push into the next generation of computer operating systems and interffaces.... the 3D augmented reality world.... they are leading the charge and that is really exciting. So lets be patient

Except that my SP4 still has battery issues, MS needs to fix those. (4 hour battery on full charge + "Suggested" screen brightness) Still, I see where you are going with this, and I'm excited!

Completely agree. I wanted the Band 1 but thought I'd let the bugs be worked out first and just waited for the Band 2 which is totally awesome. Give the Gen 1 device a chance, I'm sure it'll just get better in the future. Kudos to MS for being the first to make this a (destined-to-be) consumer product. Hope they offer a discount for buying four for my boys. :-)

It's basically the equivalent of wearing a super high end PC on your head with a full 3d audio set up... C'mon people.

I'd have been TOTALLY fine with a tethered device that had a good viewing window. The stupid decision to go completely cordless is gonna come back to bite em'.

Perhaps, but at least they gave a clear distinguishing feature and a head start

The key takeaway from your comment is that YOU would have been completely fine tethered. You are trying to hinge the success of a product on your personal preferences. However, if the majority of people didn't mind being tethered then cordless phones and, later, cell phones would never have been a thing. This isn't VR and freedom of movement is vital otherwise it wouldn't be a self-contained computer.

As he explains in the video it's not simply the battery that's limiting the FOV. The glass that is used for viewing the holograms can only be manufactured so large before the failure rate becomes too high for it to be economical; the cost of the device would go up quite a lot (in the video he says from $3000 to $15000, but that could have been hyperbole). So either way, I think we can expect that as battery technology improves and perhaps their manufacturing techniques as well, the FOV will likely increase with future generations.

I am looking forward to this tech....Bluetooth and wifi untethered at 5.5 hours is not bad with a field of view of 15 inches at 2 feet away is pretty big un perspective. 15 inches from a far distance yes is small until you bring it closer and it looks big when it is on your face. Think about looking at the mirror on your car. What does it say. Objects may seem closer than they appear. That applies here. It is science of how your brain will view and see everything. All in all this great news and only getting better. This tech is just getting started and setting standards. Us developers have our work cut out for us. And we get to be the first to make this tech even better and do even more.

How do you charge it? I wonder if you could use out while it charged

I really don't understand what people are complaining about. This is an amazing technology that no other company has been able to replicate yet. Give a little credit to Microsoft for at least trying.

The field of view needs to be panoramic.

Btw. How much does it weight? When all wanted it for ~$500 I've expected $1500-1700 which will be hard decision to buy it(to try and give support), but $3k will make it almost Enterprise only gadget (like Surface Hub)
I hope than in 3 years prices will be lower and battery life and FoV will be hugger(at least on if then) or this will be like first tablet from MS that was forgotten and reinvented by apple.
They have several "demos" with HoloLens at home, I don't think that users just bring them home from work :)

$3k is for the developer kit. Consumer product is a whole 'nother story, and don't expect that to happen until Hololens 2. The price for the consumer product will definitely be lower when that happens.

The technology is brand new so developer will be working with them first and developing the app for it either and taking it to the next level. So the price is high until the companies start making it then the price will come down but don't forget that this new grounds and it is also high end tech where only a small handful can make it right now.

That battery life is better than I expected, actually.

$3000 ? I wont be buying one...

RE: FOV, Here's a perfect example of where Microsoft needs to learn how to sell their goodies. If one extrapolates - then 15"@2' becomes the rough equivalent of 24"@4' or 60"@8'. If the presenter would have instead said 60 inch screen at eight feet - then everyone would be saying "Hey, that's pretty cool!" instead of using 1999 as a reference point. (simple minds focus on the most simple of things and are incapable of seeing the bigger picture unless they are led to it by the nose)
Windows Central Newsletter
Thank you for signing up to Windows Central. You will receive a verification email shortly.
There was a problem. Please refresh the page and try again.