Dial into your meetings with the unique Calendar Calleague app for Windows Phone 8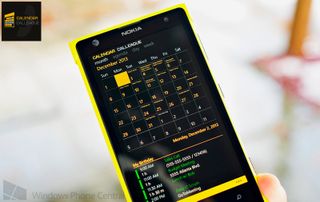 There are various calendar applications for Windows Phone and we've covered our fair share on this very website. That said, much like the weather apps category, there are always those rare gems you come across that offer unique functionality. Calendar Calleague is one of them. As the name suggests, it's a calendar solution, but you've got the ability to directly dial into conference calls and more.
If you're searching for a more feature-rich calendar experience, or simply desire something more enterprise friendly, you will definitely want to slide on past the break and read up on Calendar Calleague.
From the get go, Calendar Calleague is a diary at heart. As soon as you launch the app for the first time, your eyes are exposed to some gorgeous Modern UI work. Offering basic functionality to get one started, calendars already present on your phone are included automatically. You're essentially good to go as soon as you launch - no setup or pesky wizards.
Multiple views are available, just like in similar applications. Whether you're after a daily, weekly or even monthly breakdown of your entire life, Calendar Calleague is able to provide an easy to digest readout of all your upcoming and past appointments. Adding appointments is simple, but unfortunately Microsoft does not allow the deletion (or edit) of events already stored on Exchange and Outlook.com.
Here's a quick overview video running through exactly what Calendar Calleague is all about:
Not only is there the option to view directions to a specific location (which opens up HERE Maps), you have the ability to dial in directly. As noted above, this is a killer feature for those who find themselves hopping between conference calls. The app itself has built-in support for 15 call providers and can also automatically pull phone numbers and passcodes from meeting listings and initiate dialing.
The Live Tile is a superb addition, supporting multiple sizes in Windows Phone 8 and can even dial into a call without going through the app and selecting a meeting. The current date, alongside synchronised appointments are all displayed for quick view on the Start screen - don't worry about the app settings as that area is fairy easy to navigate.
Did we mention that landscape orientation is supported? The developer notes that more customisations and add-ons will be coming in the future. The best part about Calendar Calleague is that there's no initial fee, so you're able to download and try out the app to see if it's right for you.
You can download Calendar Calleague from the Windows Phone Store for free (requires Windows Phone 8) with in-app purchases available should you wish to optionally support the developer. This upgrade removes the advertisements, adds lockscreen support and the ability to auto dial-in from Live Tiles.
Windows Central Newsletter
Get the best of Windows Central in in your inbox, every day!
Rich Edmonds was formerly a Senior Editor of PC hardware at Windows Central, covering everything related to PC components and NAS. He's been involved in technology for more than a decade and knows a thing or two about the magic inside a PC chassis. You can follow him on Twitter at @RichEdmonds.
I'd like to see an app that will allow you to make an appointment from a newly created contact. Would help with clients.

For me the best is"True Calendar 8"

What a stupid calendar. You can't even edit your appointments!! Who the hell puts these stupid restrictions on? Massive fail!! Do not download, you have been Warned.

I think Microsoft baked in most if those restrictions.

Yes, editing/deleting is a Microsoft-imposed limitation (currently). The feature is under consideration for a future version of Windows Phone though, if interested, please vote for the feature here: http://wpdev.uservoice.com/forums/110705-dev-platform/suggestions/3331472-api-for-change-and-delete-calendar-appointments) Until that capability is added though, many calendar apps have opted to integrate authentication for Google/Facebook/Outlook accounts as a means of gaining access to be able to edit/delete appointments. Calendar Calleague will be getting this capability, and it will be the next major feature to be added to the app. Thank you for all the feedback, I am definitely taking everything into consideration for future versions. Kind Regards, Joe goodbar development

What ever happed to the Cal app that was talked about last month? Love the quaility of app WP is starting to get.

Wow, nice-looking app. I'll have to give it a whirl.

Off topic: Is there a calendar app that lets you put pictures in the events of you calendar?

You bet, it's called"Super Calendar" and its the best calendar app available now for WP and you can delete and edit your appointment from inside the app. I highly recommend it.

it doesnt show what week the current time is chronos calendar shows week number, but what i can tell about this super calendar is, it looks cool, ill get that super calendar when they show the week number

live tile settings > time stamp > show week number

Looks pretty nice. I wonder if WP8 already has an app like QuickCal on iOS. I really liked that app for easy appointment creation. You could type something like "Meet boss at 2pm tomorrow for 1h" and it would add it to your calendar of choice. (editing my comment, I'm pretty sure this will be a duplicate.. right?) Argh it doesn't even seem to post. Getting ready for a triplicate post..

Looks lovly on my L1020. The lack of week numbers are a problem, and for a app potential business users should use its a disaster not to have.
I look forward to the perfect calendar app, but it have yet to appear.
This one looks beautiful thou with the Amber theme.

Hello! The week # does appear on the week view of the app, but adding the week #'s to the month view would be an easy config to add. Thanks for the feedback, I will definitely roll this in to an upcoming version. - Joe

Thank you. I look forward to coming updates. A am keeping the app installed to se the improvements. I really love the clean color scheme you have. There is only one app having the week number on the live tile where it looks proper (week view 8) , so I say making a great week numbering is a opportunity almost all have missed. The most ridiculous looking week numbering on tile goes to Super Calendar. It looks jammed in there, but at least its there.

Trying to figure out the differences between this and another product of theirs that costs $2.99 (Conference Calleague).

Great question SMMinke! Conference Calleague is for people who only want conference call dialing without any meaningful calendar functionality. It also includes some other features like creating a pre-set dialing sequence that you can pin to your start screen. You can also train the app to find your conference calls by setting up a Call Filter (similar functionality will be coming to Calendar Calleague). "Conference Calleague" does not include much in terms of a calendar. I created Calendar Calleague though to bake this functionality into a calendar app (so users do not need multiple apps that should really all be baked together into one). Calendar Calleague is meant to be primarily a calendar app with the ability to dial-in to conference calls. I hope that helps clarify, but if you have any other questions, just let me know! Kind Regards, Joe goodbar development
Windows Central Newsletter
Thank you for signing up to Windows Central. You will receive a verification email shortly.
There was a problem. Please refresh the page and try again.