Dirror's touch mirror brings Windows 10 to your walls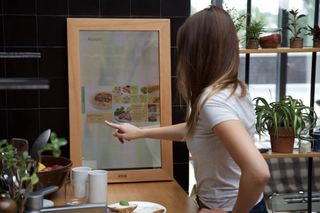 Do-it-yourself smart mirrors have become sort of a thing on the internet recently, but one company is serving up ready-made digital mirrors that should appeal to Windows fans. German company Dirror is selling what it claims is the "world's first digital mirror," with Windows 10 powering all of the smarts inside.
Image 1 of 4
Essentially, the idea behind a digital mirror is that it's an easy way to get a quick peek at things like the news, weather or stocks as you're getting ready in the morning. Of course, with Windows 10 on board, Dirror highlights the fact that its mirror will let you browse the internet, stream TV or even do some light gaming. Whether all of these things are practical in a mirror is up to the user, but it is neat regardless.
Of course, if you want to get your hands dirty, there are a number of ways you can make your own smart mirror using something like a Raspberry Pi and an old monitor. But for something that's ready to go with all of your favorite Windows 10 apps, Dirror's offering isn't a bad idea. Just don't expect to be doing anything too intensive, as the Dirror is powered by a 2.4GHz Intel Cherry Trail chip with 4GB of RAM and 128GB of storage.
Getting your hands on a Dirror may prove problematic depending on where you are in the world as well, as it only ships to Germany, Switzerland and Austria. It's a tad on the expensive side as well, with 3 sizes available starting at €970.
Thanks to Filip N. for the tip!
Dan Thorp-Lancaster is the Editor in Chief for Windows Central. He began working with Windows Central as a news writer in 2014 and is obsessed with tech of all sorts. You can follow Dan on Twitter @DthorpL and Instagram @heyitsdtl. Got a hot tip? Send it to daniel.thorp-lancaster@futurenet.com.
"Hey Cortana....... Does my bum look big in this?"

Lol, people make be getting more than they ask...

You'd have to rename her to Sir Mix-A-Lot first. ;-)

The lowest price I found on their site is 2070 EUR, which is even more of a joke. Self made must cost a fraction of that and can be custom made to fit one's expectations in 100%

or you can win one! http://www.dirror.com/dirror-newsletter-registrierung/ check it out

MS sould start giving these to content makers for product placement. These look good.

Or Sir LimpsALot, if you know what I mean ! 😏

Note to self: Buy stock in Windex.

The live tiles are perfect for this kind of device.

I don't really know how these devices work but from the picture with the time displayed, it can simultaneously be used as a mirror and smart device. This would be quite useful if say you're watching a YouTube tutorial for hair/make up while doing it. Interesting. Man I want a smart home.

The hardware part is incredibly simple, its simply a screen and a two way mirror, the software part can get quite complex, but a microsoft employee posted his to Github > https://github.com/evancohen/smart-mirror which you can use to create your own

Cortana would be a must-have for this type of device.

Good device for Home Hub.

Disney could cash in big time with "Mirror mirror on the wall..."

Disney could cash in big time with "Mirror mirror on the wall..."

Looking forward for this being on a transparent pane of glass like in the Microsoft Future videos.

I can't believe none of you heathens have made a "spaceballs" reference, so ill take care of it.
"i've told you to never call me on this wall, this is an unlisted wall"

No apps it will never sell, ah ha ha ha

W10 has millions of apps! W10M on the other hand does not!

Because I've always wondered when abouts we will be able to play light games on our mirrors. The future has arrived lol. All in all though, interesting technology. Bit pricy, but interesting. Can think of a few good uses for this, if they fully take advantage of Cortana

Do i have to be the one telling the one reason why nobody will buy a computing device with a perfectly reflective touchscreen that lets you stare at yourself the entire time, no matter what websites you visit?

Hey cortana, do i look great?!

If you break a Windows 10 mirror, do you get 10 years bad luck instead of 7?

Hey Cortana! What do you think about my lips color? Do you like it?

Hmm Samsung Smartscreen see through. http://money.cnn.com/video/technology/2012/01/10/t-ts-samsung-clear-tv.f...