Disko Windows 10 storage management app is free through October 1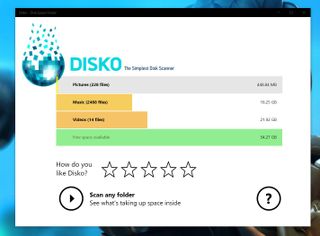 Disko, a Windows 10 PC and Mobile storage management app, is currently free through Saturday, October 1. The regular price of the app is $9.99.
Here's the breakdown of what you can expect from Disko (via Reddit)
Download Disko from the Windows Store (opens in new tab)
Actually, I personally prefer WinDirStat over Disko, since I *always* want to specify which disk I want to scan. The only bad thing about WinDirStat is the distribution... the website is not intuitive and when you finally get to the download link, it's a little too easy to click on an ad that looks like the download link.

I think thats the program I used to identify what was taking up all my HD space. Windows was replicating some folders into folders in the app data folder with over 500 GB of data. It's really good, simple program if thats the one that sorts it by most space taken. I do remember the site was a pain.

Actually, be careful of that... it's not actually replicating anything. Rather, if the program tries to write anywhere inside Program Files, it'll redirect the write to a folder called ProgramData. Then, if you browse in Program Files, you'll see the files there, but they're actually just hard links to the ProgramData folder. This was done to work around an issue resulting from developers writing to what should be unchangeable application folders. Unfortunately, many pieces of software can't differentiate these and it looks like you have multiple copies. A similar situation is true of the SxS folder (Side-by-Side), where it may appear that the SxS folder is a lot larger than it actually is (not saying it doesn't grow quite big... just not quite as big as it may appear to the untrained eye)

Would that recreate a full directory tree of the inside of the starting root folder that repeats the same trees about 20 or so layers in? It was one folder in particular (i think in the app data folder) that was the root and it definately had a hex address. I thought this might have been some kind of bug with Windows indexing the hard drive that was causing it to copy instead of mark. That one root folder ended up being the 500 gigs by itself. In any rate, I deleted the one folder and emliniated the problem. The PC still seems stable, though I dont run a lot of apps on it that I have.

That can happen when you use the 'Take Possession' script on your AppData folder.

I am not too sure what you are refering to with that script. Running a quick search I think I may have found what you might be referring to: http://www.askvg.com/add-take-ownership-option-in-file-folder-context-menu-in-windows-vista/ Is this correct? If it is, I guess some program that I installed must have triggered something in the registry because I know almost nothing about making or running scripts.

Looks like I was incorrect about the program I used. It was Wintree.

Give WinDirStat a try... I think you'll like it :)

Yeah the screen shots I saw just now looked like it had a lot more features. I will try it out, though hopefully it wont be for much more than a simple scan in the future.

So you've tried this app heavily, & still strongly prefer WinDirStat? Are you sure the dist. method is its only weak point, compared to Disko? TY/GN!

I'm saying that I prefer for it to prompt first instead of scanning everything as a convenience feature to avoid a button press. And yes, it would definitely be my preferred option if they used Centennial to convert it to a Store app for distribution in newer versions of Windows..

I'm saying that I prefer for it to prompt first instead of scanning everything as a convenience feature to avoid a button press.

So it lets you specify which actual drives, whereas Disko just does one giant logical volume? And apart from that, & the fact that the dist. method's clunkier, Disko's just as good?

I also think WinDirStat's visualization is also a lot more useful, but for simplicity, Disko is useful too. They're definitely focused at different markets.

Girl, you are on it today!
#awestruck #asombrado

Girl, you are on it today!
#awestruck #asombrado

Your comment is an excellent justification for UWP. You always have such positive and informative comments. Keep 'em coming! TY

[Edit: I missed goldenpipes comment above, but mine has more info anyway] Jessicator, you should try installing WinDirStat (and lots of other cool stuff) via ninite.com. I've been using it for years whenever I do clean installations, and it gets me up and running much more quickly than if I did individual installations. No spyware, no toolbars, no nuthin' but the prgorams.

Will definitely take a look. Thanks for the tip.

TreeSize also free. But will check this out.

I'm a long time user of Windirstat, but also recently found SpaceSniffer (not a user friendly install, but the application is pretty good). I'll check out disko though

there's no download button in the store for Disko? Anyone else have this problem? I really want to try it... :( Will check out WindDirStat also!

on my mobile I got it to download... will see if I can get it on my SP3 via "My apps".

I have downloaded just now in my lumia 540. Very fast. It took only 10 sec to scan my 16 gb sd card..
But would be nice if they adopt junk cleaner and virus scan

It's no longer free (even though it's still Saturday) but instead is $2.49. Since there isn't a try before you buy I'll stick with Wiztree
Windows Central Newsletter
Get the best of Windows Central in in your inbox, every day!
Thank you for signing up to Windows Central. You will receive a verification email shortly.
There was a problem. Please refresh the page and try again.