djay Pro blasts its way to Windows 10 leveraging the power of Surface Studio
Using Project Islandwood the world's most popular virtual DJing software is now a full UWP app for Windows 10. The award-winning software also uses the power of Surface Studio and Surface Dial in new, mind blowing ways.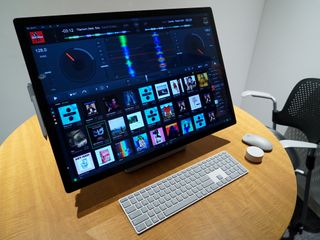 One of the world's most popular music and mixing software is making a momentous jump from iOS, macOS, and Android to Windows 10. Made by Algoriddim djay Pro is now a Universal Windows Platform (UWP) app that can be downloaded through the Windows Store to millions of new users.
Even more exciting is that djay Pro takes full advantage of Surface Studio, Surface devices, and the Surface Dial to be used for the ultimate DJ music experience. Windows 10 users on any PC – even without a touchscreen – can also use the software as well.
The software was converted to UWP using the Project Islandwood bridge tools that enable developers to convert code from iOS to Windows 10. Working closely with Microsoft the Algoriddim engineers then added abilities for Surface Dial and touch. Perhaps even more exciting is that the Surface Dial and djay Pro for the first use zone-controls where the Surface Dial behaves differently depending on where it is placed on the Surface Studio's display.
djay Pro is a hallmark app for iOS for a decade winning numerous design awards and being featured on stage twice by Apple. Recently, the app was used to showcase the MacBook Pro's new Touch Bar.
The djay Pro software integrates Spotify directly into it allowing creators to stream music at 320kbps for instant mixes. Spotify integration provides curated playlists based on mood, genre, and popularity. By using Match artists can pair songs based on what is currently playing. Also, each djay Pro app gets a free 30-day trial of Spotify Premium, or users can just log in with their existing Spotify account.
The software supports "over 60 MIDI controllers out of the box by manufacturers such as Pioneer DJ, Numark, Reloop, and others" and even an "advanced MIDI Learn system" for a custom setup.
From the press release Adam Denning, Partner Group Program Manager at Microsoft commented about the launch:
Seeing is believing
A few weeks ago, we were privileged to meet some of the crew behind djay Pro and to see a live demonstration of the software. The app is a gorgeous mix of sliders, dials, and faux records that can be spun. With Spotify, we were able to pick music types and then watch the software continue to pick similar music based on "danceability, BPM, key" and "music style."
Using the Surface Dial, the software can scratch like a record or control the deck slider to fade between the two spinning tracks. Placing the Surface Dial on the display changed the Dial's behavior, which is a first for the technology.
What was exciting was seeing how thrilled the Algoriddim devs were about the project. For them, Surface Studio is the ultimate culmination of what they have been working on for a decade. The Surface Studio with its giant 28-inch high-resolution touch display and the unique hinge allows djay Pro to truly be a virtual mixing station.
Not just for pros
For those who are not musically inclined or find the live mixing of music too complicated Algoriddim offers free tutorials and guides to get started. You could also just use djay Pro as one giant self-directed party station by setting the mixing to auto. Simply pick a few tunes and let the software do it for you.
Get it now
Algoriddim's djay Pro may be the first "killer app" for Surface Studio. It's also the first non-drawing app to really shine on the creator PC, and when you see the software in action on the machine, it just makes sense. The devs behind Algoriddim were set to release the software earlier but once seeing Surface Studio their eyes lit up.
Of course, any Windows 10 PC running the Creators Update can use the software too.
Regarding Windows 10 Mobile Algoriddim has not ruled it out either. Due to the immense complexity of the software, which relies heavily on precise audio timing and processing the initial focus was to get the software optimized for modern PCs.
Because the app is based on code from iOS, it also means the UWP version for Windows 10 will see seamless updates between both platforms. Algoriddim were ecstatic over the idea that they did not have to natively build the app saving time and costs for the company.
The app can be purchased for $49.95 from the Windows Store below. Users can learn more about djay Pro for Windows 10 on the Algoriddim website.
Download djay Pro from the Windows Store (opens in new tab)
Daniel Rubino is the Editor-in-chief of Windows Central, head reviewer, podcast co-host, and analyst. He has been here covering Microsoft since 2007 when this site was called WMExperts (and later Windows Phone Central). His interests include Windows, Microsoft Surface, laptops, next-gen computing, and for some reason, watches. Before all this tech stuff, he worked on a Ph.D. in linguistics and ran the projectors at movie theaters, which has done absolutely nothing for his career.
All that scratching is making me itch

Wonder if it will make it's way to the Hololens?

I talked to the devs about that. All options are on the table.

Universal or not 10 bucks says no mobile

For now, it makes more sense for them to target PC and specifically Surface users for what I think are obvious reasons. Like a lot of companies they will see where "W10M" goes in the coming months. The code lets them do it, but I think we should let them get this out the door and see if people actually buy/use it.

This is probably one the first killer UWP apps, it showcase the power of the platform. I hope people buy it, I wish Native Instruments would follow suit

Absolutely Fair, but my point still stands.

But the app is almost useless on mobile (phones) anyways, even if it can run flawlessly on mobile hardware. The typical phone screen is way too small to be practical. I'm pretty sure most users on the iOS side use it on an iPad not on an iPhone...

I was just thinking that. But EDJay is on mobile so there is still a chance it can be done. It's their job to blow our minds with the impossible.

Great Software and Hardware mix. Yea I love that.

I'm glad to see the app hit but I'm struggling to make sense of some of the finer details because of word omissions and spelling mistakes.

I guess Daniel was so excited to post the article that he forgot to proofread his text a bit. :P

DoPrJ d'oesnt mucis only It. mix Word too dox mics ):)

Could this app, and MSFT's assistance with it, be the reason Groove Music Maker hasn't seen the light of day? This is a big win for the store! Sure wouldn't want to launch a free, tho likely a less featured, competitor before these guys got their shot. Maybe??

This could be a reason. Groove Music Maker isn't really the same kind of app though. Groove Music Maker would be a sequencer program for music production while djay Pro is a mixing program for live performance. :) Edit: FL Studio Mobile would be the same kind of app as Groove Music Maker. It's already available in the store as a UWP app. :)

Ahh... perhaps this is why the launch of Groove Music maker is being delayed. This is a huge win for Microsoft! Now, all they need to do is make a Surface Book with a glowing Windows logo to get more DJs supporting the platform!

This could be a reason. Groove Music Maker isn't really the same kind of app though. Groove Music Maker would be a sequencer program for music production while djay Pro is a mixing program for live performance. :)
FL Studio Mobile would be the same kind of app as Groove Music Maker. It's already available in the store as a UWP app. :)

wow nice going algoriddim! im a windows user but ive heard of this app before. i had to replay the announcement video because the music is so good. :) side note: i wonder what happened to that other dj program that is uwp? ahhhhhh i cant remember the name of it....

You mean edjing PRO and MeeDJ? Both are great apps available for Windows 10 Mobile.

Nice to see Islandwood at work bringing another notable app to the Windows store. Keep them coming, for mobile use too if feasible.

This is so great! I'm happy the store is growing and bringing serious applications. I can easily imagine a product like this using maybe two or more Surface Dials, maybe not yet supported but not a bad idea.

"I can easily imagine a product like this using maybe two or more Surface Dials, maybe not yet supported but not a bad idea."

:)

Oh yeah babe 😎 it's all happening ✌🏽

This is nice. I like to see the fruits from these projects. I wish it happened more often. I just saw War hammer 40,000 in the store last night. I was pleasantly surprised.

My 10-year-old son started experimenting with this software during the Christmas holidays and absolutely love it. He listens to his music while playing games and I think It's quite amazing piece of software.

If u want trial just head to their official Website and download the Windows 10 file and install it as Side load.

Spotify can't make a music streaming app... Two days this comes out. Bad programmers at Spotify?

Without flac support this program is hardly "pro" and virtually useless for serious contention. Mixxx is FREE and offers way more including flac support.

Never heard of it. Don't really care about FLAC.

Flac is a lossless codec. Perfect quality when compared to CD's or LP's. MP3's are very lossy and crap by comparison...as little as 1/10 the quality of a CD and far less when compared to an LP or 24bit/192KHz digital file. Most if not all pro DJ's are playing flac files. You are great Dan but not an audiophile. FYI, I am a recording engineer/producer (retired). Audio quality DOES matter for PRO audio. Mixxx is very popular with "Pro" DJ's as it is free for those needing real professional software. You've educated me in the past and now it's time for me to return the gesture. If you have any ear at all you should be converting your audio files to flac NOT MP3.

I know what FLAC is lol I mean I never heard of the software "Mixxx".

http://mixxx.org/ Open source, user supported through donations.

Who cares about lossless audio when you are pumping tunes as loudly as you can through a mono setup in a club.

Given the choice listeners would prefer acurate, distorion free listening at ANY volume level. In scientific test preformed by the Audio Engineering Society, over 90% can tell the difference between flac and crap (MP3). Mono is not a sound quality factor.

Techno Viking got his groove on in the parade in the days before FLAC existed. I don't think club goers give a hoot what file types are being played.

If Techno Viking was spinning vinyl, he was already playing music with over 10 times the quality of an MP3 tune. Go figure.

You're not a DJ though...

After visiting the djay Pro forum it appears the biggest complaint is the lack of professional flac support. Hopefully they can fix that. But since it is a port from Apple it might take a long while. As a side note I would recommend Edjing Pro DJ software found on the Windows store site. It is much better priced and does support flac files. It lacks some features but most budding DJ's wont miss them.

This would have been really cool when I was a DJ. Lug in my Surface Studio and blow up the spot.

While it would look cool a real DJ setup would cost less than a Studio and work better...

Amen brother. Not sure it would even look better than professional DJ equipment..

Will the app allow you to load music from an external harddrive unlike android and Apple?

Cool. This is the type of app I want to see more of running on the UWP.

UWP is limited, they said... But I don't think this app would be better or more complex if it was win32 😀

Serato, Traktor and even Rekordbox are all win32 apps that offer more features and a more complex interface that let's the DJ see and do everything on one screen but the real issue with UWP is supporting touch (touch targets requires larger elements, you can't just cram everything in there)

Seems like a very cool app. I don't have a need for this but I am glad to see a great new UWP app :)

Out of curiousity @Daniel, does the Surface Studio support working with multiple surface dials? Like two, coz I can see lots of creativity with this kind of mixer.

An external DJ mixer would cost less, offer more features and truly be pro...not a kludge. Get reel. :-)

just caught up with excitement 😂

Considering that it's made specifically for Windows 10, I wish it has Groove Music support like how it can directly work with Spotify Premium.

All those saying FLAC is what most pros DJ with, and lack of support means it isn't pro is utter crap and betrays an ignorance of DJing. Pioneer CDJ2000s (the most 'pro' flagship CD player in clubs the world over) have only just started supporting FLAC files with its 3rd and latest iteration the NEXUS2. The original model and its follow up the NEXUS did not, and the NEXUS2 was only released this year.

I always wondered, could you use 2 surface dials at once on one computer?
Windows Central Newsletter
Thank you for signing up to Windows Central. You will receive a verification email shortly.
There was a problem. Please refresh the page and try again.