Nokia Lumia 1020: Add filters to your 41 MP camera with this $5 DIY lens hood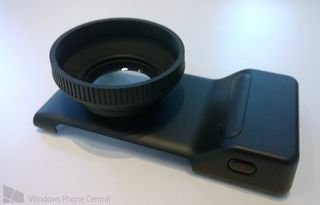 One fantastic accessory for the Nokia Lumia 1020 Windows Phone is the camera grip. It gives the Lumia 1020 a little more girth for the gripping and with the built-in battery the grip extends your camera time significantly.
While it would have been great if Nokia had threaded the camera lens opening on the grip to accommodate screw-on accessories, we've seen a few reader's tips for making due without. We've seen close-up filters taped to the camera to boost the Lumia 1020's macro abilities and now we've got a lens hood to reduce any lens flare bright lights may cause.
Windows Phone Central reader Vesku found the need for a lens hood and simply glued a collapsible lens hood to the flat portion of the grip that encircles the Lumia 1020's camera. The only prep work needed was to sand the area of the grip slightly to allow the glue to set correctly.
A $5 46mm lens hood was used and fits fairly spot on with the grips lens opening. You may want to check out the local camera store to make sure of the fit before diving in. Additionally, keep in mind you're likely making a modification that won't be easily un-done. On the plus side, some of these lens hoods allow for screw-on filters which would make using those close-up filters a lot easier. On the downside, you may booger up a $60 camera grip.
Another alternative that isn't as permanent would be to cut the end of a small plastic cup off and tape it to the camera grip. It's not as clean looking as Vesku's lens hood but it'll do the trick.
While I've experience cases of lens flare at times, I'm just not sure if the needs is great enough to warrant such a permanent modification. However, your needs may differ.
If you've come across a Do-It-Yourself photography solution for the Nokia Lumia 1020 or any other Windows Phone, feel free to share in the comments below.
Want to pick up the same lens hood as seen above? Head to B&H Photo to grab it for five dollars (opens in new tab).
Thanks, Vesku, for the tip and pics!
George is the Reviews Editor at Windows Central, concentrating on Windows 10 PC and Mobile apps. He's been a supporter of the platform since the days of Windows CE and uses his current Windows 10 Mobile phone daily to keep up with life and enjoy a game during down time.
That thing is crazzzzy lol

That's a damn beautiful mod job, I must say.

JJ Abrams wouldn't like this.

Nice mod.. Creativity at its best :)

Very cool. If I had a 1020, I would definitely pickup this grip along with a nice 42mm polarizing filter.

I'm also develping this, yet removable. http://forums.wpcentral.com/nokia-lumia-1020/246324-1020-external-lenses-diy.html I've got updates to that thread that i've not posted yet as well. Looks like i've solved the edge fall-off problem.

Looks HUGE!
But I think I'll try some DIY solution when my grip arrives. Not that the flare bothers me much, but I'm interested in finding a way to fit those cheap-fun lens kits for... I think it was for the iPhone 5 or something on my 1020.
Photojojo, iPro Lens, Olloclip.
Well, it they are big enough, that is. Perhaps I'll have to go full Lensbaby for that.

I'm kind of down with the plastic cup idea. It's ghetto but it works.

My best macro shot with the 1020 and no attachments or filters-- http://www.flickr.com/photos/71695177@N07/9639902220/

I ordered some magnetic wide angle and macro lenses from amazon - When I get them I'll post up some shots. I

Ok, but how can i get it please? Thank you =)

So I bought this and have had pretty good luck with it. Too lazy to sandpaper the parts, so just used ultracontrol Loktite Superglue Gel and carefully glued them together and let sit for a couple of hours. Fit is perfect; there is no light leak at all. Two anomalies - 1) Being that the camera aperture is not centered, using this assembly does create a slight vignette on the left side of the photo - so beware to adjust for this and crop! 2) Do NOT attempt to use flash! Does two things - 1) photo's screwed up (I forgot that now the flash element is INSIDE the filter when this is attached!) 2) I lost my ND filter since the flash fried the coating; didn't hurt the camera at all. So I have another ND filter on its way from Amazon. Not posting pics since of themselves they aren't very interesting - I was really testing the filter out and checking for light leaks. Next week though I'm putting this gizmo through its paces and hope to have some cool shots to show!

PS: SHAME ON NOKIA for not bothering to put together some kind of a kit for this premium camera!

PPS: Don't be tempted by cheapo filter deals. Paid $20 for a Bowers 3-Filter Kit. Price was right, but quality is crap. If you go to this trouble; do yourself a favor and shell out the $20-$60 for real filters.. Tiffen, Agfa, Sigma, etc..

i am searching for General Brand 46mm Collapsible Rubber Lens Hood in US its about 4.95$ = 301/- INR , but in ebay , or amazon i found the cost 1500/- = 24$.
plz give another atlernative , i wont have detail knowledge about it..

I need this Grip with Macro lense for Lumia 1020. Please let me know its price in pm. I'm waiting

The only problem with that setup is that it's centered on the camera grip but not the lens of the phone. I used a 58mm adapter ring so I could off set it on the grip so any lens used will be centered with the camera. I bought this on Ebay item #
201051934430. Also I read to only use Sugru to attach the ring to the grip, it also can be purchased on Ebay.
Windows Central Newsletter
Thank you for signing up to Windows Central. You will receive a verification email shortly.
There was a problem. Please refresh the page and try again.