Microsoft To-Do vs. Wunderlist: A task-management app comparison
Microsoft's To-Do Preview has been publicly available for a couple of weeks. Many users have been "wundering" just how To-Do stacks up to its source of inspiration, Wunderlist. We have answers.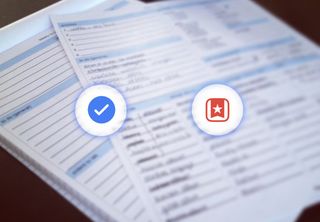 On April 19, Microsoft unleashed a preview of its new task management app, aptly named To-Do (opens in new tab). It was stated by Ori Artman (opens in new tab), General Manager of Microsoft To-Do, that Wunderlist, a task management powerhouse, would eventually be retired. This, of course, will take place once Microsoft is confident that it has baked all of what Wunderlist has to offer into To-Do.
In its fledgling state, Microsoft's To-Do app is an effective and no-nonsense way to capture and review everything that you need (or want) to do. It has been referred to as a simplified version of Wunderlist. It provides a very personal and fluid feel to creating and sorting to-dos.
Why would Microsoft build something similar to Wunderlist yet limited? If a functionally identical app already exists but also has additional features, why should a user switch? The key word to keep in mind is "preview." This early app shows at its core what it can do, but it's not showing what it will eventually be capable of.
The first version of Wunderlist was published in 2011. In 2015, Microsoft acquired Wunderlist creator 6Wunderkinder for between $100 million and $200 million. The Wunderlist team then developed another multi-platform task management app we know as To-Do. Maybe they wanted to start with a clean slate, rather than rebranding an existing service. With new and upcoming Office 365 integration, it makes sense to create a standalone product separate from a popular application. To-Do's name and icon may change in the future as well. Perhaps this is a way of testing a revamped Wunderlist.
So where does To-Do stand in comparison to Wunderlist?
What To-Do is missing
Files and Attachments
Wunderlist allows users to add nearly any type of file to a to-do. It can be done by dragging and dropping files onto the detailed view of the entry or using the attachment icon. To-Do is void of any information other than reminders, due dates, recurrences, and notes. There are no contact details to quickly select to connect and no files to associate with your to-dos. At the moment, you have to switch over to Outlook Tasks to view them. An alternative option would be to leave a web link in the notes (say to OneDrive files) for you to copy and paste into your browser.
Collaboration
Delegation and file sharing are part of Wunderlist's ability to support teams in their task completion efforts. Sharing a list means that other members can view, comment, assign and mark items as complete. To-Do in its infancy is perfect for basic and personal to-do lists. There are currently no options for any sort of collaboration, except if someone were to use the same Microsoft account. Having some sort of list sharing would allow families, teams, and companies to develop and manage a task tackling process together.
Folders and subtasks
Using Folders and subtasks, Wunderlist is a means of organizing related tasks and noting the little steps needed to complete them. Folders and subtasks are an effective means to gather other tasks that are essential to the completion of the main task or project. Your project may need a series of tasks dependent on various sub-contractors; folders would help you easily oversee the progress of each group. In To-Do, the notes field could potentially accomplish this, depending on how skilled you are at creating lists within a notepad. It's a bit more effort on your end but it isn't an impossible task. Alternatively, you can create a list and name it after an existing To-Do as well.
What does To-Do do right?
Office 365 integration
In the To-Do preview, users get a taste of the Office 365 integration that is to come. At this point, your to-dos are synced with Outlook Tasks, If you create a task in either app, you will be able to see it in both locations. This is because all to-dos have been stored on Exchange Online servers. You can also edit these items, and the changes will be reflected, as well (provided you hit refresh on your browser). At this point, the same can't be said for messages that are flagged for follow-up. While flagging a message places an entry in Outlook Tasks, that entry is not visible from To-Do.
My Day
By far, My Day is To-Do the feature that stands out the most, even when it comes to many of the popular task management applications. It's as though the task management app goes beyond focusing on what you need to do and makes you, the user, the priority. As we covered in our To-Do getting started guide, the My Day section is wiped clean each day. You can move existing to-dos from other lists, create new to-dos directly or use the "Intelligent Suggestions" option to help you realize your potential. Instead of finding things to do, you're finding your purpose.
To-Do on iOS and Android
Simple connectivity goes a long way to help you create to-dos on the go. From nearly any point where you can see the ability to share on Android, you can select To-Do from the Android share menu to add an item to a list. For "Ok Google," you can set up To-Do as the default app, enabling you to create notes verbally. Alternatively, you can use a To-Do widget, as well.
On iOS, you can use To-Do with Siri to use voice commands, as long as you have connected your Microsoft Account to the Apple Mail, Calendar or Reminders app. Using 3D Touch and pressing on the To-Do icon, users can see a drop-down list presenting options to add a new to-do, view My Day or search all items.
On the launch date, Microsoft said it was going to continue to implement Wunderlist features into To-Do (opens in new tab). List sharing, further integration with more Microsoft services and apps for Mac, iPad and Android tablets are expected. Microsoft also has a UserVoice board for To-Do feature requests, allowing people to up-vote feature suggestion or submit their own.
Your thoughts
What are your thoughts when you compare To-Do with Wunderlist? Even if Wunderlist currently offers more features, have you actually used them enough to miss them in To-Do? Let us know in the comments.
My main issue at the moment is the login problem for some Microsoft Accounts - They have said on Twitter they are working on it but until they sort it I can only login on the web. The My Day feature is a neat idea, but I think they should allow you to do this via a My Week view instead as an option - There is plenty to indicate that planning an individual day doesn't necessarily work well, but planning the overall week does

On my Android phone at first it wouldn't login so I selected use other account but entered my normal Microsoft email and password...and it worked!! Maybe give that a try?

Doesn't seem to get around the issue for me - I get a message saying my account is Incompatible. Did you get the same error initially on Android?

What account are you using, for me it's school account and it's not working :(

Todo's UI is beautiful. It gives me a lot of motivation to finish all the tasks

Genuine question....Why go into detail about iOS and Android versions but not the Windows 10 version of the app? Even just to say it doesn't have Cortana integration there. Just seems like it would make sense due to the nature of the site. Otherwise a very nice comparison

Maybe its the same reason they don't realize their WC windows phone 10 app is broken or unstable at best.... Cause they don't really use their windows phones remotely as much? And I don't mean just to test the apps as an excuse :P Don't get me wrong, love the site for info and I always check multiple times a day but I like being realistic.

Does anybody know if it DOES support Cortana on Windows 10? I can't log into the apps due to a current bug with login with certain users MSA accounts

Great app, already. And sync works perfect, which it did not with Wunderlist. Edit: Problems with synching Office are may times solved by unchecking all plugins following files > options > plugins > start > uncheck all.

I think they should have just kept on adding features to Wunderlist and above all else, keep the name people already know and trust. New name sucks and there was absolutely no need for any of these changes. I'm very disappointed with MS on this one.

We are talking about MS here. Logic in processes and marketing is a stranger to them. Also commitment is an issue but that is a different topic. ;P

It is another mysterious MS thing. They paid $100-$200 million for Wunderlist, I presume because it had all the features they wanted. Then they come out with a gimped version, with a new name, and a plan to kill off Wunderlist. Sort of like they did with Accompli and Sunrise. Why not just keep Wunderlist, call it MS Wunderlist or Wunderlist by MS, or MS To DO and leave it as is? It's like an incurable corporate disease.

I thought I read somewhere about a month ago that the code base for Wunderlist was not compatible with/did not allow easy integration with O365. Building an app comparable to Wunderlist, but fully compatible with and integrated into O365 was the reason for the ground-up rewrite.

I do think they could potentially lose some users with the switch. I like some of the changes but not all of them. I think if they were going to mix it up by releasing a totally new product they should have waited until it had better integration with Windows 10, rather than it being another stand alone Todo app - I think this is coming but it could take a long time. Do we have Cortana integration on Windows 10 yet? Voice is available on iOS and Android.

No. Cortana still adds to dos to Wunderlist instead.

On PCs in the US at least :-p I don't think Wunderlist Cortana features ever released outside of the UWP app on PC (Phone is a WP8.1 app) and only on EN-US devices :-/

If you add wunderlist to your accounts in Cortana, you don't even have to have an app installed for it to work, no matter what device. Just say "add x to my to do list"

Cortana-Wunderlist integration works on Android... to be fair, I was not able to add Wunderlist "Connected service" on Adroid proper and had to do it on Windows (either phone or PC, I do not remember). Once added it works on my Android phone just fine. New Microsoft To-Do does not intergrate with Cortana on either Windows or Android. I might try iOS later this week, but gut-feeling is -- no integration there either.

How good is the integration of Cortana in Android? Can you set Cortana to replace OK Google, so hold down the button to summon Cortana and set a reminder?

Disclaimer: I have Nexus 5X patched up to the gills (7.1.2 build N2G47O) -- YMMV. You can go to "Settings/Apps/Cogwheel/Assist & voice input" and set Cortana to handle that. I did not bother to check whether it will respond to "OK, Google" :), but otherwise seems to be well integrated.

Disclaimer: I work for MS as a software engineer (nothing related to Wunderlist/To-Do). My opinion is my own. I'd guess that the biggest reason for the change is that Wunderlist wasn't built in a way to be easily integrated into the larger ecosystem, specifically O365. You notice that the first thing they do is get integration and then whatever basic features needed to get a beta out the door. To me that tells me that the engine Wunderlist had wouldn't have been easy to pull in the rest of the way. As to the rename, etc. I have no comment. I'm an engineer and not a marketing specialist for a reason. From that engineering perspective, though, I do like the idea of getting something out early, getting feedback and then adjusting course based on the feedback. It's a very forward thinking (dare I say agile) approach. Also, I don't know any engineer who would turn down the opportunity to take all the learnings from a successful project and rebuild it a second time, allowing you to avoid pitfalls from the first time through. Usually the reality of cost keeps that from happening, but according to the article the same Wunderlist team is the one making To-Do so that's really a cool thing. I have 0 insight into any of this, but my guess is that although there will be some edge scenario that To-Do does differently than Wunderlist (and people will complain loudly that those changes will make MS irrelevant in 2 years) it will have all the core technologies, be better (faster, less buggy, more integrated into other systems, etc.) and be more extensible (MS makes everything a platform, why would this be any different) than Wunderlist was in the first place. I'll even say I'd expect this to happen in 12-18 months. Even faster if they have a good underlying architecture, which would hopefully be the case since they apparently just rebuilt it. I guess I disagree with the perspective that this was a bad move. I think it's a long term play and in the long run will be better.

Also, I don't know any engineer who would turn down the opportunity to take all the learnings from a successful project and rebuild it a second time, allowing you to avoid pitfalls from the first time through.

Please, do not take it personally... documented "second system" effect goes back to "Mythical man-month" and no, it is never a good thing.

The my day feature is genius. I wish they would add this to Wunderlist. I can't give up wunderlist. It is the best to-do app on the market. I use it with my subnornantes to track todo's I give them and even did some training to show them how to use the app so that they could have their own personal to-do list. They love it, they just hate when I add a task in our shared to do list. :)

I can't seem to see any place to sync to my O365 business account, just my O365 personal account. Is it supposed to work with Outlook Tasks for O365 business?

It doesn't tie into Outlook tasks (At the moment) but you can just login with your O365 Org account when you sign into the app. It will sync the todos with your work account but no integration with outlook or anything else right now

Is there a way to migrate my current lists from Wunderlist to To-Do?

Yes. It migrates from Wunderlist.

I already prefer it over Wunderlist, but i dont do any collaboration.

Only if it can start managing missed calls and text message replies like any.do
..there is no other app in windows store that works for this.. Any suggestions?

Not sure about that. For missed calls I use Cortana to remind me if I need to call back - When the notification pops there is a button right there to start the call

Is there a way to show all tasks, today, or overdue like in wunderlist? or Am I missing something

Yep. But i need to have acess to it any time later even when notifications are cleared through an app or Why not in Cortana itself..

Hope To-Do gets the subtasks functionality soon. I use that a lot in Wunderlist.

The W10 desktop version is buggy. Most of my lists are empty. They show up on web and W10M.

Similar problem - it lost most of the content of my lists on my main machine, though they were still visible on my more portable machines. Straight back to Wunderlist until Todo becomes reliable.

I do like the new app, but i was wondering why Microsoft didn't leverage or improve Cortana Reminders using the work done on To-Do, instead of launching a new standalone app it was much better to integrate the task management features into Cortana Reminders for much better service excellence.

Cortana has to be updated through a build on Windows 10, if this happened then the iOS and Android Todo apps would steam ahead eventually and Windows 10 would end up left behind

I totally agree with the point of updates discrepancies.
This shows that even Cortana should be updated via the store to keep getting features and stay on par with other OSes.

I thought To-Do would finally bridge the missing Outlook Tasks functionality in Windows 10 Mobile but alas, it does not. I have no interest in maintaining multiple sets of tasks, I only care about Outlook/Exchange (on premises). So this app does nothing for me that I can't already do with other similar apps that also don't integrate.

They mentioned they are looking into Outlook task integration but I would imagine these days it will work only with Office 365 when/if it does arrive. I find I never use Outlook for work anymore, as the mail apps are more streamlined and quicker to use but I know many people still live in Outlook so it;s important to have that integration.

I use the mail app too from time to time but only because it supports Exchange ActiveSync. Outlook Tasks is essential for me, work and home because it is tied straight into the Calendar. Think how many millions of businesses that run Exchange worldwide and can't use such a ubiquitous feature on mobile. I just can't understand why Microsoft thought it was a good idea to remove it from W10M when it was supported in WP8.1, although it was basic.

It's true it should be there. Cortana and other apps can integrate with your calendar but this isn't useful outside of personal use since as you say it currently doesn't integrate with exchange where all the business data is stored

To do is also continuum-compatible

Missing Cortana integration on Android and also task sharing

It DOES have tasks sharing.
I have some shared calendar with my wife or my family and it automatically created a **** with those calendar names.
And whenever you create a task in those list, it is shared to the other member of those shared calendar / to-so lists.

What I meant was the ability to assign a To-do task to someone else or share a list

Having the name "Microsoft" attached to the app will automatically turn away a ton of users, even if the apps is rock-solid. Sorry, it isn't fair, but is the world we still live in.

At least one of these programs needs to have SharePoint integration. The stock tasks app is garbage.

I found Wunderlist too buggy with its login and too complex. I kept using outlook.com and it is good that we have an app now. Great start. However, it should have all Cortana Reminder functionality and Cortana voice commands.
A special note in this context goes to Outlook.com which is a burden since it is on Exchange. Always getting sign-in screens, a direct url to people passes the inbox, way too slow and so on. The integrated web front end for mail, people and calendar is a bad idea. These should be separated web pages. At least this is what I suspect that is going on.

I found Wunderlist too buggy with its login and too complex. I kept using outlook.com and it is good that we have an app now. Great start. However, it should have all Cortana Reminder functionality and Cortana voice commands.
A special note in this context goes to Outlook.com which is a burden since it is on Exchange. Always getting sign-in screens, a direct url to people passes the inbox, way too slow and so on. The integrated web front end for mail, people and calendar is a bad idea. These should be separated web pages. At least this is what I suspect that is going on.

I'm also really enjoying To-do so far but all the missing features are sorely missed. The UI is great. My day is magnificent. Other than the feature gap the only other problem I have is that it keeps logging me out of my Microsoft Account. Collab, Subtasks, Folders and File attachments will hopefully start showing up soon (in that order). Also something Wunderlist didn't have was assigning subtasks to people rather than the overall task, that would be great. I found myself wanting to that so many times only to realise its not supported

Without Cortana integration, Collaboration, and Files and attachments, it will be useless to me. These are all necessary for me daily.

Second that, plus native client for Mac OS with menubar integration and, no, web version does not cut it -- I need ability to click on the menubar icon to add quick to-do.

It will be very good and I will switch once it gets all the Wunderlist features, most importantly shared lists.

Does anyone know whether/how Inbox "feature" could be turned off or at least not show up by default and on the widget? I would like to see my To-Do list at a glance *whether I bothered to move items to Inbox today or not*.

It should synch with more than one office exchange account (for example for people with a personal and an work account). There isn't any app in the market capable to do this.

Office365 integration i.e. using a Microsoft Account, yes. Exchange ActiveSync / on-premises setup, no.

If all goes will I shall make the switch. For now, I my team on Wunderlist, and it works perfectly

I have been using "2-Day" because it integrates with Outlook Tasks. Is this new app better? I hate to switch over if it's not because 2-Day is working fine.

It astounds me the amount of time, money, and intellect that goes into such a simple and trivial app. There are a million apps like this, and others that parallel its functionality (like onenote). Yet, the tech world continues to pour money and resources on these absurd exercises of perfection. Get over yourselves, and spend the development capital on more profound things.

One note is nothing like this. Other to do apps are mostly crap compared to this. Simplicity can never be overrated.

So far To-Do has been doing a good job IMO. The missing features I'm pretty sure that Microsoft will deliver them. What I just can't like about it though is its name Microsoft To-Do. If feels so early 2000s. Why not just leave it as Wunderlist or come up with a new cool name? :/

I love this app. Have had trouble finding a good to do. This works very well - seamless for a preview, but I would like the share button and attachments etc. However, I know this will get better and am happy they haven't used silly Wunderlust name.

It replaced Clearnote for my shopping list as it could sync between my Phone and PC's but the issue with it not even displaying a cached version / locking me out of it when I'm unable to connect to the web is starting to become a major dealbreaker for me. For ***** sake at least let me watch the most recent update >_>

After Microsoft finally synced my Wunderlist 24 hours after multiple attempts on the day it launched, I noticed that all my unused Outlook.com calendars (most of them empty) I created years ago were added as lists in To-Do. I tried deleting them from To-Do but they keep coming back! The weird thing is that they appear on my Android and Windows 10 apps but not on the web version. I realize that I just need to delete those calendars I don't use anymore from within Outlook.com but what about those I still need but don't necessarily want on my To-Do? Is anyone having the same problem?

I think To-Do will be a great to do list app, but we have to give them some time to work on the lack of features it has. I expect great things from it.

You don't need either one of these if you use Microsoft Launcher....there are too many apps doing the exact same thing...time to merge them Microsoft.
Windows Central Newsletter
Thank you for signing up to Windows Central. You will receive a verification email shortly.
There was a problem. Please refresh the page and try again.