Getting started with Microsoft's new To-Do app
Microsoft recently released a preview of its new To-Do app, formerly known as "Project Chesire." And it is one to-do list app that you'll actually enjoy using.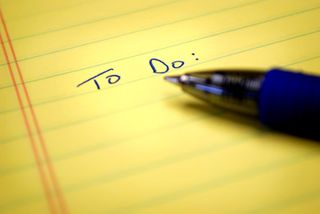 Face it, task management is an essential part of your daily routine, whether you realize it or not. With so many assignments, chores and responsibilities, it could be difficult to shuffle and decide where to allocate your energy for the day. Without a plan or list, you could be overwhelmed, or at the very least not as efficient as you can be. What you need is a good to-do list, right?
Microsoft recently launched the To-Do (opens in new tab) list app as the successor to its widely popular Wunderlist app. Both are cloud-based task management applications that make your lists and tasks manageable from desktop and portable devices alike. Let's check "have a look at Microsoft's To-do app" off of our list, shall we?
Note: A Microsoft account is required to access the To-Do web application. While it is currently in preview, To-Do is available to everyone; through your web browser as well as for Windows (opens in new tab), iOS (opens in new tab) and Android (opens in new tab) devices. You'll notice that the interface for Microsoft To-do is uncluttered and straightforward, just like an effective list should be. The left anchored navigation menu will initially have three options by default: My Day, To-do and New list. Let's take a look at each.
My Day
Clicking on My Day gives you a blank canvas on which you can plan out your tasks.
To create a task
Click Add a to-do in the to-do entry field.
Enter a name or description of the item.
Click on Add on the far right, or press Enter to finish.
The item is then generated above the to-do entry field. This provides a natural feel for creating a list, just as you would continue adding items on the next line of a piece of paper. Once you have captured all of the items on your plate, it's time to start managing them.
This can be as simple or as complex as you need it to be. If you are only looking to scratch items off of your list, Microsoft To-do can help you with that. By clicking on a circle next to a to-do item, a check mark will be applied and the name or description will have a line through it. More commands are available, based on how you interact with a to-do item.
Right-click on a to-do item for additional options
Remove from My Day will not delete the to-do item, but it will disassociate it from the My Day list.
Mark as completed has the same functionality as clicking on the circle to sign off on the task.
Due Today will add a "Today" notification to the to-do item.
Due Tomorrow will add a "Tomorrow" notification on the item.
Remove due date will delete any scheduling from the to-do item.
Create a new list from this to-do will generate another list entry on the left-hand side. The item is now associated with this new list as well as with My Day, if it was created that day.
Move to-do will add the item to a specified list.
Copy selected to-do will allow you to copy and paste the to-do item to any list, even in the same list (creating a duplicate).
Delete select to-do will remove the item from all lists.
Double click a to-do item to add or modify basic details
Click on the name of the item to rename it.
Click the "X" on other entries, such as Added to My Day, Today or Tomorrow to remove the association.
Click on Remind Me to set a reminder at a specified time and date.
Click Add due date to set a day to have it completed by.
Click Add a note to enter in any further details, such as a website or further instructions.
On My Day, there is also a light bulb icon on the far right side. This gives you access to suggestions based on your to-do list. You may have important tasks that you haven't added to your day, or perhaps you weren't able to complete everything from the day before. These intelligent suggestions won't take effect until the day after you begin using Microsoft To-do. It has to check on your progress after all. For example, it can indicate how many tasks you completed yesterday, and you can click on review and see what wasn't done. That entry will have a "+" icon next to it. Click on that icon and it will move the item to your My Day.
To-Do
This section can be used to store all items you need to take care of. This is the ideal place to start, as you can enter everything in first, and then manage and sort them. The To-Do section has almost the same functionality as My Day, except for the lack of Intelligent suggestions. What it does offer instead are sorting options. You can sort all items alphabetically or by due date, created date, completion status or Added to My Day.
The More icon enables you to hide completed to-dos or change the theme of the specific list. By default, the header is decorated with a beach theme in a blue hue. Here's how you can change it.
To change the list theme
Click on the more icon.
Select change theme.
In the following toast, choose from five colors.
In the same toast, choose from five images, or choose to view color only.
Having various images or colors can help you differentiate between various lists. You can have a beach theme for your upcoming vacation preparation tasks or a city landscape for an upcoming move.
New list
This option allows for the creation of lists to which you can assign to-dos. As we just mentioned, you may create a list for a group of to-dos. If your company is moving locations, you can create a specific list to manage all items that need to be completed before loading the moving truck, for example.
To Create your new list
Click on New List.
On the right-hand display section, the Untitled list default name will be highlighted. You should rename the list.
Add to-do items as normal.
Importing To-do items
One of the most exciting features of Microsoft To-Do is the option to import your existing to-dos right from Wunderlist and Todoist. As incredible as Wunderlist is, its days are numbered. As stated in the Office blogs, "Once we are confident that we have incorporated the best of Wunderlist into To-Do, we will retire Wunderlist."
To import from Wunderlist
Click on the To-do username.
Select Import.
In the generated window, select Start Importing.
In the To-Do Importer, select which application to import from (Wunderlist or Todoist).
Enter in the application details.
On the following screen, select Authorize.
Select the items you want to take with you into Microsoft To-Do.
Click Import Selected.
Note that you will be able to retrieve your account details, list, to-dos, and reminders. This import process will not delete your Wunderlist account. It should also be said that subtasks are not part of Microsoft To-Do at this time. Microsoft offers two workarounds for subtasks. They can either be left as a note on the to-do, or they can be made into their own to-dos. Having been built on Office 365, Microsoft To-Do will be eventually integrated into their other suite of products. With Outlook, you need only click on your Outlook Tasks to view and manage your To-do items as well.
The idea of Microsoft To-Do is to give users an uncomplicated view of what they need to accomplish for the day. As with any decent system of information delivery, it gives you the right details and the right time. Having a To-Do list like that makes it easy to adopt into a daily routine.
Have you taken Microsoft To-Do for a spin? How do you compare it to Wunderlist? Let us know in the comments.
You can also visit our Office 101 help hub for more related articles.
Microsoft Office 101: Help, how-tos and tutorials
Get the Windows Central Newsletter
All the latest news, reviews, and guides for Windows and Xbox diehards.
Can't figure out how to share these with another user...and Cortana doesn't put these on my Calendar... (Abilities don't seem to exist.)

You can't share yet. They mentioned that that's not complete yet in the announcement blog.

Yes, the app must integrate with both calendar and mail apps and finally Cortana in order to be truly a Windows Phone productivity system with robust features such like Outlook.

Yes, the app must integrate with both calendar and mail apps and finally Cortana in order to be truly a Windows Phone productivity system with robust features such like Outlook.

I love the new My Day feature! Overall this version is great start.

I agree. The My Day feature is i think what makes this App so genius. That feature can be stollen and placed on any To Do App. I had stopped using To-Dos via phone because it felt like it was so much effort (even using wunderlist). I catch myself using it way more than I would in general. :)

It constantly looses my todo items and I have to sign out and sign in again for them to re-appear. Really annoying.

What is the difference between this and Outlook Tasks? Does this interact with that data? MS produces like 3-5 products for everything they have, why don't they just concentrate on the top one? I mean, I have like paint, paint3d, fresh paint, and plumbago but you have so much overlap, why 4 half ass products. For the record, I have my own custom built Task system, but I thought the Outlook Task stuff looked interesting for consumers.

Seems to me that To-Do is the app front-end to Outlook Tasks. I agree with your further remarks. UI/UX and app consistency is the biggest mess since 1985.

It does sync with Outlook Tasks. Anything that Ive created in Outlook tasks shows up To-Do and vice versa

Wolf, gotacha. Good to hear. I find what MS is doing on the "mobile" app front to be quite strange still though.

If you have a task which repeats and you select the "remind me later again" button in the notification the app changes the reminder time for all upcoming tasks. Also you can't select the time when you want to be remembered again, it will ever remember you in 5 minutes again. This is really annoying!

Moved from Todoist to Wunderlist when MS bought them, hoping they'd integrate it with mainstream apps. But eventually moved back to Todoist - just more versatile and slick. Tried this, but as it really new and lacking features such as Subtasks, Labels, Tags etc. it is pretty useless to me at the mo. However, here's hoping it - as I'm sure it will do - soon develops into a really great task tool ;) NB: If you have Subtasks in Todoist, you won't be able to import without breaking them :|

With Chrome? No, thanks. Good luck.

What does Chrome have to do with anything?

My most favorite To-Do app was 2Day, clean GUI, good syncing, lots of filters, queries, GREAT support in terms of answers to questions and updates, etc. But the one thing it lacked was "browser" access for when you don't have you're phone or using a laptop/desktop with the app installed. So I switched to Todoist. I'm not crazy about the Todoist GUI compared to 2Day, but Microsoft's Cheshire (ToDo) is very similar in appearence. With Todist I now I have access to everything from everywhere! Has great integration with IFTTT and Zapier, it can populate my Outlook Calendar with my To-Dos, and has great filters you can apply to accomplish pretty much everything. One of the IFTTT items I have that I like is a link from Todoist to Pocket... I can tag an article in Pocket or Poki with #MustRead and it automaqtically creates a ToDo for that in my inbox... pretty dang sweet.

Re: MsftMan,
Very interesting. You should write an article telling the rest of us how to do it and what the feature is. It would educate us and save us the time to figure it out ourselves.
.
I've been looking for a full featured task manager that syncs with my outlook software.
I'll take a look at this.
Best Wishes

ToDoist is really easy to use, they have a LOT of tutorials, templates, and more. Plus they have a freemium edition so it's worth it to check it out. I used it for about three days before paying the $29 a year for Premium features. IFTTT has a lot of triggers for Todoist as well.

Tip: if you want to add a icon to your lists, just rename the list and put an emoji as the first character.

MS paid $100 million to $200 million for Wunderlist, then essentially dumped that for this bare bones item they surely could have put out without much work. They could have given $1,000,000 to 100 - 200 developers to turn their Apple or Android apps into Windows apps. Or just $100,000 to 1,000 to 2,000 developers (think banks and local TV stations) to port over their apps. Or with the money wasted on Nokia they could have given $1,000,000 to 7,600 developers to do the same, or $100,000 to 76,000 developers. That's a lot of new windows apps. My Lumia 928 died yesterday. Sad in so many ways (as in 76,000).

Most deals aren't for the tech, but for the user base.

Maybe they'll integrate this with the Sunrise calendar so those of us who will never use Outlook for mail can at least have a decent calendar and to-do app. I'm still waiting for a modern platform that has Contact/Dialer, Calendar, and To-Do Apps that are as good as what Palm had over 20 years ago... (To be fair, the Palm ToDo was weak, but with ToDoPlus used the native Palm ToDo DB structures, so it integrated fine with the Palm Desktop App.)

Oh man.....I loved ToDoPlus for Palm!

I was actually pleasantly surprised how good and simple this is. The UI for Wunderlist in WM10 was horrible and it became a pain to use. The My Day feature is perfect! I had to jump from *Today and *My Week in Wunderlist before and manually Star what I wanted to accomplish during the day.

Should offer Calendar scheduling

Not even close to Wunderlist which is a true team sharing project management Todoist, again another Microsoft Pipe Dream just look in the store there is 50 of these apps. What a joke and a disappointment from a company with no direction anymore.

If you only use basics...this is more than enough... Really liked it.

Personally, I don't need a project management app. This is great for my needs. I am hoping for Cortana integration someday. Anything I can't do in an app like this goes in OneNote, but for groceries this is great.

It says my account is incompatible with To-Do :/

I've tried Todoist, Wunderlist, and now this To-do but none of them served the purpose. Tasks created in all of these apps doesn't appear in Outlook Calender as compared to reminders created by Cortana. This is a big feature that is missing in these apps. Plus MS To-do and Wunderlist don't have the ability to create recurring tasks. Moreover, Todoist and Wunderlist don't have the ability to snooze tasks. MS To-do has the ability to snooze but it doesn't allow you to choose time for snooze and also when you snooze a task from the push notification of To-do it opens the app which is annoying. I am only using Cortana Reminders as my to-do list.

I populate my Outlook Calendar with Todoist tasks easily. Sends me Notifications via messaging. Todist allows you to "postpone" tasks. Recurring tasks like monthly bills in Todoist are easy... pay Netflix every month on 23rd day (using plain words) in the schedule field.

Seriously need calender integration.

Are they planning to require an Office365 subscription to use To-Do?

No, it works with any free Microsoft account, and integrates with Outlook.com.

Good to hear. At least two people I got into using Wunderlist contacted me in fear that Microsoft was going to put it behind the Office365 paywall. Sounded like an odd move, considering Wunderlist was free...but this is a new Microsoft.

If you add an emoticon in front of the title of a list it will appear instead of the generic list icon. I guess that looks great! ;)

Hope they add a share ability soon!

Definitely a preview, but promising. One thing better than Wunderlist so far, better fine grain control on recurring events.

I am a Todoist premium user. But I am starting to like this app. Very simple and easy to use. I like how the feature My Day helps me to easily add or remove a task.

Currently using OneNote for organizing to do lists because it works well for many things and syncs perfectly between Windows 10 and Android. I might have to check out to do list. Looks straight forward enough.

I really thought that alongside the aquisition of Wunderlist, Microsoft would finally bring the one and only feature that would persuade me to use this or any other to-do app: integration with Exchange/Outlook tasks. *sigh Alas, they still haven't listened to the Windows Phone faithful who continue to lament the loss of what was built-in feature of WP7.5 to 8.1 and then, oddly, ripped out of W10M for no good reason. So I have no use for this or Wunderlist, such a waste.

To-do does have integration with Outlook Tasks.

Serious problem: I just keep forgetting to add my to-dos on my to-do list.

Add a "add my to-do's" on your to-do list. But then you'll need to add a todo to remind you to add a todo to remind you to add your todos. And then you'll need... ok I'll stop :P

I use Wunderlist at work and we use the advanced sorting features like sub tasks and hastags for sorting and structureing. I really hope they plan to add subtasks and sharing before they retire Wunderlist ... Not to mention I think it is odd they do not simply rename the Wunderlist ap into MS To-do and create Office 365. You would almost think this was Skype team vs. Microsoft all over again >_>

This app is way too barebones to be useful. It should not be out there, right now. All it will do is hurt Wunderlist by signaling "end of life" and cause people to look for replacements ASAP.