Do you like Microsoft's 'redesigned' Windows 10 Start menu concept?
A redesigned Start menu for Windows 10 was shown off earlier this week.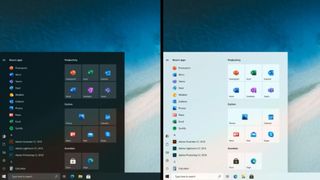 (Image credit: Microsoft)
Earlier this week, Microsoft unveiled concept ideas that it is exploring internally for the Windows 10 Start menu that would see it updated with a refreshed interface that keeps live tiles but puts more emphasis on the new icon designs. It's a minor design refresh idea, but one that has caught the attention of many.
While I'm fully in the camp of wanting Microsoft to bring the Windows 10X Start menu over to Windows 10, it seems Microsoft isn't ready to do that just yet, and is instead exploring ways it can improve the existing Start menu layout on Windows 10 instead.
One such idea that Microsoft is looking into is the removal of the system accent color behind tiles, making them slightly translucent with blur effects, and matching them with light and dark mode instead of having a dedicated color. This design is supposed to make the new Windows 10 icons look more at home, as currently, the new icons look very out of place in the tile interface.
Microsoft says that it isn't removing live tiles from Windows 10 anytime soon, but I wouldn't be surprised if that's the way things go in the future. Microsoft has already checked out of live tiles on every other version of Windows 10, including Windows 10X. If MIcrosoft really were comitted to live tiles, they'd bring them to every version of Windows. But that clearly isn't happening.
The problem Microsoft faces right now is that it can't just swap out the old Start menu with the one from Windows 10X. While possible on a technical level, there's a lot of work that Microsoft also needs to do elsewhere to keep the user experience coherent first, plus Microsoft doesn't want to scare users away with a huge new UI change in the Start menu. This change needs to happen in incremental steps.
For now, what are your thoughts on the new Start menu design refresh that Microsoft is exploring internally? Answer our poll and let us know in the comments.
Get the Windows Central Newsletter
All the latest news, reviews, and guides for Windows and Xbox diehards.