Require a Doctor's Note to pull a sickie for tomorrow? Xbox One has you covered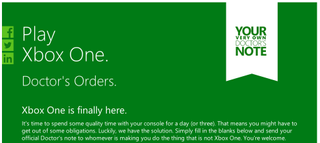 Tomorrow's the big day (unless you reside in New Zealand and Australia). The Xbox One will be launching in multiple markets on November 22nd and it's not farfetched to assume everyone's real excited to get their hands on the next-gen console.
The only issue is that the launch day is a Friday, but what if you could have a Xbox One Doctor's Note to pull a sickie and get out of whatever is planned for you?
Microsoft has created a web page where you can fill out your own Xbox One Doctor's Note. It's fairly humorous, here's a short snippet from the note:
Of course, we don't recommend you send this to a recipient who does not have a sense of humour and wouldn't take this as a serious excuse for the day off or backing out of an arranged activity. Just remember that the weekend is only round the corner, providing you with two full days to battle all the zombies in the world. Who wants to do laundry anyway??
Head on over to the Xbox website to create your own Doctor's note. Now for the big question: will you be taking the day off work to get some gaming done? We won't tell, promise.
Source: Xbox (opens in new tab)
Windows Central Newsletter
Get the best of Windows Central in your inbox, every day!
Rich Edmonds was formerly a Senior Editor of PC hardware at Windows Central, covering everything related to PC components and NAS. He's been involved in technology for more than a decade and knows a thing or two about the magic inside a PC chassis. You can follow him on Twitter at @RichEdmonds.
I wonder if someone would be dumb enough to actually try using this lol.

It will be worth a try. :P

My boss is a huge gamer (PS4 unforutunately) and I sent this to him this morning and he moved my shift an hour earlier so I could be home by 5:00 (when my package is set to be delivered)

I sent it to my boss... granted I already requested the time off :D


I would do it, boss has a negative sense of humor. He would be stunned people actually want to enjoy life outside of work. The reaction alone would be worth it.

My boss said "AWESOME!!!" LOL!

"pull a sickie" is definitely not a phrase used worldwide.

I've never used it, or even heard it before

Common phrase here in the UK, or England at least!

That was my point. It's a British idiom not used abroad. In the US it would typically be "call in sick".

Of course. I wasn't sure if the phrase were used anywhere else outside of the UK. Guess you've cleared my wonderment lol

Actually at that point, it would be referred to as playing hookie. A good chunk of my Marine infantry unit put in for a week of leave starting tomorrow. My CO just thought they all had big Thanksgiving plans and wanted to get an early jump on them...:)

Haha haven't heard of these before! Keep em coming lol

Use here in Australia. Gonna chuck a sickie

This beats the boyfriend -girlfriend video that the xbox team put up they are definitely outdoing themselves

i just took it as a vacation day. so im chilling.

I have the whole day off. "Errands to run."

Just got my xbox.... Woot!

If only I had an extra $500 laying around for the huge amount of irrelevant posts coming up upon launch to be useful to me. Oh well. Lol

IGN had posted an article/blog post asking the question about taking a day off of work for a console launch. There was also a story about a guy who did so and his wife was not happy. My initial thought was that this was a bit silly and OTT. And I am as excited for console launches as anyone. But then I guess if someone has vacation or personal days they've earned and their family is cool with it, I guess its all good. One of the crazier comments I saw was someone pawning their kids off to the grandparents for a week just to play X1 uninterrupted. That's a bit much, IMO.

I have over 71 hours vacation, and my fiance is ok with it so I told my job im taking 7 days of vacation for new console launch and they even gave me the weekend and next Friday off for a total of 10 days off! (8 paid) so basically 64 hours x $23 to play Xbox O.o

I am a Dr. In fact a brain surgeon. I graduated 1st In a class of 1200. I save peoples lives, you could say im god. Can't wait for Xbox one so I can play my gamie games.

Sometimes I don't know if you are pulling our collective legs.

I know nurses in the PACU and doctors that play WoW religiously. I'm a nurse and I game pretty damn hard, and also do hip hop music production. Lol do t judge a book by their cover. ;D gamers are gamers! I game with doctors, people who work at arbys, fellow nurses, and friends who dont work and still live with their mom!

You being a brain surgeon is relevant to getting an Xbox One how? Lol

Day off ? I have the next week off #bring it on

Funny if you have a cool boss like I do

Nit everyone's excited because its not available here. :-/

I am speaking personally for myself. Of course i am overjoyed for whoever is getting it. Will be waiting eagerly for feedback

How dare they (cough cough ) prompt people to lie.

People are getting a day or two off next week here in the US anyway.

My college gets all next week off :)

Rich in full effect giving people ideas about a long weekend. lol

No needs. It is my birthday tomorrow!

I was going to take a sick day for it because I have a bunch left and it's almost the end of the year anyway. But then my Xbox preorder got bumped back from launch day to the second shipment, whenever that is, so I suppose I may as well work.

If Microsoft announces a release date for the Netherlands already, then I can start planning a week of "sick" leave.

I will neither do this nor will I wait in line for a phone. The weekend will be fine. I have black Friday off and whole week of Xmas off. Cannot see wasting a day for this.

I sent it to my boss with a LOL, he got a trip out of it (he's a gamer too).....I'm working because I can't pick up Forza 5 till tomorrow and I ordered it from gamestop that is a few blocks away from where I work but, a 25 min ride from home... So when I get my "one" tomorrow, I will have Forza 5 ready to go (This is the game I am waiting for the most on the launch titles)...After work and have the whole weekend to play it...with the other games I am grabbing..

Tomorrow is a regular day off for me. Picking up XB1, taking it home, wrap it in nice Christmas paper, then, stick it where the tree goes. It is for my son's Christmas and he knows he is getting it. Going to make him wait until 12/25.

Nope, I consider that good parenting.

Not in college on Fridays so yeah epic long weekend of gaming

I don't think any manager would approve tbh lol

Good luck to all who actually get a new system on launch day and don't worry about the hardships they'll face

Lol, I requested vacation for tomorrow thru the whole week of Thanksgiving back in July so I wouldn't have to worry about this.

I changed the text of it to read as follows and sent it to my manager and group (many of them gamers) on the "official looking" XBox/MS stationary: --- Due to the zombie flu epidemic your employees will not be able to fulfill their scheduled commitments they have with you. Because of the severity of this condition I'm prescribing a heavy dose of Xbox One. They need to eradicate zombies. After a thorough examination, I've concluded that this is the only cure for their serious and debilitating ailment. This treatment may take anywhere from 5-7 days to improve their morale and temperament and will require years of re-treatment. If the patients are disrupted by work, I will have to double the prescribed amount of usage and time away from their job. If used effectively, Xbox One can help relieve your employees' entertainment deprivation and will increase their overall state of happiness at all times. Refills Unlimited *Please be advised that there may be some side effects. These include, but are not limited to, uncontrollable smiling during the workday, sudden/inexplicable finger twitchiness, immense sense of pride in daily work, and a greater satisfaction in completing tasks, configuration change requests and Remedy tickets (coming soon; release date to be announced). --- The last sentence was a jab at our long running service desk project to migrate to Remedy. It's been delayed multiple times over many years and was about to be finished when the vendor said they were having problems importing our data LOL Unfortunately I won't actually be taking time off for the XB1 launch or actually getting one but the laughs I heard around the office after sending it out made it worth it...

We actually use remedy at work lol. This perfect and my bosses are all gamers hence why the bosses decided to get a xbox one for the guys down at marketing

It's already out here in New Zealand!

Just picked mine up, already available here in Australia, now time to have a play :)

What do you mean unless Australia? Its out here now! (Australia) :P

Ok a full day of play with the xbox one, i am in love all over again :)