Does Your Laptop Have Wings? MrMobile meets Project Valerie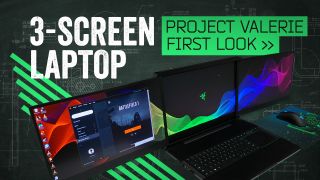 If you're planning on going to CES to see things you might own in the near future, you've got plenty of options. But the most fun stuff is the concept items; things that say "the future is/might be like this!" Enter Project Valerie, Razer's three-screen twelve-pound laptop.
The screens all have a 4K resolution, and its guts are the Razer Blade Pro. It's an absolute beast of a machine. MrMobile got a chance to look at this beautiful monstrosity. Take a quick peek with Michael Fisher at Razer's Project Valerie.
Stay social, my friends
Windows Central Newsletter
Get the best of Windows Central in your inbox, every day!
Justus Perry is a producer for MrMobile. He's been using PCs since he was 3 years old, when his mom was working at IBM. He's also a comedian, so feel free to mock him unrepentantly.
This concept is so cool. Wow.

This thing is stupid and insane and I love it!

If I had about 6K to waist, I would buy something like this. Although, I would likely use it as a home computer and take it with me, if I'd ever do extended trips away from home.

It looks similar with
SlideNJoy, isnt it?