Domino's Pizza orders up an app fix for hungry Windows 10 Mobile users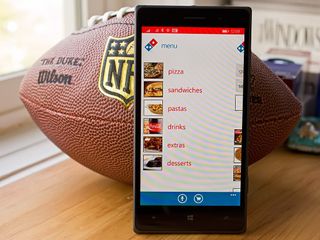 Domino's Pizza app for Windows Phone 8 launched in 2013 is surprisingly a better experience in 2016 than their iOS and Android version save for one problem: it always crashed on Windows 10 Mobile.
Version 2.0.1 of the Domino's app is live in the Store and with it, the fast-food company has delivered a small patch to enable us foodies to order on the go.
Domino's Pizza 2.0.1
Minor bug fixes
Windows 10 support
No other features are noted, and it is still not a universal app for Windows 10 – a serious missed opportunity. In fact, in the U.S., we are still waiting for Xbox One app to order up their high caloric delicacies like they can in the UK.
Hopefully, with this quick-fix, we'll see a new push from Domino's – and other restaurant chains – on Windows 10. If you wanted to tweet @dominos to thank them for the update and let them know you want a Windows 10 app, we would not object!
Download Domino's Pizza app for Windows Phone
Thanks, Vince B., for the tip!
Windows Central Newsletter
Get the best of Windows Central in in your inbox, every day!
Daniel Rubino is the Editor-in-chief of Windows Central, head reviewer, podcast co-host, and analyst. He has been covering Microsoft since 2007 when this site was called WMExperts (and later Windows Phone Central). His interests include Windows, laptops, next-gen computing, and for some reason, watches. Before all this tech stuff, he worked on a Ph.D. in linguistics, watched people sleep (for medical purposes!), and ran the projectors at movie theaters because it was fun.
I love Domino's pizza. Yeah, I get it "it's not pizza" from the food fascists out there, but that's like saying Taco Bell is not Mexican food. No one eats Taco Bell because it's Mexican, they eat it because it's Taco Bell. Same with Domino's. But seriously, need a Windows 10 app and live Tile with my order. And Cortana support.

The Dominos India app needs a revamp too! The US version looks far better. Pizza tracking live tile is something great. I liked the old app and it performed great. Current version is really bad. Seems like a android port sort.

Dominos India app... Phew... All I can say about it is that their website experience on a mobile browser is a lot better than that screwed app

It gets its job done. Good luck finding any other app that satisfies your needs in India.

I think the dominos India app is alright...few performance issues here and there...but a lot better than it used to be...

It's India app has a good UI. I have had no problems using it.

We also have Dominos here, they have a different app for each different country?

Yeah, it's a country oriented app.

The Honolulu Hawaiian with mushrooms & Onions on Brooklyn Style Crust with a Ginger Beer...

The Dominos app already has limited Cortana support. You can say stuff like "Dominos, start a delivery order."

A wide live tile with the pizza tracker would be awesome for cheat days. Just need a map showing where your delivery driver is ala Uber and it'd be gold.

Well said sir. Well said.

I wouldn't say it's fast food.

Can't say I've heard anyone say that bar my dad, and as a pizza I'd really care to disagree as Dominos really is the best take-away pizza and one of the best in general!
My biggest complain about Dominos is the price & that we don't get the loyalty scheme here in the UK & the largest size is one inch smaller.
Oh and from the one time I tried it over there, US Dominos isn't as good as it is over here...

There okay but there site as of current isnt functionly useable on wp8.1.1/mw10 or jellybean(but at least they have the app to fill that problem) in Canada but then again nether is pizza huts(or pfk) site

Domino's pizza online India also got a update

Well they did drop "Pizza" from their name. It's just Dominos now

I'm sure I was told by someone it's due to them expanding into other areas besides pizza, though no I can't find anything about it online.

Yeah. It's because they now have sandwiches, pasta and kabobs style chicken as well.

Yeah it's just Domino's almost everywhere now.

The best app in wp and great service in India. Glad to hear it does well with w10m.

Please MS. Release the damn 10M. We are dying of starving coz dominos in 8.1, they wudnt fix the bug

Oh, I was just using the browser to get it... =[

Don't suppose them ***** arse Starbucks would launch an app for W10, would they? Although they do have an official app restricted only in Mexico. What is so difficult in making a few changes and adding support for English language and help all the customers using Windows Phone.

That they are working on one?

Give me the number. will make some as well.. they tend to ignore my tweets

Band and Band 2 only has the scannable screen code. We are talking about an app here.

Does the app work in India... Most of the description is primarily USA based only so was wondering.. Great to see support from them though... N hopefully a universal app is coming soon...

I bloody wish the XBONE app would snap while I'm gaming, I wanna see my cook time whilst being Lara Croft!

This App only works in the USA. :(
Funny thing is that it can be downloaded outside the USA but is totally useless outside.

Do you mean there isn't an official app released in W10M for countries outside U.S.? Is it not obvious Dominoes has its service in many countries? The app should be in development. Where are you from btw?

Exactly, there is only one official Domino's App and it only works in the USA. I am currently living in the Netherlands.

Thanks for the update, mate.

That's not true as there are separate apps for separate regions including one for the UK (which has hopefully been updated too).

Nope...we have one here in India...and so do many other countries...

There is an official app in the Nederlands as well, used it last Friday.

Dan! Finally an article with valuable news. Domino's and W10!..... Now if they just sold Beer...

Too bad Domino's is the nastiest pizza I've ever had from a restaurant. I love chain pizza places jsut fine, like Pizza Hut and Papa John's, so that's not a pizza snob perspective. Domino's just has horrible sauce and crust, it's like a crappier Little Caesar's.

Funny, cause I can't stand Pizza Hut for those very reasons. It's like, we all have different tastes or something ;)

I like all of those, because they're freakin' PIZZA...lol =p

Well, I'll say that Pizza Hut offers 5 different crust styles that are all fairly different, and their newer menu offers different sauce options as well. They've got much more variety than Domino's. The other problem I havewith Domino's is that it's the only pizza I don't liek cold. I have to microwave or, or something with the cheese just makes it awful to me, though their cheese tastes really good when hot. I'll agree that Pizza Hut's sauce is pretty bland/unimpressive on its own, though. That's why I order either barbecue or honey sriracha sauce on their pizza, most of the time. If I DO get the regular sauce, I get honey sriracha on top of it.

No wonder you're all so fat.

Not sure which demographics/ethnicities you're going after with that statement, but you must be an alcoholic, right? I mean, your picture appears to be a beer, and if it's such a big deal to you as to make it the one visual that personifies you, you're asbolutely an addict right? Of course, I don't actually care, as I'm an adult and not offended by the ramblings of the Internet. Pizza's great, you're not going to change that (unless you make some veganl gluten-free crap)!

Even when you try to thwart the snobs in the article, someone just HAS to.

Hmm I'll eat anything that present before me now :/

You don't feel the cheese in pizza hut,unlike domino's!

What the heck does that even mean?

I used to think Domino's was the worst of all of them until they revamped their ingredients a few years ago, and now I think they're the best. I find Papa John's sauce to be too sweet, Pizza Hut to be too greasy, and Little Caesars... well, you know.

I actually liked the old Domino's more. The new sauce was advertised as being a bit spicy, it's not. They talked up garlic salt on the crust, and it's just salty and gross.

LOL, love the response for Little Caesars. That is just ideal for the taste of pizza in your mouth at the lowest cost possible.

Too bad taste is subjective and just an opinion.

Pizza hut is nasty. So crazy greasy it gives me a stomachache every time I eat there. That's why I like Dominos, way less greasy and lots of different options.

Nothing like when I eat there, unless you're getting a pan pepperoni or something. I usually get hand-tossed, which isn't buttery on the bottom like pan, and the chicken and sausage I usually get aren't greasy like pepperoni.

Pizza hut is the nastiest. Papa Gino's is king for chain pizza. Better than most mom and pop shops even.

Never heard of it in my life, so it must be some coastal-only chain, rather than a national one. Actually, I just looked it up, and it's only in New England, so definitely not something I'd hear of in Illinois.

Dominos is definitely better than little ceasers

If it's fresh, yes. If it's cold, no.

Lol they never promised it to be good when its cold... :P

I just tried ordering from them yesterday and it crashed lol. Had to use the site. I should've waited a day but the beers had the cheese calling me.

OH, THANK YOU THANK YOU THANK YOU DOMINOS....FINALLY!!! ='D

I need an app to order popcorn. ;)

Actually there are, apps that gets you movie tickets. ;)

It is working now for me on Windows 10 Mobile, and the app is very good. Would very much like to see synchronous UWP app on PC and Mobile.

I see links to the store are working again, unfortunately the app is not available for download.

Not available for me on win 10 mob

Drat... We'll have to wait for it up in the cold white North. I can't wait for "Hey Cortana... Dominos... Order the regular." It only saves a minute or two on the phone/online, but nothing makes you feel better than saying what you want and getting it.

"to enable us foodies to order on the go"

I'd hardly think anyone ordering a Domino's pizza would qualify as a 'foodie'

Can you leave it alone? Please. Even foodies have their days and moments.

A foodie may have their days and moments, but only a junk-food-junkie would eat a Dominos pizza

+1 to Domino's for supporting Windows Phone. Keep up with your tasty crusts :).

Too bad there's no feature in it to make the pizza taste how it did before 1995.

Finally. Was waiting for this one.

I just had a domino's tonight. Yum.

Pizza is not what I'm hungry for, on Windows 10. Apps on the other hand..

yea dominos failed me. driver went to wrong address,figured it out after 15 minutes and me calling her 7 times. she came by, never even got out the car, puts my damn soda on the ground, wtf!. i know its just soda but if your job is to deliver food, you don't put my order on the ground even if its just soda. and shes also missing 1 soda, i ordered 2. i sign reciept and give it to her, and keeps her hand out like im supposed to tip? well wheres my other soda? i have to come back she says while keeping her hand out. fine i tip and bring me my soda. doesnt even come back till like an hour later. freaking dominos is like a 5 minute drive away if all 3 traffic lights are green. i can see the damn store from my window, im on the 11th floor. but took 1 hour to come back. called the store and all the driver where there. waiting. guess she just waited for next delivery to deliver my soda

If the store was so close, why were you so lazy as to order delivery...? Why not yet of the couch and go get it...?

Pizza apps probably get more attention on Windows because programmers live on pizza. The same holds for coffee apps.

Where's the love for us Canadians! We like and order dominos also!

Everything from Dominos is gross. Even the desserts.

Their sandwiches are surprisingly good.

Listen up, Food Nazis. I guarantee you would eat a Dominos pizza quite happily after a few beers and a Friday night out and every place, but Dominos, is closed. And they get extra credit for having a WP app.

We never had dominos selling up sandwiches!! Is it USA exclusive as well?? ::!

Little bit offtopic... But not so much! :D I hope "PizzaOnline" which operates in here Finland! (I don't know if it operates in other countries). I hope they will make Windowsphone app. Now they only have like iOs and Android. :/

That is the problem. The managers who order those apps don't even acknowledge the existence of Windows.

Well in here Finland Windowsphone is well known because of Nokia. :/ So they know it exist and mostly all apps here are for WP too and will get updates very recently. Some apps even come first for WP! :P

There at least was a pizzaonline app which was pretty decent.
EDIT: it's still there but apparently not supported any more =/

US is "U.S." and UK is only "UK".

Its been available in Australia for few months and works without any problems. It also has a tracker built in

Pizza Hut need this. All they have is a very clunky web-wrapper, and I think this exists for all platforms. I've talked to friends and a couple of Pizza Hut stores and they all say the same thing.... The mobile app is terrible.... You half to be careful when using a web-wrapper. If there is too much involved then the experience drops of dramatically.... Better to have a native app when there is a lot of data being pushed around.

Domino taste not good. I'd prefer woodfired pizza or homemade brands, a lot better, especially with burrata cheese on top

So, what does one use to scan QR codes in Windows 10 Mobile, now that there is no Bing vision? Any third party app suggestions? They really need to add this to Cortana. Everyone should vote this up in Feedback app! Lumia 950
Windows Central Newsletter
Thank you for signing up to Windows Central. You will receive a verification email shortly.
There was a problem. Please refresh the page and try again.