Domino's Pizza updates their UK app for Windows Phone 8, but still no love for the US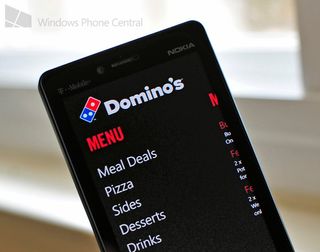 We get some criticism from people for liking Domino's Pizza (because we live in New York) but let's be clear: Domino's is pretty delicious and serves a roll in our culinary selection on occasion. It's like what Taco Bell is to Mexican food—it's not the same or better, just different.
So with that preamble, we're excited and miffed to see the official Domino's app get updated for Windows Phone 8—with some killer features too. The bad news is it's only for the UK and Ireland, which as an American I find…odd.
What's new in version 1.1.1.0 just released to the Store today? Glad you asked.
Live tile notifications – these tell you the latest deals on offer from your nearest store!
Voice command – you can start the app with a simple voice command, including: "Domino's Pizza, I am hungry", "Domino's Pizza" or "Domino's feed me"
NFC - you can redeem vouchers by tapping on any flyer, poster or other Domino's Pizza NFC-tagged print material!
Call us crazy, but that sounds like a pretty rocking app update. In addition, you can still browse their menu, place orders, track your delivery and get updates on deals.
So why is this not in the US, the home of Domino's? We have no idea. They do have iOS and Android apps and clearly they are dabbling in Windows Phone (the 7.x version came out a year ago) but we have no idea why they would be so obstinate in releasing one for the States.
Anyway, if you're in the UK and Ireland and like to indulge in some Domino's pizza (we won't judge) you'll want to pick up the Windows Phone 8 version here in the Store. Thanks, Benjamin C., for the tip!
Oh and for our US residents, the best we can do for you is PapaHutNo's Pizza app, which boasts that it
You can pick up PapaHutNo's Pizza here in the Store for all Windows Phones.
Windows Central Newsletter
Get the best of Windows Central in in your inbox, every day!
Daniel Rubino is the Editor-in-chief of Windows Central, head reviewer, podcast co-host, and analyst. He has been covering Microsoft since 2007 when this site was called WMExperts (and later Windows Phone Central). His interests include Windows, laptops, next-gen computing, and for some reason, watches. Before all this tech stuff, he worked on a Ph.D. in linguistics, watched people sleep (for medical purposes!), and ran the projectors at movie theaters because it was fun.
Well at least all the apps aren't u.s. Only now

And still no love for Germany :P

Dominos is like the only takeout pizza I get and I've been waiting for an app for them for a while. It would only increase the amount I eat there so they're shooting themselves in the foot.

Papa Johns better than Dominos, IMO.

No way. I think it's universally agreed that the fast food pizza pecking order is 1. Pizza Hut 2. Dominos 3. Papa Johns.

No way. It is universally agreed that the fast food pizza pecking order is: Dominos Papa Johns ... Pizza Hut

With Little Ceasars at the bottom of the list. I do like Domino's. Been disappointed by Papa John's and shy away from them, usually.
If I had this app, I'd just order too much pizza from them anyway. So, probably better that it is not in the US.

All Papa Johns pizza I've gotten has been better than Dominos or Pizza hut. May just be my location. Pizza hut is probably second on the list for large pizza chains though.

Guys, its all about location in most cases; I live in the Dallas area and Pizza Hut triumphs, while Domino's tastes like cardboard, so please tell me where a Domino's is that tastes well

No love for US? Please! That's how we feel when you get US exclusives :-/

That's ok....nobody eats Dominos in the U.S....crap pizza.

Yeah it was in the 90s. Tried it again since they changed the recipe and crust? Get that BBQ chicken with bacon and asiago cheese added to it.

I did - still crap, regardless of the particular place and toppings. But hey, everybody's tastes are different...

Their toasted sandwiches and bread bowls are surprisingly excellent.

Bread bowls...... The cure for not being obese.

Ehh, I preferred the old, "cardboard" pizza. Now, the crust is just salty and the sauce isn't "spicy" like they claim. It's an overall downgrade on the pizza.

I WILL say that they have some good pasta bread bowls, though they're also too seasoned on the bread. Stuff's good for flavor.

Never cared for Dominos anyway. "Tongue sticking out smiley"

I hear you on that Keith. Plus I can just make a phone call to a better local pizza place. You can keep this one UK lol

I absolutely love pizza and will eat most pizza, but this statement is wrong. There most definitely tiers of pizza goodness.

Does this app show the current "deals"?
never mind, just read that the live tile does give notifications on deals in nearby stores, pretty cool!

Out of Dominos and Pizza Hut in the UK, Dominos is much better. So a nice app

Takeaway is really popular in the UK. Plus Papa John's and even Pizza Hut have taken market share away from Domino's in the US. Maybe bring back the Noid? :D

Re-release Avoid the Noid for Xbox Live on Windows Phone and Xbox 360!

It wouldn't be so bad except that the Dominos mobile site is so bad.

Domino's pizza is still garbage... Good for feeding your workers, but not for yourself. Plenty of local private pizzerias here, all of which make much more tastier pizza and other things, and they are just as fast to deliver stuff.

The update crashes all the time anyway! I don't mind Dominos now and again

It's also weird that they haven't released a Windows Phone app since Domino's entire computer system runs on Windows Azure.

This needs to come to the US soooooo bad!!!

Can't believe you guys are arguing whether Pizza Hut or Dominos are better...

yeah...Ellios and Bagle Bites rock!

I'll keep using the pizza hut app!

When it comes to crap pizza, in the UK Domino's is the best. I'd probably put Pizza Hut and Popa Johns tied beneath. If you're in Ontario, it's all about Pizza Pizza with the cheese on the bottom and sauce on top. Nom.

You haven't experienced pizza until you've had Regina, SK pizza from Western or Houston Pizza... Nowhere else compares. Even Chicago deep dish sucks.

You are insane. I migrate back to Chicago from time to time to have some Eduardos Deep Dish.

...and those assembly line pizza places like Dominos, Pizza Hut, Pizza Pizza, and Little Ceasars are the worst... So few toppins... ;)

This program is excellent. I use it all the time along with the 50% off codes.
And i always have pizza without cheese, horrible with it on.

Maybe the UK is like UAT for the US version ha!

Hope an app is coming for North America soon

Haha, no love for the US. That's how the rest of the world feels with almost every mobile OS. For me, no Nokia Transit, No voice commands in my onw tongue, no...etc. It's time Apple, Google and Microsoft start targetting other parts of the world too.

North America is just too good of a market to focus elsewhere because the people expect everything and will move on if they don't get it.

Supports 512 ram devices? Wow, it's rare these days!!

Hahahahaha!!!! No Dominos Pizza app available in the US on WP8. Am I suppose to be upset? I wouldn't call it 'no love'. Their doing US WP users a favor. Hahahahahaha, no Dominos Pizza app! Thanks for the laugh.

"... serves a roll in our culinary selection..." -I don't normally point out typos, Daniel, but this one is great. Now, I grew up in Michigan, the HOME of crap pizza being the HQ for both Domino's and Little Ceasers. Of course, Dominos is now a public company so maybe I'll buy a share (or would I call it a slice) of the company, so I can demand the app as a stockholder. :)

I LOVE Domino, but I love how they're supporting WP here in the UK even more. Here's hoping our friends over seas can enjoy this awesome app soon.

Trolololololololololololololololol

Going to guess because of the higher wp8 saturation of Europe vs USA. Hope we get it in USA I'd like this app.

Thats fine its not in the US. Dominos makes the worse "pizza" ever. You could make a better pizza from Chef Boyardee's Pizza kit.


Domino Miku App is only for Japan then?
Windows Central Newsletter
Thank you for signing up to Windows Central. You will receive a verification email shortly.
There was a problem. Please refresh the page and try again.