Don't preorder Halo Infinite
Despite some promising appearances from Halo Infinite through 2021, its new pricing model spotlights continued obscurity around its single-player campaign.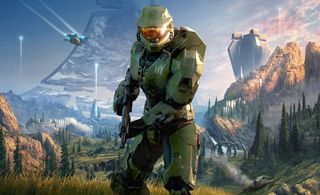 (Image credit: Xbox Game Studios)
Microsoft has settled on a Dec. 8, 2021, release date for Halo Infinite, the next entry in the sci-fi shooter series, and this year's tentpole project for its Xbox Game Studios creative arm. It's the first mainline Halo launch in over half a decade, promising the largest single-player campaign to date and a return to its classic arena multiplayer action. Halo Infinite made its latest on-stage appearance at Geoff Keighley's Opening Night Live show on Wednesday, flexing a new multiplayer trailer and a Halo Infinite-inspired Xbox Series X console to match.
But there's one takeaway I saw after Microsoft's Gamescom showing — "That's it?" The latest Halo showing has only raised fears over its campaign offerings, now almost three months from launch but still shrouded in obscurity. There's a promise of a new open-world approach to Halo, pitched as the most drastic shakeup to the formula on franchise history. But with the campaign still absent this close to launch, 343 Industries hasn't instilled confidence to justify that $60 price tag.
The piling pressure on Halo Infinite's campaign
Microsoft has positioned Halo Infinite as the "future" of its shooter franchise, both a mainline Halo experience years in the making but also doubling as a platform for years to come. The most significant change comes with its new free-to-play multiplayer model, launching alongside the single-player campaign on Dec. 8, but still detached from the $60 package. It follows a string of free-to-play success stories this generation, likely to welcome a new audience to the established franchise.
But that new pricing model changes how we could perceive Halo Infinite and judgment toward its next chapter. With the multiplayer component now a standalone product, supported by an ecosystem of paid cosmetics and battle passes, those purchasing Halo Infinite are solely investing in the single-player campaign. While Microsoft continues to push Xbox Game Pass for day-one access, there's still a huge market for game sales, including preorders.
That's not to comment on the value of single-player experiences — some of the best modern video games thrive on solo experiences — and it's equally fundamental to the Halo legacy. But the Halo Infinite campaign remains absent, and with Gamescom the latest missed opportunity, it's clear that 343 Industries is holding back whatever is in the pipeline.
Halo Infinite made its first gameplay debut last summer, once a headline demo to dominate Microsoft's big Xbox Series X showcase, now an infamous chapter in the game's development. The eight-minute demo spurred backlash for subpar visuals, birthing memes now synonymous with the project, and likely one factor behind its delay to 2021. 343 Industries blamed multiple factors, including working from home, but the rocky demo was a symptom of larger issues predating the spread of COVID-19.
The Halo Infinite launch is now only a few months out, with Microsoft committing to a firm early-December launch, and the title is now regularly prevalent in the news cycle. The game resurfaced at E3 2021 with a multiplayer focus, later followed by a multiplayer technical test providing the first public hands-on opportunity. The same theme has continued through Gamescom 2021, once again glossing over its single-player campaign.
With Microsoft and various retailers now accepting Halo Infinite preorders, it's been over a year without substantial insight into anything relating to the paid $60 experience. We know Halo Infinite will descend on Zeta Halo, a new ring that serves as an open world for the events that unfold throughout the story. But how the open world and campaign function remains unclear. How big, and more importantly, how dense and varied is the open world? Where do missions and narratives tie into its open-ended structure? Is the campaign in a somewhat polished state?
We also understand Halo Infinite underwent significant behind-the-scenes changes following the departure of former director, Chris Lee, with Halo veteran Joseph Staten taking the wheel. What improvements have been made, if any, since that initial 2020 demo?
Halo Infinite and Schrödinger's campaign
These questions will continually overshadow the title until we see the campaign running on Xbox Series X, let alone aging Xbox One hardware. Cyberpunk 2077's launch debacle demonstrated the implications of subpar console launches, a similarly anticipated title veiled by a lack of transparency. Recent announcements have amplified those worries, including plans to delay the cooperative campaign and its Forge level-editing modes beyond launch. With Halo Infinite pushing the final few weeks of the year, all signs suggest the project is down to the wire to deliver upon those launch day promises.
While it's generally sound advice never to preorder video games in an increasingly digital market, that's especially true for Halo Infinite. We're going into the campaign blind with little effort to rebuild confidence in the paid $60 experience since that July 2020 demo. Gamescom was the obvious platform to provide more clarity, but now merely a missed opportunity.
Microsoft recently showed off new, limited-edition Halo Infinite hardware, and it's likely safe to take up any preorder opportunities, given the limited supply. But for the campaign, keep that cash set aside for the near-term — or invest in Xbox Game Pass as launch approaches. I have high hopes for Halo Infinite, with years of investment leading up to this moment, but some extra reassurance would go a long way.
Get the Windows Central Newsletter
All the latest news, reviews, and guides for Windows and Xbox diehards.
Matt Brown was formerly a Windows Central's Senior Editor, Xbox & PC, at Future. Following over seven years of professional consumer technology and gaming coverage, he's focused on the world of Microsoft's gaming efforts. You can follow him on Twitter @mattjbrown.