Halo Infinite beta: How to play, early access, and what to expect
Start playing today, Spartan.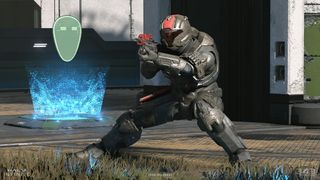 (Image credit: Xbox Game Studios)
343 Industries and Microsoft are planning to launch Halo Infinite on Dec. 8, but in the weeks leading up to the game's full release, the developers have released a special Halo Infinite beta that gives players early access to the full Halo Infinite multiplayer experience, including Arena, Big Team Battle, and the training Academy.
Here's what you need to know about the Halo Infinite beta, including how to play it, everything players can expect from it, details on the rewards available in the beta, and more. It's time to jump in and become a Spartan.
What is the Halo Infinite beta?
The Halo Infinite beta is an early release of Halo Infinite's full multiplayer content suite by Microsoft and 343 Industries, ahead of the full game's Dec. 8 launch. The beta includes access to Arena, Big Team Battle, Halo Infinite's Academy training mode, and the Halo Infinite Battle Pass. The Halo Infinite beta, like the full Halo Infinite multiplayer experience, is free-to-play for all players on both Xbox and PC systems.
This Halo Infinite beta is different than previous beta tests, which only focused on specific elements of Halo Infinite's multiplayer. This beta, in contrast, is essentially an early release of the full game.
When is the start time and date for the Halo Infinite beta?
The Halo Infinite beta has launched and is now live on Xbox and PC, and players can download it from Steam, the Microsoft Store, or from the Xbox storefront on their console. Additionally, the Halo Infinite beta is also available to play using Xbox Cloud Gaming. Refer to our full article on how to download and play the Halo Infinite beta right now for more details.
It is expected that the Halo Infinite beta will remain fully available from now until the game's full launch on Dec. 8, so players don't need to worry about access to the beta ending before the full Halo Infinite experience has been released. However, it's important to note that since it's a beta, bugs and launch issues may force 343 Industries to take the servers offline at times.
What can I expect from the Halo Infinite beta?
The Halo Infinite beta is essentially an early release of Halo Infinite's full multiplayer experience, as it includes Arena, Big Team Battle, and the Academy training mode. Arena is the game's most competitive experience, featuring a 4v4 format on smaller, carefully designed maps that promote lots of teamwork, communication, and strategy. There's also a dedicated competitive version of Arena available that features Battle Rifle starts, disabled grenade hitmarkers, and a disabled motion tracker.
Big Team Battle is Halo Infinite's most social muiltiplayer experience, focusing on 12v12 combat on larger maps that have lots of powerful weapons and vehicles on them. Something that makes Halo Infinite's Big Team Battle unique is that more powerful vehicles are flown in by Pelican dropships as matches progress, turning the final few minutes of each game into high-octane explosive slugfests.
Halo Infinite also comes with an Academy training mode that allows players to practice using the game's weapon sandbox by running special weapon drills. Additionally, players can also launch offline practice games where they can make themselves invincible, spawn in bots, and give themselves whatever weapon they want for optimized training.
Notably, the beta also gives players access to the first Halo Infinite Battle Pass, which is part of Halo Infinite Season One: Heroes of Reach. This Battle Pass features several cosmetics that are themed after Halo: Reach, such as the armor worn by Spartan Emile. The full Battle Pass costs $10, though there's also a free reward track that includes some cosmetics as well. Note that Battle Pass progress made during the beta will carry over into the full game when it launches.
Will Halo Infinite beta progress carry over?
While many games often don't let players carry over beta progress into the full experience, Halo Infinite is different. 343 Industries has confirmed that when Halo Infinite launches in full later this year, all progress that players have made towards their Battle Pass will carry over into the full game. This means that if you unlock new pieces of armor, helmet visors, or coatings for your armor and weapons during the beta, you'll be able to continue using them on Halo Infinite's launch day and beyond.
When is the release date for Halo Infinite?
Halo Infinite is expected to release on Dec. 8, 2021, on the Xbox Series X, Xbox Series S, Xbox One consoles, and Windows 10 PCs. The multiplayer will remain free-to-play, but the campaign will cost $60. Note that the developers have confirmed that Halo Infinite's campaign will give players access to some unique rewards in multiplayer.
It's worth noting that Halo Infinite preorders are live now, meaning that you can buy your copy of the game's campaign ahead of time if you want to. This won't give you access to campaign-specific rewards in multiplayer right away, however.
The next adventure in the saga
A new Great Journey awaits

Halo Infinite's campaign is sure to be an incredible game filled with wonder, adventure, and more. Based on what was seen at E3 2021 and in recent previews, we can't wait to play it at launch.
Halo is back
Halo Infinite Multiplayer
Halo Infinite's multiplayer has launched a few weeks early, compiling its classic arena multiplayer modes, expanded 24-player Big Team Battle, and more into one free-to-play package.
Get the Windows Central Newsletter
All the latest news, reviews, and guides for Windows and Xbox diehards.
Brendan Lowry is a Windows Central writer and Oakland University graduate with a burning passion for video games, of which he's been an avid fan since childhood. You'll find him doing reviews, editorials, and general coverage on everything Xbox and PC. Follow him on Twitter.