Halo Infinite won't have co-op Campaign and Forge at launch
Microsoft is scaling back its Halo Infinite launch offerings but remains committed to its slated 2021 release for campaign and multiplayer.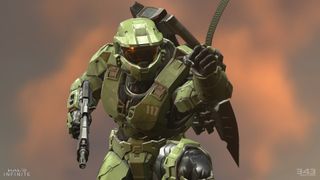 (Image credit: Xbox Game Studios)
What you need to know
Halo Infinite will no longer launch with a cooperative campaign and the Forge level editor, Microsoft announced on Friday.
The modes, once expected to launch alongside the title this fall, will be introduced via free updates in 2022.
Microsoft expects to deliver co-op campaign support three months after release, while Forge is slated for six months post-launch.
Halo Infinite is expected to release later in 2021 on Xbox consoles and PCs, although a formal release date still hasn't been confirmed.
Halo Infinite won't include a co-op campaign and its Forge map-building mode at launch, Microsoft has confirmed. The news marks the latest setback for its upcoming flagship shooter, currently scheduled to release on Xbox consoles and PCs later in 2021.
343 Industries outlined its plans via its August Development Update video on Friday, recapping the latest on development. "Unfortunately, as we focused the team for shutdown and really focused on a quality experience for launch, we made the really tough decision to delay shipping campaign co-op for launch," stated Halo Infinite creative head, Joseph Staten. "And we also made the tough call to delay shipping Forge past launch as well."
The move axes launch plans for the co-op campaign, now set to arrive via a free post-launch update. Forge, its official level editor that allows players to create custom maps and modes, will also be absent on launch day. Staten states that the team aims to ship co-op campaign support via a "Season 2" update, scheduled for three months after launch. Forge is expected to launch six months after release via its "Season 3" content offerings.
"Our number one priority is making sure whatever we ship, whenever we ship it, it meets the right quality bar. Across all platforms, Xbox devices, PC, and all of its different configurations. And when we looked at these two experiences, campaign co-op and Forge, we made the determination they're just not ready," Staten said.
"As a studio, we don't want to ship things if they're not ready, so people can play them, have fun, have a nice stable, performant experience. So we're gonna keep campaign co-op and Forge in the oven for a little bit longer and then when they're ready we're gonna release them as a part of our seasonal roadmap, next year."
The next Halo installment remains on track for a holiday launch, although its latest launch shakeup marks another hit the project. The title witnessed a formal delay in mid-2020, responding to widespread criticism over its first gameplay demo. While once positioned as its launch-day blockbuster to accompany Xbox Series X and Xbox Series S last November, developer 343 Industries cited multiple factors, including challenges posed by the ongoing global pandemic.
Halo Infinite's E3 2021 showing focused almost exclusively on multiplayer, set to launch as a separate free-to-play experience on console and PC. The focus now shifts to Halo Infinite's single-player story campaign, with its paid $60 release now centered around what's next for Master Chief. Details remain scarce on what's to come, with its new open-world experience is yet to resurface, following that first 2020 showcase.
343 Industries hosted a public technical test for Halo Infinite last month, providing a first hands-on opportunity for a small sample of fans. The developer has committed to additional pre-release tests over weeks to come, expected to offer an extended dive into its multiplayer experience.
The next adventure in the saga
A new ringworld awaits

While Halo Infinite won't be getting campaign co-op and Forge at launch, there's still an expansive single-player campaign and new multiplayer experience slated for 2021.
Matt Brown is Windows Central's Senior Editor, Xbox & PC, at Future. Following over seven years of professional consumer technology and gaming coverage, he's focused on the world of Microsoft's gaming efforts. You can follow him on Twitter @mattjbrown.
no co-op at launch, guess i don't need to buy it at launch.
it better eventually bring back split screen co-op though

WTF?!? CO-OP is one of the best parts of Halo. Idiots.

It's coming. Just 3 months later. I would rather the bugs be worked out.

They were about to release this game a year ago... It should have been done then. I wonder what the state of the game was at that point. It should be delayed again though. Lack of Co op and Forge are part of the reasons Halo 5 faltered.

There shouldn't be bugs to be worked out at this point. The campaign has been done for a year, thru were doing graphic enhancements.

No its not the campaign is and to an extent the multiplayer

The campaign IS Co-op, so that comment makes little sense. I'm glad you put the all the effort of posting 3 times to say it though. 😂👍😜

Dude you had it delayed for over a year... no excuse.

Excuse = world wide pandemic. Stop whining like an entitled American.

That worked six months ago. But this is a game developer, a business that is, effectively, a digital workspace. It is incredibly simple to shift from an office to home in such an environment, especially since they have had 18 months to adapt. The pandemic can no longer be used as an excuse for game developers.

Meh, don't care, it's coming. For those who want the co-op, just wait till the Co-op comes out to buy the game, problem solved. Especially those who are saying they should delay it until those features are out, just delay purchase for yourself, same difference

Worst halo news in years. They got another year to fix what needed to be fixed, many games are made in that time. Get coop in or delay the game until atleast coop is in. There is NO excuse cutting coop that is and has always been one of halos USPs. Obviously 343 dont understand the halo franchise after all...

Excuse = world wide pandemic. Stop whining like an entitled American.

Using nationality as part of your insult... Tip: this generally isn't a good tactic if you ever want to have a mature discussion.

I will just buy it when it has coop, still plenty of unplayed games on the shelf anyway.

Seeing how long this game has been in development, including the delay, I think it's safe to assume 343i is utterly incompetent. I'd never advocate for anyone to lose their job, but how Bonnie Ross has managed to remain studio head is beyond me. And don't even try to blame the coof either, they've had time to adapt like everyone else and the game was allegedly feature complete and ready for release last year, the delay was supposed to be improve the visuals. If I underperformed this consistently at my job I'd never get paid.

I guess people have forgotten that there is an ongoing pandemic and so many people have to work remotely. The uncomfortable truth is the infrastructure in the US is extremely poor compared to many countries and that includes internet connectivity. It's a disappointment, yes but come on. Most of testing is done in the final leg and that's not remotely practical with the ongoing pandemic.
Windows Central Newsletter
Thank you for signing up to Windows Central. You will receive a verification email shortly.
There was a problem. Please refresh the page and try again.