Doodle God goes free to play with Doodle Planet on Windows Phone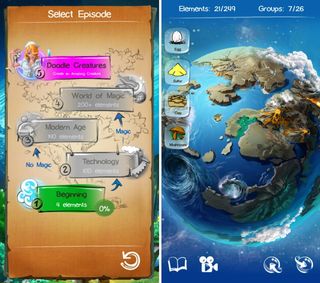 A long time ago in a galaxy very close to home, man created the game Doodle God. On Windows Phone, it was an Xbox-enabled game built around the concept of alchemy. Doodle God never got the bug-fixing update it deserved, but it did spawn a number of non-Xbox sequels such as Doodle Devil and Doodle Creatures. They were all very similar to one another.
Last week, developer JoyBits released a brand new Doodle God game that is also very similar to the others: Doodle Planet (also known as Doodle God: Planet). While Doodle Planet won't surprise anyone with drastic changes from previous games, it does have one big difference: it's free to play. If previous Doodle God games were too rich for your blood, maybe this version will make you a believer.
Making something from nothing
Doodle God games have always revolved around mixing random elements in order to create new elements. Doodle Planet uses the same familiar mechanics and interface. Simply tap on an elemental group to expand it and see the sub-elements it contains. Figuring out which elements can be combined is largely a matter of trial and error.
At any given moment, you can have up to two groups open on-screen. Either drag one element to another or simply tap the first element and then the second, and they'll mix. Some things simply don't mix and you'll get an error sound. But assuming they combine successfully, one or more new elements appear on-screen and are added to your pool of resources. The game also displays a clever allusion or joke, lending some welcome personality to the endless process of trial and error.
Build your world, but mind your energy
Doodle Planet introduces a new goal to the main game: building your own planet. The planet starts out raw and mostly barren. As you discover certain elements such as volcanoes and steam, those items will appear on your Doodle world. You can even pinch and rotate the world to get a better look at it. Filling out the planet doesn't change things up too much, but the extra goal to shoot for is still welcome.
Less welcome is a new energy mechanic. Each time the player successfully creates a new element, it uses a little divine glow. Oddly, you can't see how much divine glow you have except while creating the element. Run out and you'll have to wait for it to recharge… But you can't see how much you have until you try to combine some elements. Hey JoyBits, how about a intuitive user interface?
Divine Glow can also be bought via in-app purchase. Other IAPs include various hints and boosts. If you want to do away with the energy mechanic and basically turn Doodle Planet into a normal Doodle God game, you can buy Eternal Energy. It only costs about $20. What a steal, right?
Extra modes
In addition to the lengthy main game, Doodle Planet also offers a couple of extra game modes: Quests and Puzzles. Quests work like the main game, but have their own cute little story premises and a smaller pool of elements to mix. They don't appear to cost energy, so players might be able to keep busy with quests whenever they run short of energy in the main game.
It's always interesting (and often disheartening) to see an established game series switch to the free to play payment model. Doodle Planet makes the transition decently well, offering just as much content as paid games have in the past. But hiding the player's energy away is awfully obtuse, if not downright sneaky. Doodle Planet also disguises links to other Doodle God games as normal menu items, such as making Doodle Devil look like one of the puzzles in Puzzle mode. Again, kind of sneaky.
I'm less annoyed by the energy mechanic than I am that JoyBits keeps releasing nearly identical Doodle God games as sequels. Does anyone love Doodle God so much that they want to play the same game over and over again? At least this one can serve as the Doodle God game for people who wouldn't buy the paid games, I suppose.
Doodle Planet – Windows Phone 8 – 120 MB – Free – Store Link
Via: @WPScoops
Get the Windows Central Newsletter
All the latest news, reviews, and guides for Windows and Xbox diehards.
Paul Acevedo is the Games Editor at Windows Central. A lifelong gamer, he has written about videogames for over 15 years and reviewed over 350 games for our site. Follow him on Twitter @PaulRAcevedo. Don't hate. Appreciate!