Doodle worthy games for your Windows Phones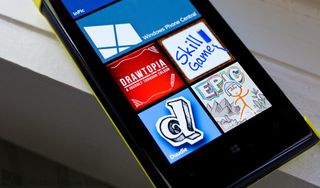 Windows Phone Central Game Roundup: Drawing Games
Very few will debate that our Windows Phones can be handy entertainment devices. There are bounty of Windows Phone games available to help us break moments of boredom, pass the time, and test the limits of our batteries.
Drawing games are those where you have to draw or doodle your way through the game in some shape, form or fashion. They test your deductive reasoning as well as your artistic abilities. The games aren't a bad source of entertainment on our Windows Phones and is the focus of this week's Windows Phone Central game roundup.
Drawtopia (free): Drawtopia is a free puzzle game for your Windows Phone where the solution to the enigma rests at your fingertip.
You are presented with a ball, a start and a end point with a series of targets in between. The task at hand has you tracing a path for the ball to follow to make it to the end point, collecting as many targets along the way as possible.
Drawtopia also includes a handful of traps and mechanical obstacles to keep things interesting. The game has forty levels of play spread out across four color rooms that become more challenging the further you advance.
Drawtopia is a free game for Windows Phone 8 and 7.x devices. You can pick up Drawtopia here in the (opens in new tab) Windows Phone Store.
DrawaStickman EPIC (trial/$1.99): DrawaStickman EPIC is a Windows Phone adventure game that depends on your doodling skills and imagination.
You play the role of a stickman (which you get to draw) and your best friend (another stickman that you draw and name) has been eaten by an evil book. It's your job to travel through the fourteen levels/chapters of the novel and rescue your friend.
You use your drawing skills to draw elements (fire, water, etc.), tools and weapons to defeat the evil minions that fill the pages of the evil book. For example, you can draw fire to burn down gates or ignite dynamite to remove obstacles on your path. Some obstacles require a little thought such as drawing rain to make the flowers grow that will attract bees away from the path they are blocking. Game play is a mix between a role playing game and puzzle game.
If you ever want a makeover for either your stickman (or is it stick person) or your friend, you can redraw things in between levels. The minimalistic graphics look good and the game reminds me a little of Max and the Magic Marker.
There is a trial version of DrawaStickman EPIC for both Windows Phone 8 and 7.x devices. The full version is currently running $1.99 and you can find DrawaStickman EPIC here (opens in new tab) in the Windows Phone Store.
Skill Game (free): Skill Game is a challenging puzzle game for your Windows Phone where you called upon to draw a line connecting a series of numbers in ascending order.
Sounds simple, right? Well you can't draw your line off the gaming board, you can't draw through the various obstacles that may appear on the gaming board and you can't cross the lines.
It still sound simple but surprisingly, Skill Game can be a rather challenging game. It mixes strategy and steadiness of hand to advance through the 150 plus levels of the game with each level getting a little more difficult than the last.
If you get into a level where you just can't find a solution without crossing lines, Skill Game has a magic pen that can be used once per level that will let you cross lines. While you start the game with a limited number of magic pens, you can always buy more through in-app purchases.
Skill Game is a free, ad-supported game for your Windows Phone 7.x and 8 devices. You can download Skill Game here (opens in new tab) in the Windows Phone Store.
Duudle (free/$2.99): Duudle is a Pictionary (opens in new tab) styled game for our Windows Phones where you are given a word and have to draw a picture describing that word which others use to guess what the word is.
Game play is done online in turn base fashion with other Duudle members. You can play against your friends who have registered or against a random opponent. Games can be played with three to ten players.
In addition to the multi-player game, there is now a single player game where you are presented with the Duudle and have to guess what word it represents. The faster you guess the word, the higher your score.
The only downside to Duudle is that there isn't a local mult-player option available for pass and played styled gaming. There are two versions of Duudle available for your Windows Phone 8 or 7.x device. Duudle Free is a free, ad-supported version that you can find here (opens in new tab) in the Windows Phone Store.
There is an ad-free version of Duddle that is currently running $2.99 that you can pick up here (opens in new tab) in the Windows Phone Store.
Draw games are a nice section of the Windows Phone gaming library and will test you skills of strategy, drawing and patience. If we've missed your favorite drawing game, sound off in the comments below with your Windows Phone drawing game recommendation.
Windows Central Newsletter
Get the best of Windows Central in in your inbox, every day!
George is the Reviews Editor at Windows Central, concentrating on Windows 10 PC and Mobile apps. He's been a supporter of the platform since the days of Windows CE and uses his current Windows 10 Mobile phone daily to keep up with life and enjoy a game during down time.
My fav is Drawtopia.. Very addictive.

Hooray for these basic games? Nah I'm good lolol

Hey there guys, we're a pair of college students that have a new game coming out for Windows and Android phones.

It's a 2.5D puzzle platforming game with insane dificulty. We'd really apreciate it if you checked out our facebook, which also has a link to our official information page.

If you like what you see, we've recently opened up signing for a closed beta, that you can access here:
http://jellymanbeta.wufoo.com/forms/m7x4z5/

If you want to keep posted with new info just hit "like" in the facebok page, and share it with your friends if you're willing, every bit helps! Thanks for the time :)

fb page : http://www.facebook.com/JellymanTheEscape

P.S: we'd be honored if WPcentral decides to review our game :)

Hi. Can you please pubish your game here in the Brazilian WP Store when it comes out??
I can help with the process.

hello Guilherme thank you for your request, the game will be avaliable at launch in Brazil, in the mean time there is a beta running and we'd like you to sign in : http://jellymanbeta.wufoo.com/forms/m7x4z5/

There is a FB page dedicated to the game http://www.facebook.com/JellymanTheEscape we'd like to hear your feedback about what you think of the beta and last share the link with your friends with a windows phone device the more users we get in the beta the more stable the general release will become :)

Great!! I will test it. :)

Love Drawtopia! And the soundtrack is quite energetic.

Developers of Duudle e DrwaaStrickMan: EPIC: please publish these awesome games here in the Brazilian WP Store! You can use PEGI/ESRB to do that. I know about the process and I can help.

Didlr has a become a favorite social/sharing app for me, where you get a great palette of drawing tools, ability star each others creations, and publish them on to gear through Zazzle.

Draw a stickman is a great game! Doodle God still rules my world.

Scribble Olympics is my fav!

Hurray great looking games. The best feeling reading for "7.x" :)
Windows Central Newsletter
Thank you for signing up to Windows Central. You will receive a verification email shortly.
There was a problem. Please refresh the page and try again.