Doom Eternal horde mode teaser shows us real hell
As if the game wasn't challenging enough.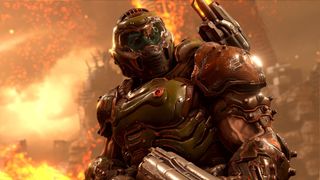 (Image credit: Xbox)
What you need to know
This is the first look at Doom Eternal's upcoming horde mode.
Will release on Oct. 26, 2021 for all platforms and PC.
The mode will offer a whole new level challenge for players looking to truly master the game.
Doom Eternal is the sequel for the crtitically acclaimed Doom reboot released in 2016, and it got a lot of DLC that helped make the game one of the most memorable entries in the series for a long time.
On Thursday, we got our first look at yet another edition — horde mode — and it shows us a true taste of hell. The game itself was already a challenge on the harder difficulties, and The Ancient Gods DLC offered players a lot of closure with regards to the legendary Doom slayer's story line.
Horde mode is set to be a true test of a player's grit and skill in the game. The mode was announced earlier this year, while id Software announced it was shifting focus from Invasion mode to horde mode instead.
Players will have to take on swarms of enemies while successfully chaining multiple kills together simultaneously to keep the streak going. The more you kill in rapid succession, the more you score, but keep in mind that the enemies hit harder and are harder to kill as well.
The 2016 reboot of Doom offered a faux horde mode where players can make spawn wave maps in SnapMap,and play it cooperatively with friends, but an official horde mode is something that fans of the series saw as a good fit for the game. It also goes without saying that it'll have a very competitve leaderboard once it does release.
The feature is set for release with patch 6.66 and is slated for a Oct 26, 2021 release date across the PS4, PS5, Xbox One, Xbox Series, Nintendo Switch, and PC.
Demons, death, and destruction
Journey into Hell

DOOM Eternal had its work cut out for it after DOOM 2016 shocked the gaming world with its incredible visuals and combat, and it delivered on every promise. If you're looking for a sandbox in which everything is trying to kill you and you're, well, killing everything instead, DOOM Eternal is the game for you.
Correction: The wrong release date was in the previous version of this post. It's Oct. 26, not Dec. 26. We regret the error.
Get the Windows Central Newsletter
All the latest news, reviews, and guides for Windows and Xbox diehards.